All children struggle with fear at various times. It can be hard as a parent to know how to help your child with fear. So how do we help our kids through these challenges? We can listen to them, encourage them with the truth, and give them helpful tools, all while pointing them to God. Learn some helpful tips, Scriptures about fear for kids, and download a free printable with coloring pages and memory verses!
Disclosure: *This post may include affiliate links. As an affiliate, I earn from qualifying purchases. Read the disclosures and terms for more information.
Listen to Why Your Child is Afraid
When your child shares with you that they are afraid, don't be too quick to dismiss it. Saying "there's nothing to be afraid of" doesn't help. Fear is something everyone has to deal with in life. We can start now to prepare them to handle it in an honest way that also points them to Christ.
Begin by listening to your children well. Be patient and give your scared child time to explain what they're afraid of and why. Acknowledge their fears and say you understand why that could seem scary. Perhaps share a story about a fear that you've struggled with in the past.
Don't focus too much on explaining to your kids why their fear is irrational (assuming it is). When adults experience fear, many times having more information about a situation helps alleviate that fear. This is far less likely for kids.
For example, with a scared child, explaining to them that there are no monsters under the bed may not actually help them stop being afraid. It may be worth it to explain it briefly and even look under the bed with them, but don't hammer on it. Their irrational fears may not go away with more information and your kids might become confused and upset that they're still afraid.
Encourage Them with Truth
Let them know they're not alone. Fear is alienating. It makes us turn inward and feel like we're struggling alone. Kids can especially feel this way when their big feelings take over. Remind them often that they are in a family that cares about them. Even more importantly, remind them that God is with them all the time and everywhere. They are NEVER alone, even in the middle of the night or in those moments when they're suddenly afraid.
Teach them to cry out to God. Help them practice pausing to pray when they feel afraid. Just telling them to pray doesn't work. We need to hold their hand and practice with them! Bedtime is a good time to start. Take turns with them praying for God's protection, asking Him for courage, praying that they would trust Him, and thanking Him for listening and always being there.
You can set an example of this kind of prayer life, too. Make a point over the next few weeks to pause in the middle of your day and pray out loud for different needs, especially those that are internal ("Lord, I'm feeling anxious about this appointment, please give me courage. Thank you for always being with me!")
Remind them that God is BIGGER and MIGHTIER than anyone or anything else! No matter what they're afraid of, God is bigger and He is in control. We can trust Him to care for us and be with us no matter what. This is a good time to study the attributes of God. When we focus on who God is and how much He loves us, we're less likely to stay stuck in fear!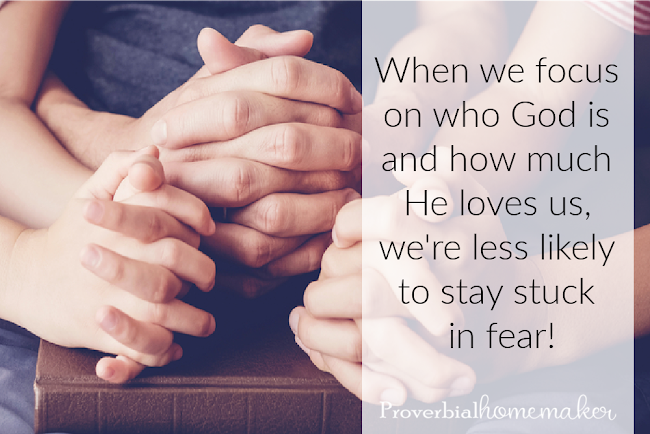 Give Your Scared Child Helpful Tools
After they've talked to you about their fears, give them some good tools. We first teach them to calm their bodies, taking big breaths and relaxing their hands, shoulders, back, etc. if they feel like they are tense. Then we help them learn to focus their minds on the truth.
It's true for adults as well as children: when we are full of fear, there is little room for truth and peace. It takes practice and patience to teach ourselves and our children to intentionally focus our minds on the truth when we are in the clutches of fear. Here are some ways you can help your kids do it:
Pray through and memorize Scripture about fear for kids – Choose some special verses that will encourage your scared child to not fear and instead trust God. I've listed our favorites below along with a printable for the 3 we've used most often. Pray though them out loud with your kids, memorize them together, and post them around the house!
Focus on Key Phrases – Come up with a few key phrases together that can help you remind each other to redirect your focus. Perhaps "do not fear, for God is with you!" Or "focus on the truth!"
Sing Songs – Find or make up songs that put your favorite "do not fear" Scriptures to music. Play and sing them together. They can be especially helpful for sleepless nights.
Scriptures About Fear for Kids
Choose a Bible verse about fear (or a handful of them). The ones listed below have been helpful to our family. Read through and discuss them with your kids.
How are they encouraging? Which ones are their favorites and give them the most courage? Pick a few to memorize together and/or find songs that incorporate them. Put them on index cards and pray through one every night. Be creative!
Also, be persistent and give it time. Even though it may seem like it's not helping your child with fear at first, we know that God's Word never returns void. I have learned that if I keep discussing, memorizing, reciting, singing, and praying the Scriptures with my children, the more GOD'S WORD becomes a natural part of our thoughts and words. That is powerful when you are battling fear!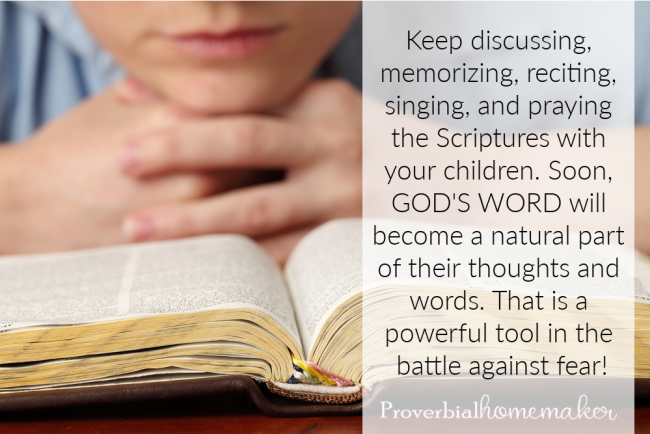 "

If you lie down, you will not be afraid;

when you lie down, your sleep will be sweet."

Proverbs 3:24
"

fear not, for I am with you;

be not dismayed, for I am your God;

I will strengthen you, I will help you,

I will uphold you with my righteous right hand."

Isaiah 41:10
"Peace I leave with you; my peace I give to you. Not as the world gives do I give to you. Let not your hearts be troubled, neither let them be afraid." John 14:27
"The

Lord

your God is in your midst,

a mighty one who will save;

he will rejoice over you with gladness;

he will quiet you by his love;

he will exult over you with loud singing."

Zephaniah 3:17
"

For I am sure that neither death nor life, nor angels nor rulers, nor things present nor things to come, nor powers,

nor height nor depth, nor anything else in all creation, will be able to separate us from the love of God in Christ Jesus our Lord."

Romans 8:38-39
"But now thus says the

Lord

,

he who created you, O Jacob,

he who formed you, O Israel:

'Fear not, for I have redeemed you;

I have called you by name, you are mine.

When you pass through the waters, I will be with you;

and through the rivers, they shall not overwhelm you;

when you walk through fire you shall not be burned,

and the flame shall not consume you.'"

Isaiah 43:1-2
"I sought the

Lord

, and he answered me

and delivered me from all my fears."

Psalm 34:4
"Be strong and courageous. Do not fear or be in dread of them, for it is the

Lord

your God who goes with you. He will not leave you or forsake you." Deuteronomy 31:6
"The

Lord

is my light and my salvation;

whom shall I fear?

The

Lord

is the stronghold

of my life;

of whom shall I be afraid?"

Psalm 27:1
"for God gave us a spirit not of fear but of power and love and self-control." 2 Timothy 1:7
"For I, the

Lord

your God,

hold your right hand;

it is I who say to you, 'Fear not,

I am the one who helps you.'"

Isaiah 41:13
"

For the righteous will never be moved;

he will be remembered forever.

He is not afraid of bad news;

his heart is firm, trusting in the

Lord

." Psalm 112:6-7

"When I am afraid,

I put my trust in you.

In God, whose word I praise,

in God I trust; I shall not be afraid.

What can flesh do to me?"

Psalm 56:3-4
"Have I not commanded you? Be strong and courageous. Do not be frightened, and do not be dismayed, for the

Lord

your God is with you wherever you go." Joshua 1:9

"Behold, God is my salvation;

I will trust, and will not be afraid;

for the

Lord

God

is my strength and my song,

and he has become my salvation."

Isaiah 12:2

"He who dwells in the shelter of the Most High

will abide in the shadow of the Almighty.

I will saya] to the

Lord

, "My refuge and my fortress,

my God, in whom I trust."

Psalm 91 (This is a good one to read aloud and memorize as a longer passage, especially for older kids)
More Ideas
for Helping Your Child with Fear
Learn the Armor of God Scriptures together. Here's a Scripture pack for that passage and a fun printable pack you can add to your activities. Talk about putting on the armor of God to guard against and battle fear.
Listen to this song "God is Bigger Than the Boogey Man" from Veggie Tales (or watch the episode if you have it)
Read stories from the Bible about facing scary things but putting trust in God in spite of the circumstances. Here are a few:

Israelites crossing the Red Sea
Rahab and the spies
Satan tempts Jesus in the wilderness

Read about the courage of missionaries and how they demonstrated courage (pre-read and edit for sensitive children)
Our family has particularly liked these songs:
Draw it out. I have one daughter who is really into drawing. Having her draw her fear on one side of a page and the truth on the other side helps her a lot.
Scared at bedtime? Pray together, read Scripture. If they are still struggling to sleep, have them recite the Scriptures they know in their head until the fall asleep. Or record yourself reading the "do not fear" Scriptures listed above and play it for your children at night.
I asked my older kids what they do. They said that when they're afraid, they:

Pray
Read a book
Read a book from the gospels
Go into another room / get a change of scenery
Find someone to talk to
Play a movie through their head from start to finish
I hope you found some good tips and tools to help your child with fear and point them to God!
~ Tauna
Scripture About Fear for Kids – Do Not Fear Printable Pack (ESV & KJV)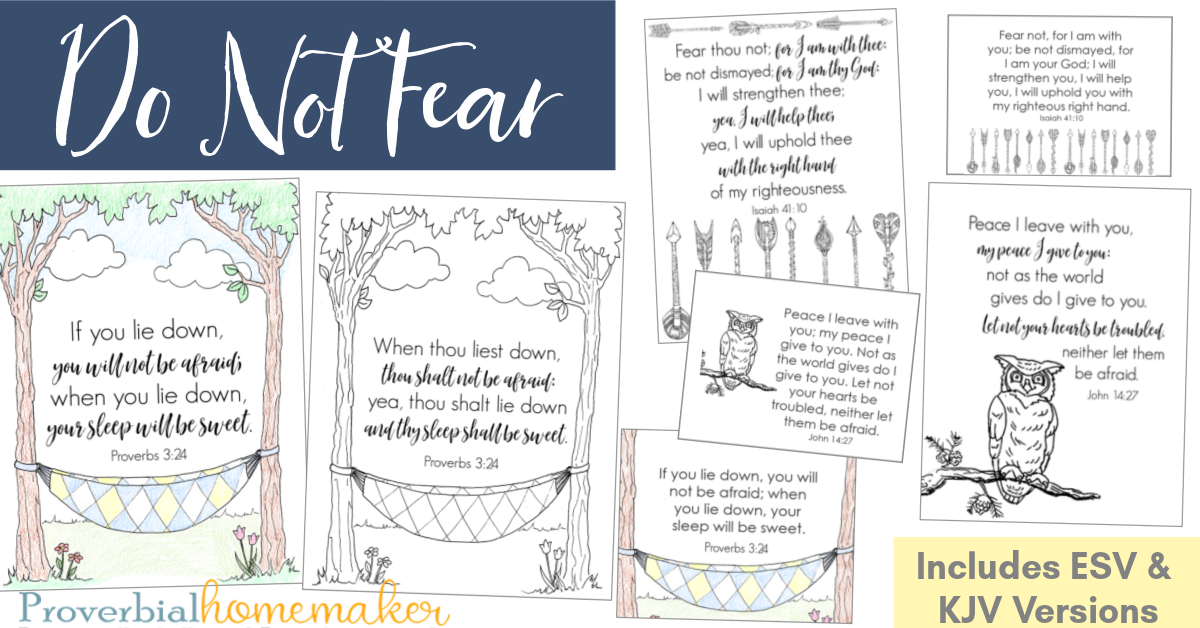 Download this Scripture printable pack! It includes a custom illustrated Scripture art print, coloring page, and card for Proverbs 3:24. It also includes bonus coloring pages and cards for Isaiah 41:10 and John 14:27.
You Might Also Like