My husband and I are in the beginning stages of planning our first family vacation this summer. We've gone on trips with family and seen some amazing places, but we have never done all of the planning ourselves.
It is so exciting for me to look at all of our options and figure out how we can get the most fun out of our money. During our vacation planning, I've picked up a few tips for frugal family vacations that I think can save you on your next family trip!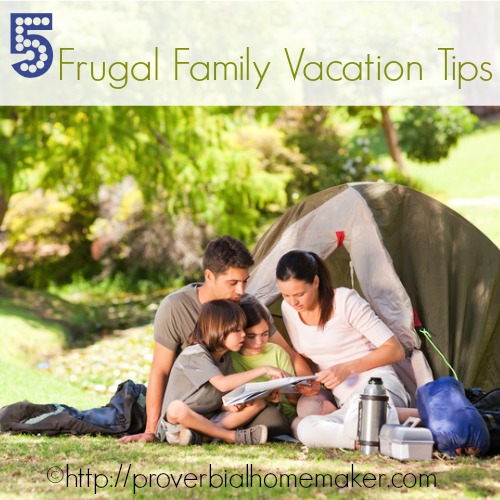 Disclosure: *This post may include affiliate links. As an affiliate, I earn from qualifying purchases. Read the disclosures and terms for more information.
1. Keep It Local
If you're planning to drive to your destination, it only makes sense that the less you have to drive the more you will save on fuel costs. Look around your state for new and exciting places that you've never visited. You may be surprised at what you can find. We live in Arkansas have have many state parks with beautiful scenery and lots of things to do, which leads me to my next tip:
2. Go Camping
Kids love to play outside and camping is such a wonderful experience! Tents can be bought relatively inexpensively and campgrounds can be rented for as little as $10 a day in some places. Buy a few cheap fishing poles and make sure to bring a good pair of hiking boots so you can just have fun exploring the area.
If you've never gone camping before in your life, it will require some skills. Make sure you know how to build a campfire, and it's always a good idea to bring a first aid kit.
3. Look into National and State Parks
This one kind of goes along with camping, but if tents are not your thing you can find other lodging within the parks. We live in Arkansas and several of our state parks offer cabins that are relatively inexpensive to rent. They are even less expensive if rented in the off season and during the week rather than the weekend.
Along with fishing and hiking, you can check your park's website to find out if they offer guided tours or have special events. Our favorite state park offers guided tours, a nature center, and several programs at no cost.
4. Bring Your Own Food
Don't think you have to eat out for every meal during your vacation. Bring your own snacks such as fruit, veggies, cheese sticks, and trail mix. Lunch items also travel well. We like to bring sandwich bread, lunch meat, cheese, condiments, and peanut butter and jelly for a little variety. Bring refillable water bottles for each member of your family.
If you decide to stay in a hotel, choose one that offers a decent, free breakfast and a mini-fridge in the room. Look for local grocery stores to re-stock your snacks and lunches. When you do eat out, share entrees. This is especially great when you have very young children. They really don't need their own children's plate!
5. Shop for Deals in Advance
If you decide you want your destination to include an amusement park, look around for packages. Many resorts offer packages that include tickets and will save you money. It's also a good idea to keep on eye on sites like Groupon for the area you are visiting.
Another one of our favorite vacation destinations is Branson, Missouri. They have lots of fun shows and museums, so I like to google "Branson deals" when planning a trip to find the best prices.
These are just a few frugal family vacation tips that I hope save you some money on your next vacation. I would love to hear your best tips!