Isn't this year flying by? We are now nearly half way through. With vacation time here, now is a great time get out camping and show your kids how beautiful nature is. I created this Camping Printable Pack that includes a great scavenger hunt that you can do while on your trip.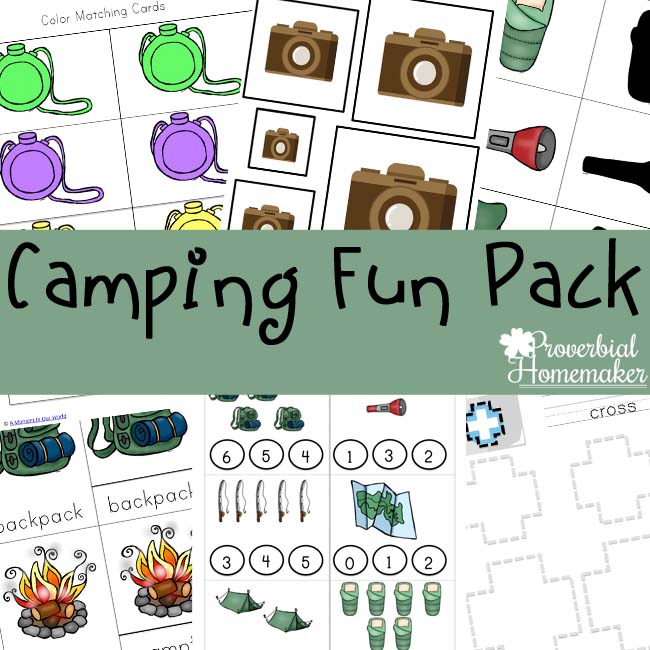 Disclosure: *This post may include affiliate links. As an affiliate, I earn from qualifying purchases. Read the disclosures and terms for more information.
Camping Printable Pack
This 64 page Camping Printable Pack includes many activities for kids aged 2 – 9.
As always, we love using 3 part cards. I love printing out 2 copies of these cards on white card stock and then laminating them. Our boys enjoy matching them up as well as in games such as memory and snap. I like using them for spelling practice as well. After shuffling all the unlabelled cards and placing them face down in a pile, the boys take turns at picking up a card and spelling the word that goes with it.
Some fun cut and paste pages. These pages will get your child thinking: 'Is it living or non-living?' I'm going hiking / bird watching, what will I need?'
The Literacy Activities include handwriting practice as well as dot the letter activities. I have also included a couple of pages for your child to learn about nouns and verbs.
The Math activities in this include counting, following the numbers, and number puzzles. I have also included count and shade cards and simple addition / subtraction cards. With these cards, you child can either shade in the correct answer, or if you wish to reuse these cards, after laminating them, your child can use either a peg or paperclip to clip onto the answer. Sometimes our boys place pom poms or lollies on top of the correct answers.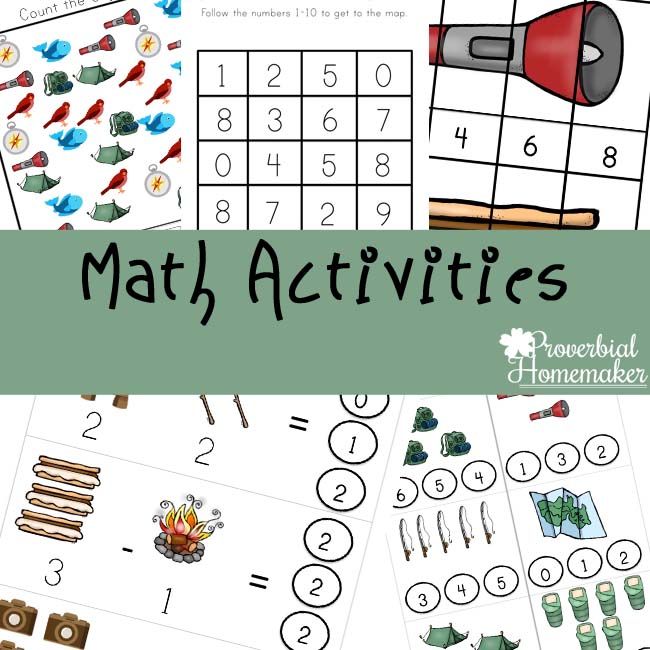 And, as mentioned before, I have included some fun Scavenger Hunt pages. If you aren't going camping, you could still use these pages when you visit a park, or go on a hike.
Download the Camping Printable Pack!
Download the Camping Printable Pack
Your download link will be emailed to you and you will be subscribed to Proverbial Homemaker if you aren't already. Be sure to check your spam/promotions folder. If you have any issues, check out this troubleshooting guide or feel free to email me!
I hope you enjoy this pack. If you are interested in more camping activities check out these:
Free Caravan and Camping Checklist
Let's Go Camping – Lots of fun camping activities and printables