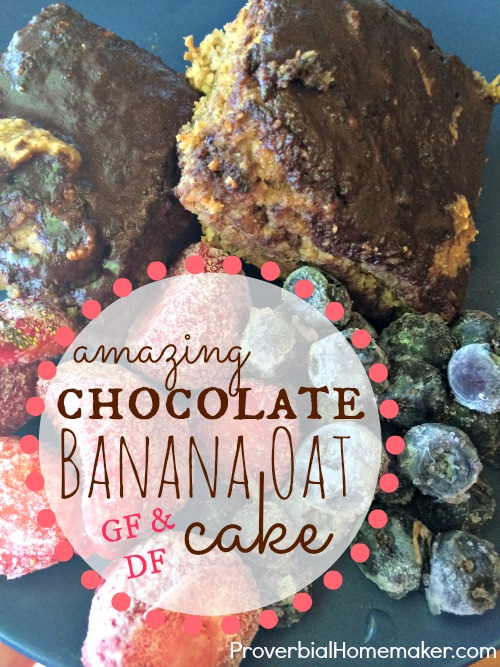 Disclosure: *This post may include affiliate links. As an affiliate, I earn from qualifying purchases. Read the disclosures and terms for more information.
Making delicious desserts that are also gluten- and dairy-free can sometimes be a challenge. Especially ones that satisfy that chocolate craving just right!
Are you ready for a chocolate oat cake recipe that will make all your allergy friendly chocolate dreams come true? Well here it is!
This dessert is adapted from one by Ambitious Kitchen, and is fantastic for company, the church potluck, a snack, or a light meal paired with frozen berries (and coffee!). It keeps fairly well and can even be frozen for later.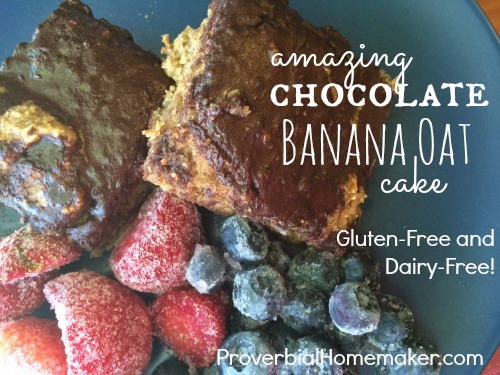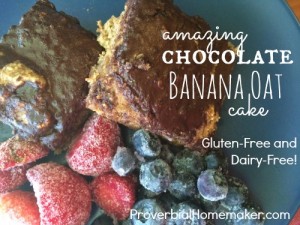 Chocolate Banana Oat Cake (GF, DF)
Prep time:
Cook time:
Total time:
This oat cake is healthy-ish and full of chocolate banana goodness!
Ingredients
5 cups oat flour (ground up oatmeal, gluten-free if desired)
1 tsp baking powder
1 tsp baking soda
½ tsp salt
3 tsp cinnamon
3-4 medium ripe bananas
2 tsp vanilla extract
½ cup vegetable oil or applesauce
½ cup honey or brown sugar
Chocolate Coating:
½ cup cocoa powder
½ cup coconut oil
½ tbsp honey or sugar
1 tsp of salt
melted dark or dairy-free chocolate chips
Instructions
Preheat oven to 350 degrees F.
Spray 9x11 inch baking pan with olive oil or other non-stick spray.
Combine ground oat flour, baking powder, baking soda, salt and cinnamon.
Blend bananas, vanilla, applesauce, and sweetener into blender until smooth.
Add banana mixture to oat flour mixture and mix until combined.
Spred into baking pan.
Bake 25 minutes or until toothpick comes clean.
Chocolate Coating:
Place cocoa powder , coconut oil, sweetener, and salt into a saucepan and mix on medium-low until well blended. Let cool (but not harden) and pour over cake. Alternatively, you can melt dark or dairy-free chocolate chips for the coating.
For more great gluten-free ideas, check out my Pinterest board!
Follow Tauna Meyer (ProverbialHomemaker.com)'s board Gluten-Free Recipes on Pinterest.