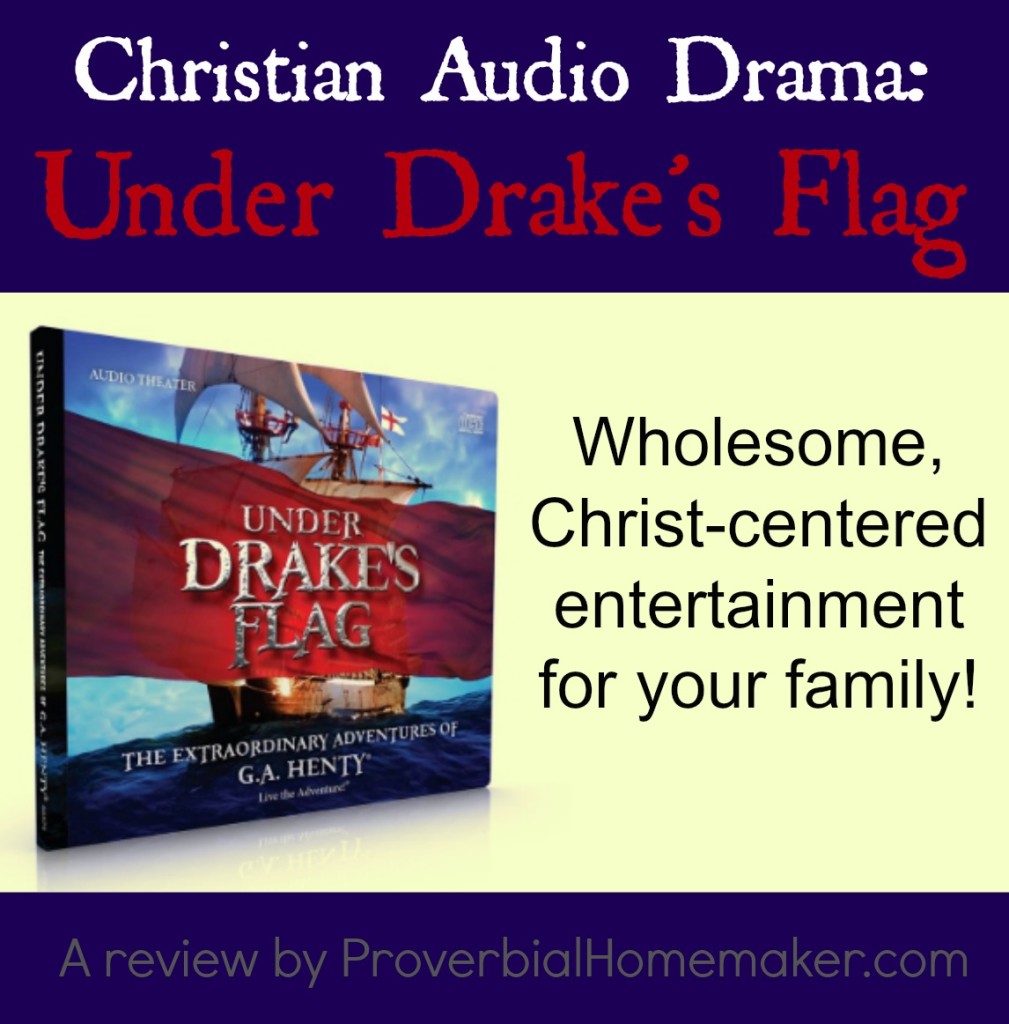 Disclosure: *This post may include affiliate links. As an affiliate, I earn from qualifying purchases. Read the disclosures and terms for more information.
Do you have adventurous boys (or girls!) in your home? We do! Our oldest is six and just eats up anything that is full of adventure, danger, and daring, especially when it is starred by another young boy! We were blessed to review an audio drama called Under Drake's Flag, from Heirloom Audio Productions, as well as a study guide that came with it. The audio drama is an adaptation of the book by G.A. Henty, the famous historical fiction writer who lived and wrote during the last part of the 19th century
Under Drake's Flag is all about Ned and his friend Gerald and their amazing adventures with the historic hero Sir Francis Drake! It is a story of daring and coming into manhood, with wonderful moral lessons of character that make this mamma heart happy. Here's a little of what you can expect in Under Drake's Flag.
My Son's Perspective:
Sailing on the open seas
Shark encounters
Daring rescues
Honor and glory
"Ned got to be a pirate!" (Well…)
This Mama's Perspective:
High moral standards
Real heroes for boys to look up to
Brings history to life
Men and young boys who love and follow Jesus above all else
A reinforcement of the values of manhood my husband teaches him
A wonderful study guide and prayer to use along with the audio
How We Used Under Drake's Flag
Under Drake's Flag is suggested for ages 6 and up. Since my oldest is 6 and some of my youngers are often sensitive to tension and drama, my son listened to it on his own during his quiet times while the kids were sleeping. Afterward, I would chat with him about some of the questions and discussion prompts in the study guide, although it was more of a casual conversation for him.
After having completed the CDs, he has asked to go through them again and work on the questions in detail! I have to say, I am excited that HE is so excited about it. He was only disappointed that there wasn't another set of CDs to listen to. This next time around, I'm also going to work through the three character Bible studies at the end of the study guide: Godly Character, True Manhood, and Confessing Christ. The guide also includes a short biography of G.A. Henty and Sir Francis Drake.
I am so glad to have this resource in my home. Whether you are just looking for entertainment for your kids that has a Christian worldview or want to enhance your history studies, it is a great addition to your home! We can't wait to get the next thing Heirloom Audio Productions is coming out with! They are scheduled to release a new audio drama called Freedom's Cause in the fall, the story behind the life and legacy of William Wallace and Robert the Bruce.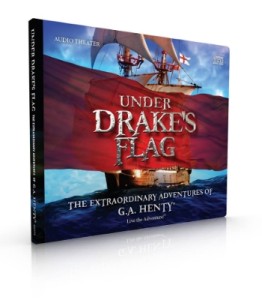 Product Details
For ages 6 and up
Connect with Under Drake's Flag on Facebook
Under Drake's Flag comes with two CDs of high-quality, engaging drama.
When you order the instant mp3 download version ($20), you get two great free bonus offers: The 30-page study guide and discussion ebook and a printable copy of Drake's prayer, which is truly beautiful and inspiring.
When you order the physical CDs ($29.95), you get those bonus offers along with a download of the Under Drake's Flag soundtrack.