Hey, friends! I hope you enjoy this guest post from Tavia Fuller Armstrong! It's an interesting way to think about and tackle the idea of teaching how to respect others in the context of your homeschool. ~ Tauna
---
Of all the lessons we can teach our children, one of the most important is to respect others. This is not something that comes naturally, as is pretty clearly evidenced by the behavior of toddlers. They have to be taught how to share, to play nicely, and eventually to show kindness and compassion to those around them.
It is important to teach our kids to be kind and respect others by example. You could complete every existing unit study on character building, and read through every Bible passage on how to treat your neighbor, but if you aren't a living example of respect, your kids aren't likely to grow into respectful adults, either.
Disclosure: *This post may include affiliate links. As an affiliate, I earn from qualifying purchases. Read the disclosures and terms for more information.
Teaching Children to Respect Others and Not Be a Homeschool Bully
So how can we teach our kids to respect others, in deep and meaningful ways?
Listen to others
One of the ways we can show others respect is to listen carefully and attentively, and give them a chance to share their point of view. We may not agree with what they have to say, but listening shows that we are at least willing to hear them. Take time to listen and consider what others are saying, even your own kids, before you form your response.
Extend courtesy
Whether you are holding a door open for a stranger or offering to help with the dishes at a family dinner, your children will notice when you extend courtesy to others. They will see the reaction that people give you when you offer a helping hand. Going out of your way to lighten someone's load or brighten their day is a wonderful way to spark a positive change in the world.
Be accepting of differences
We're not all the same. We don't all dress the same, talk the same, or often, even believe the same way as the other families we meet. That doesn't mean we can't get along, though. Show your children, by example, that you can be kind and courteous to others, even if they are very different from you and your family. It's easy to treat those who are just like you with respect, but when you can do the same for those who are different, you're really setting an example to follow.
Fight fairly
Conflict is unavoidable, but you can choose to whether to fight fairly or wallow in the mud. Positive conflict involves talking things out, reasonably, and giving consideration to the other person's point of view. Negative conflict may take the cowardly form of ghosting or freezing someone out, or more aggressive tactics such as name-calling, put-downs and even threats. Whether you engage in positive or negative conflict, be assured your children are watching and learning how to engage.
Don't be a bully
If you refuse to listen to others, shun or treat people poorly because they are different, call people names or put them
down, gossip behind their back or try to get others to stop being their friends, you are crossing the line into dangerous territory. These disrespectful behaviors are destructive, not only to your community, but to you and your family, and your kids are sure to follow your lead.
In other words, if you allow yourself to act like a bully, you can expect your kids to be bullies, too. They learn from the ones they observe the closest, after all. If we want our kids to treat others the way they would want to be treated, we have to model that behavior every chance we get.
One way to start a conversation about treating others with respect is to print out copies of Don't Be a Homeschool Bully: A Workbook for All Homeschool Families, and go through them with your kids. This workbook will help you to not only take an honest look at your own behavior, but to address any bullying tendencies your kids be dealing with, too. Pray over your answers and work together toward becoming the kinder, more respectful family you want to be.
You Might Also Like…
Scriptures for a Gentle, Joyful Mom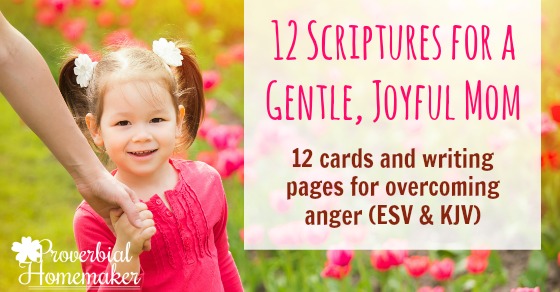 Tavia Fuller Armstrong is an award-winning freelance writer, speaker, author and homeschooling mother of three awesome kids. She resides in Oklahoma, where she enjoys spending time with her family, reading old books and appreciating nature. You can find her blogging at The Unplanned Homeschooler or on Facebook.
You can also find her books and curriculum, including Homeschool Bullies: Dealing with Mean Kids, Cliques and Mama Drama and The Unplanned Homeschooler: My Disorganized Path to Homeschooling Success in her store.
SaveSave
SaveSave
SaveSave
SaveSave
SaveSave
SaveSaveSaveSave