Learning the history of our country doesn't have to be dry and boring. American history is full of exciting stories, courageous figures, and humble giants of the faith. In our homeschool, we love to learn about history through the inspiring stories of the past. Digging into the ideas, events, and struggles that Christian Americans face engages young learners while introducing them to the history that shaped our nation. If you love this kind of learning as well, consider the American Faith curriculum!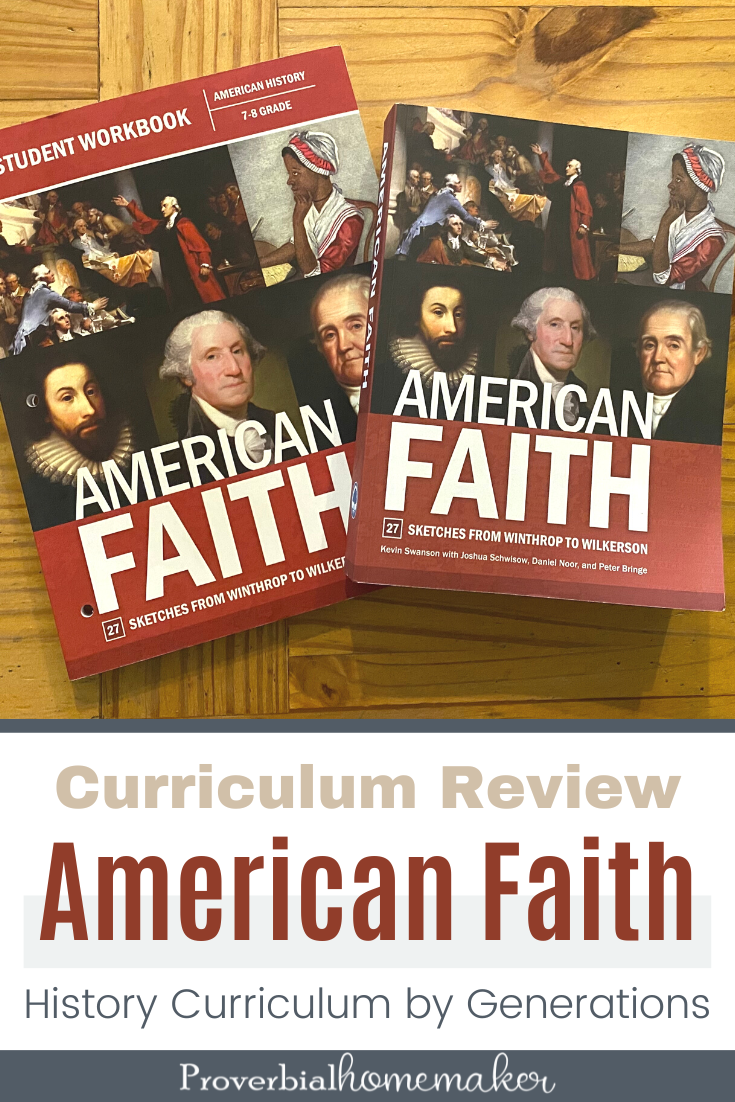 Disclosure: *This post may include affiliate links. As an affiliate, I earn from qualifying purchases. Read the disclosures and terms for more information.
(I requested this curriculum in exchange for an honest review. All opinions are my own.)
One of the resources we're using this year to teach history in our homeschool is American Faith: 27 Sketches from Winthrop to Wilkerson. This fantastic curriculum from Generations is flexible to use in various ways in your homeschool.
Teaching American History Through Christian Biographies
We all know that dry texts and an endless stream of facts will kill interest in history faster than you can say George Washington. That's why we use engaging texts, rich literature, and original documents.
We also love to incorporate biographies and stories of important Christian figures from history. They provide an inside look into the ideas and events of the times in a more intimate way and prove to be some of the most memorable parts of a history lesson!
American Faith27 Sketches from Winthrop to Wilkerson
We added the American Faith curriculum by Generations to our homeschool this year, and I'm so glad we did! It has been an excellent resource for showing our children examples of how God uses men and women of faith to bring about His purposes in history.
For example, you'll learn about Anne Bradstreet, America's first published poet. She was one of the first Puritans in the New World and wrote from her passionate Christian faith. You'll also learn the fascinating history and life of Lemuel Haynes, the first African-American minister. His dedication to discipleship and furthering the kingdom of God is inspiring! There are 27 total historical figures that your student will study and learn from.
The American Faith curriculum is divided into five sections, each highlighting the stories of godly men and women of the faith:
Spiritual Roots (1600 – 1700)
Foundations of Faith (1760 – 1800)
Prideful Expansion and Internal Turmoil (1800 – 1865)
National Prosperity and Secularism (1865 – 1920)
Remnant Revivals and Spiritual Decline (1920 – Present)
Taking a survey of early American history through the stories of Christian Americans is an exciting and unique way to study this period. It covers the major events through that time and gives an overview of history while also digging deep by sharing the life and ideas of the people it studies. And over it all is the clear purpose of highlighting the works and purposes of God throughout HIStory and our part in it.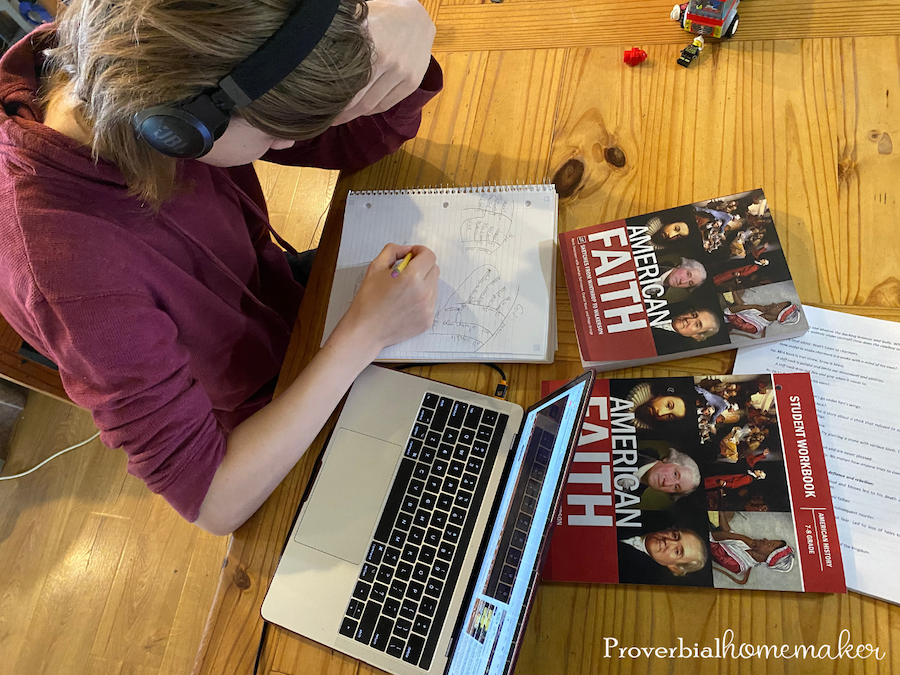 Four Ways to Use the American Faith Curriculum by Generations
The American Faith curriculum is designed for grades 7-8, but I find it easy to adapt for various purposes:
American Faith Student Workbook
The main American Faith text also comes with a student workbook. Generally speaking, I'm not a workbook gal. However, my oldest actually really likes the Generations workbooks, having already become familiar with them through their literature curriculum, and enjoys doing the one for American Faith, too.
Scheduling the Course
The workbook has a schedule in the front if you have a child working through it independently. It will help them know what to read each day and what assignments to complete. Since we are using it for a high schooler and as a supplement, we tweaked it a bit. He simply reads one whole chapter a day, narrates it to me orally, and then completes the workbook assignments.
Chapter Assignments
A workbook assignment for each chapter includes the following:
Focus/memory verse
Fill-in timeline
Comprehension short-answer questions
Meditation, Application, and Prayer, which contains 2-3 more in-depth questions or writing pieces
The Meditation, Application, and Prayer questions are my favorite feature in the chapter assignments because they often require digging into Scripture more and always include really engaging, thought-provoking questions. These are the ones I go to and read or discuss with my son after he finishes his oral narration of the chapter.
Unit Assignments
The American Faith curriculum is divided into five units. At the end of each unit is an exam (multiple-choice, short-answer, etc.) and a set of projects the student can choose from. The Projects are mostly written essays, short research projects, and the like. They are very well done and worth using. For unit 1, he chose to listen to a sermon by Jonathan Edwards and take notes, then wrote an essay about it.
Helpful Introduction Information
Homeschool mom confession: I never read curriculum introductions (Who has time for that?), but I'm glad I stumbled into the intro for the workbook and recommend you stumble into it, too. In particular, take some time to read the sections on Course Objectives and Teaching Methods. They gave me great pointers on what to emphasize and point out during our conversations and activity ideas to enrich and solidify learning.
Could You Skip the Student Workbook?
After all, I did say I'm not a workbook gal, right? 😉 Generations resources are fairly traditional in terms of format and lesson style. However, they're easy to adapt to my eclectic and Charlotte-Mason-method-inspired approach.
As far as Generations workbooks go, they have great discussion topics (and the intro content I mentioned above), so I usually make a point of getting them. In this case, I gave my oldest the option to skip most all the workbook content if he wanted, but he chose to do all of it.
If you wanted to skip it, you probably could. Having your child read the chapter and give a written or oral narration (tell back in their own words what they read), would work just great for middle school or a high school supplement. For me, even if all we use are the questions for the Meditation, Application, Prayer sections and then the unit Projects, the workbooks are well worth the cost. But like I said, my 9th grader prefers to do everything in the workbook and that's fine by me!

Bottom Line on the American Faith Curriculum
American Faith curriculum is another solid win for Generations in our homeschool. If you're looking for a great family read-aloud, independent study for 7th-8th, or high school supplement, definitely check it out! You'll enjoy digging into inspiring stories of American Christians that point you and your children to Christ, all for God's glory.
Want to learn more? Be sure to download their samples! You can go to their store to download samples of the American Faith main textbook and the student workbook.
Other Resources from Generations
Our family has already become familiar with Generations by using their literature curriculum for middle and high school. They follow a similar format, and we use them in much the same way we approach American Faith.
The American Faith curriculum was our first real dip into history with Generations. We enjoyed it so much that I'm sure we'll be trying out more for history and other subjects, too! Here's what we're considering:
Have you used any curriculum from Generations? If so, I'd love to hear what you particularly enjoyed!
~ Tauna
You Might Also Like…
Bible-Based Language Arts Curriculum