Homeschooling can be a great way for children with dyslexia to get the individualized teaching and loving environment they need to thrive. But as homeschool moms, it's easy to feel overwhelmed and uncertain of what methods and materials will set our children up for success.
In our homeschool, my sweet kiddo and I encountered some challenges this year that had me looking for some extra support. That's when I found Lexercise! Lexercise is an online dyslexia therapy program that can help children develop skills like reading, writing, and spelling, while providing homeschool parents with the information and support they need to teach their children effectively.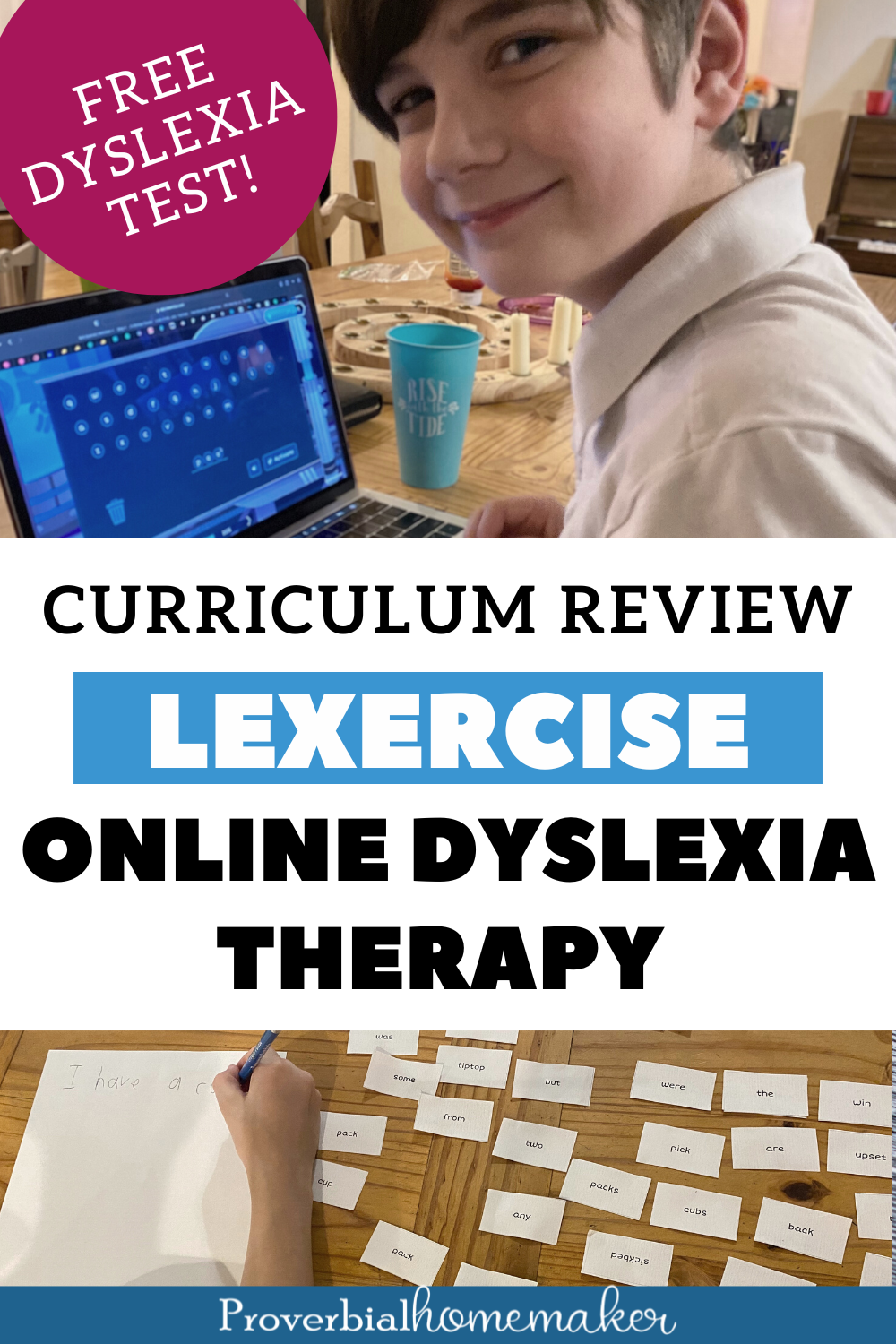 Disclosure: *This post may include affiliate links. As an affiliate, I earn from qualifying purchases. Read the disclosures and terms for more information.
(I requested access to this program in exchange for an honest review. All opinions are my own.)
What is Lexercise?
Lexercise is an online therapy program specifically designed for children with dyslexia. The program provides research-based reading, spelling, and writing therapy through a structured literacy (Orton-Gillingham) curriculum and with the support of leading expert therapists. Lexercise is used by homeschool families, tutors, and schools to provide great support for for dyslexia, dysgraphia, and other learning disabilities.
Why Use Lexercise?
There are several reasons why Lexercise might be a good fit for your homeschool.
Here are some highlights:
Uses research-based and uses the Orton-Gillingham approach. (That's the gold standard for dyslexia support.)
Eliminates the need for expensive tutors or specialized educational materials.
Interactive lessons adjust to your student's progress and needs and creates a more engaging experience for them.
Simple to implement, only requiring an internet-connected device and some basic materials like a small whiteboard.
Flexible to meet your family's busy schedule without having to worry about traveling or interrupting your homeschool routine.
For our family, the flexibility of an online, self-paced dyslexia therapy program was extremely valuable. It's also a program that my son actually ENJOYS doing each day! No more tears over reading or spelling struggles. That's gold.
How Does It Work?

Lexercise provides a guided curriculum with weekly lessons narrated by dyslexia expert and veteran homeschool mom, Sandie Barrie Blackley. Parents are provided with a quick training video to watch first, and then they sit with their student to work through the interactive lesson for the week.
For the remainder of the week (at least 4 days), students practice what they learned with the fun games. The program also suggests support activities for the parents to do with their child after they've completed the games, such as building sentences with word cards, doing word spelling on a white board, practicing reading a particular set of words, etc.
When I was initially considering Lexercise, I asked how long it would take to complete the program. The therapist said that it depends on the student and their pacing, but with over 40 lessons, it generally takes 1-2 years.
There are two therapy plans available for you to choose from.
Basic Therapy: (This is what we use) affordable option for families with self-paced online lessons access to a therapist to ask questions.
Professional Therapy: live online with a therapist guiding your student through the weekly lesson.
View this comparison chart to see more details on what is offered for each option.
Our Experience with Lexercise
We signed up with the Basic Therapy program. My child and I go through the guided program together and I help him with any trouble spots. I have access to great training materials as well as an assigned therapist of whom I can ask questions whenever needed.
Right off the bat, we were able to start the lessons without much prep. I'm really impressed with the smooth functionality and features. The themes are interesting to my son and keep his interest, and there are several support features that help me make the most of the program.
Things I love:
Lessons are easy to implement. This is huge for this busy mama. I do sit and go through them with my son and give reminders and encouragement when needed. I make notes of any trouble spots, but they aren't long or laborious.
Practice games are quick and fun, and give me a good idea of where he needs additional instruction. I typically sit with him for these or am nearby so I can hear how things go.
There are a variety of parent-led review activities for each lesson, and the program recommendations which ones we should do that day based on student progress.
Access to an excellent dyslexia therapist. Ours has been wonderful. She has saved me time, tears, and sanity, and has made our Lexercise experience amazing. If we get really stuck, for an extra fee we can do a live session with her. So far I haven't needed that, but I'm glad it's in my back pocket.
Helpful parent dashboard with useful feedback and student progress tracking. I can see where he needs more practice, what areas we need to review, whether he's ready to move on or not, etc.
Extensive support and training materials for parents in the program. Now, I'm a lazy user and tend to just jump in without reading or watching training videos. That's pretty much what I did for the first three months and it was still great. But once I realized how incredibly helpful the resources were, I started using them more. Not only is there extra help for each lesson, but you'll find info on how to help your student deal with discouragement, what to do about extended breaks like vacations, etc.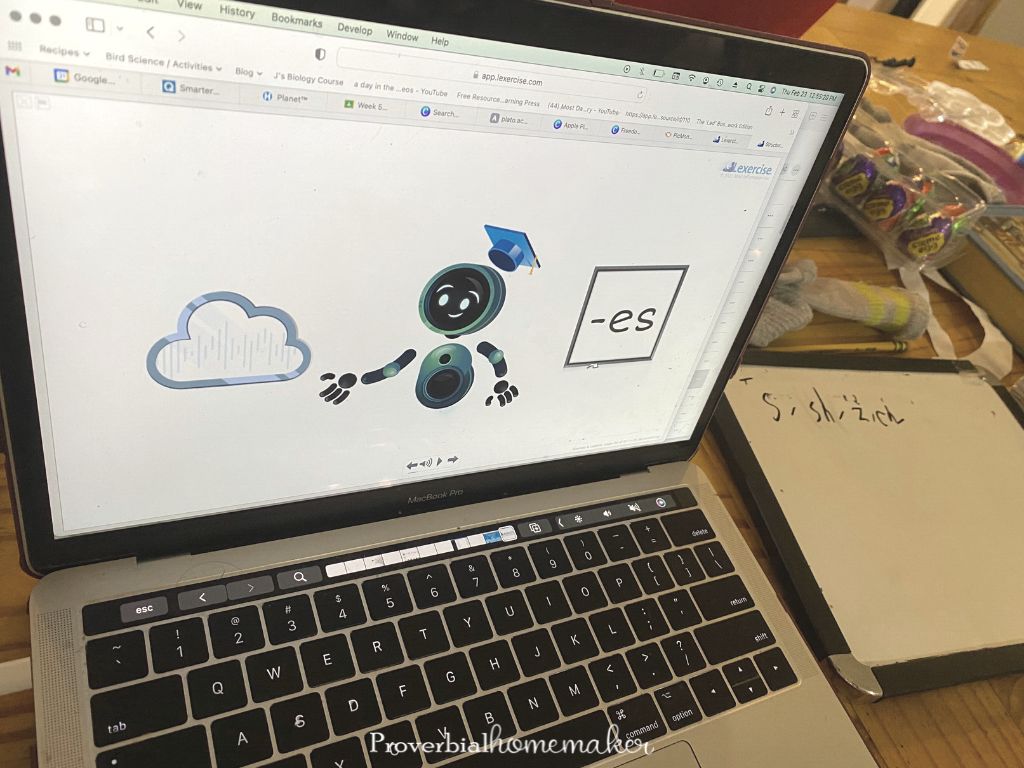 One of the things I've appreciated about using Lexercise is how much I'm learning about my son and how he learns best. Through our struggles, the way Lexercise teaches, and the extra information and encouragement provided by our therapist, I'm growing in understanding about how best to teach him. Even better, we're enjoying that part of his homeschool journey again!
Let me give you an example. My son often has days where he seems to completely forget everything he'd been learning for the past several weeks. It was frustrating for both of us! When we reached out to our Lexercise therapist about this, she provided several helpful pieces of information:
That's normal for a dyslexic student, so don't worry. "Their mastery will come over time, and not in a traditional linear fashion."
The structured literacy program provides the support and practice they need over time and start t0 "develop the needed memory, processing, and neural links"
That a saying in dyslexia therapy is that our students are "consistently inconsistent." 🙂
Whew! I was so relieved to hear all this and the suggestions she gave me for how to help him through that rough patch.
Things my student loves about Lexercise
Games – He likes the weekly lessons but LOVES the daily game practice. You can try them out for yourself here!
Points – The program awards him points for completed lessons, practices, activities, etc. He has a pretty great time watching those points rack up. 🙂 Lexercise also emails me when he reaches a points milestone and encourages me to give him a reward of some kind.
Streaks – You can see a little flame that shows how many days in a row he's done Lexercise. He likes to see how many he can get!
Confidence – He is growing in confidence as his skills improve. The other day I heard him say "I'm starting to be pretty great at reading." ❤️
Fantastic Bonus Features
Lessons include breathing exercises to ease anxiety. (They can be turned off in the settings.) My son did need these when we started, but they soon became enjoyable for both of us and we use them at other times during the day as well.
Letter formation activities are incorporated into the lessons if your student needs them. We definitely found this helpful.
To additionally reward or encourage your student, you can add an audio recording they can listen to the next time they log in. You can even award bonus points!
Things I Could Do Without
Every resource has pros and cons. There's not a lot about Lexercise I don't like, but here are a few things I noticed.
I wish the weekly lessons and training showed a progress bar for the entire video rather than just the slide you're on. Not knowing how long it will be makes me twitchy, even when they're short.
I don't use the printable lesson record forms, which are meant to help you track observations and areas that need work. I feel like the tracking done in the program, along with my daily observations, is sufficient. But if I were doing multiple students, found myself having a hard time tracking progress, or needed documentation for an IEP/PDP, I'd use them and am glad to know they're available.
Like I mentioned, I didn't use the parent training videos for each lesson or really dig into the other parent support materials for quite some time and we still did well. But I've since started using them and find them valuable. So, I *could* do without it, but I'm glad I don't have to.
The Best Part? It's WORKING
It's been about four months since we started Lexercise and we're seeing great results. His reading fluency and confidence have increased quite a bit already. He recently decided (on his own!) to join a group of kids at church on a spiritual disciplines challenge. He decided (ON HIS OWN!) to read a column of text each day out of his NIRV study Bible and then write a few sentences about what he read. When he reads aloud, his accuracy and speed are noticeably better and he understands what he's reading.
His spelling took longer to see improvement (which is normal for dyslexia) but after about three months in I've started to notice good progress with spelling as well. Reviewing lessons as needed, working on the white board activities, and using the practice games seems to have helped with this quite a bit. He's starting to retain more of his sight words and patterns.

Another thing that is really helping his spelling is the "memory hooks" activity Lexercise suggests creating for words they often forget how to spell. Memory hooks are a device that uses sound, letter patterns, visuals etc. to help them remember the spelling, such as "there are too many o's in the word too." My son is fond of how they teach them to create visual memory hooks, so he's started drawing memory hook pictures to keep in a notebook. For example, he drew a skier sliding down a "w" in the word "down" to remember that it's spelled "down" instead of "doen." At first this approach baffled me, but he loves doing it and it has been very effective for him! He's building quite a library of visual memory hooks for himself.
Bottom Line on Lexercise Online Dyslexia Therapy Program
Lexercise has given me confidence as a homeschool parent that my son is getting the language support he needs. His reading has taken off, we're seeing improvement in spelling, and he LOVES the Lexercise program. When he's asked what subject is his favorite in school, he says Lexercise!
Plus, the therapist and tools Lexercise provides me as the teaching parent has made a huge difference. We get help when we get stuck, I learn how he learns best, and we are more consistent each week with his lessons. It's a huge win in our homeschool!
Is Lexercise Right for Your Homeschool?
I'm a busy mama who needed extra support from a flexible, self-paced program that made teaching my dyslexic son easier, more consistent, and more effective. And I wanted my son to actually enjoy it! Lexercise has done all that for us and more, and it's offered at a price that is MUCH more affordable than other therapy programs I have looked into.
If you're looking for a similar solution, Lexercise is for you!
Here's more for you to explore: