Teaching our children know God and His Word is a primary goal in our homeschool. So naturally, a lot of our homeschool day and week is occupied with that topic. But that doesn't always mean just studying the Bible, as important as that is.
All subjects can be taught with a biblical worldview. In addition, some learning activities can be done in many subjects using the Bible as a text. Add in fantastic Bible-based curriculum and resources, and you have a wonderful Christ-focused homeschool plan!
Language arts is one of those subjects that we like to do this with. We use Scripture and look for fantastic Bible-based language arts curriculum & resources that we can use to teach language skills in our homeschool.
Disclosure: *This post may include affiliate links. As an affiliate, I earn from qualifying purchases. Read the disclosures and terms for more information.
Our Language Arts Approach
If someone asks me what curriculum we use for language arts I usually pull up a chair and ask how much time they have. 😆 We take a very eclectic approach in our homeschool. With language arts specifically, we do things the way we do for very particular reasons.
1) Language is designed by God is important to grow our skills in.
It's how He communicates with us (through His Word!) and spreads the gospel message.
It's essential for growing our knowledge of and communication with God.
It's important for understanding and expressing thoughts, and for communicating with other people.
2) We like to be efficient and avoid busy work. There are several skills that fall under the language arts umbrella: Reading, writing, spelling, grammar, speaking, etc. Because we can read, write, and speak about several different topics, it makes sense to double up where possible to save time and effort.
3) Scripture and biblical worldview are important to our family. Therefore, using the Bible and various Bible-based language arts materials to teach the subject just makes sense. We grow in those skills while focusing our time and attention on the things that matter most to our family!
Our primary ways of doing these things are to find great Bible-based curriculum or resources, then use activities borrowed from the Charlotte Mason tradition, such as narration, copywork, dictation, notebooking, and more to teach language arts skills. (I'll be writing another post soon with additional details on what each of these activities entail.)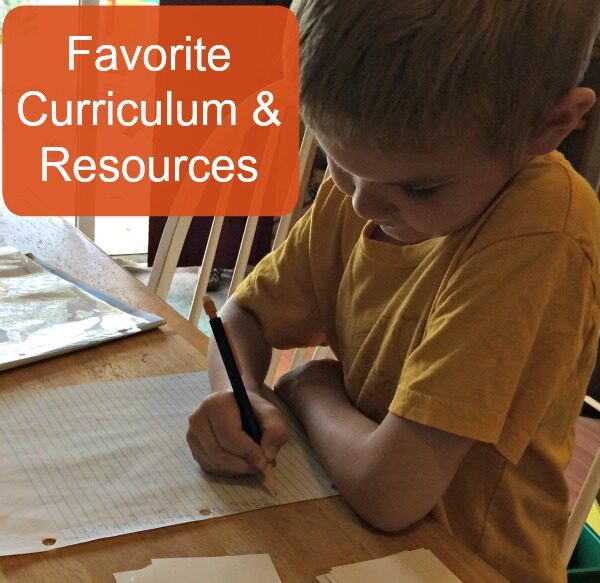 Using Bible-Based Resources for Teaching Language Arts
The easiest way to show you how this works in our homeschool is to give you some specific examples. Here are two that will help give you a good picture.
Example 1: Language Arts Using the Bible
You can teach a lot using just the Bible. Obviously, this is incredibly important to family discipleship. But it also counts as language arts!
Reading
It's not "just" reading. Children are learning so much when they listen to or practice reading Scripture.
Read aloud and discuss the Scripture together every day.

Have your children start reading aloud from the Scripture as soon as possible (begin with just a sentence a day).

You could have everyone read from their own copy of the Bible as you read aloud so they can see the words, spelling, structure, etc. as you read it.
Consider a round-robin where you read a passage by going around the table and having everyone take turns, a few verses at a time.

As your kids get older, encourage them to start reading Scripture on their own as a personal devotional habit.
Copywork, Transcription, & Dictation
Choose one or more verses from Scripture and have your children practice writing it! It's a simple activity that covers so much.
Great for teaching letter formation and handwriting practice.
Reinforces memory verses.
More closely observe proper grammar, spelling, and vocabulary words in context.

Transition to transcription and dictation when appropriate to grow visual memory skills, listening skills, and more.
Narration & Notebooking
Narration is simply telling back in your own words (summarizing) what you read or heard. Written narration and notebooking are basically the same thing, except on paper. Narration and notebooking are fantastic for comprehension, pre-composition, composition, and speaking skills.
After your kids read or hear Scripture, ask them to explain what it said in their own words.

As they get older (usually about 3rd grade for us), start having them do written narrations as well

Narration and notebooking can include writing words, drawing pictures, or even building with Legos and telling you what they built based on the reading.

When you see spelling or grammar issues in their written narrations, gently begin instructing them on those points, one issue at a time.
Sounds so simple, right? Read, copy, narrate. But these tools are flexible, efficient, and effective!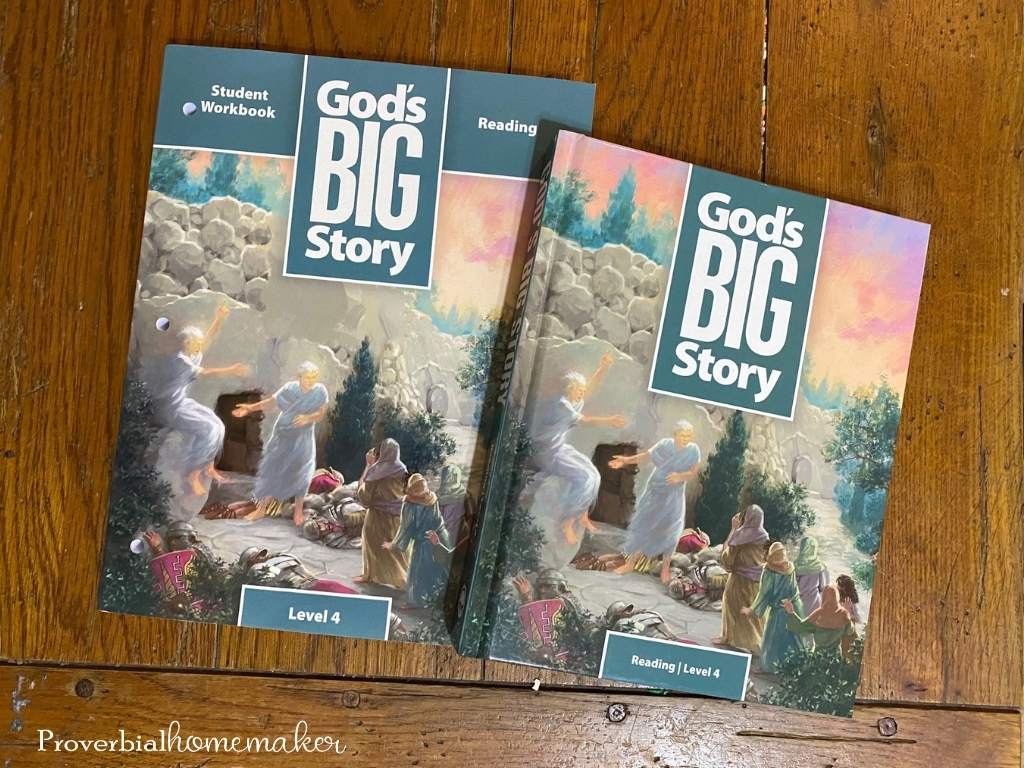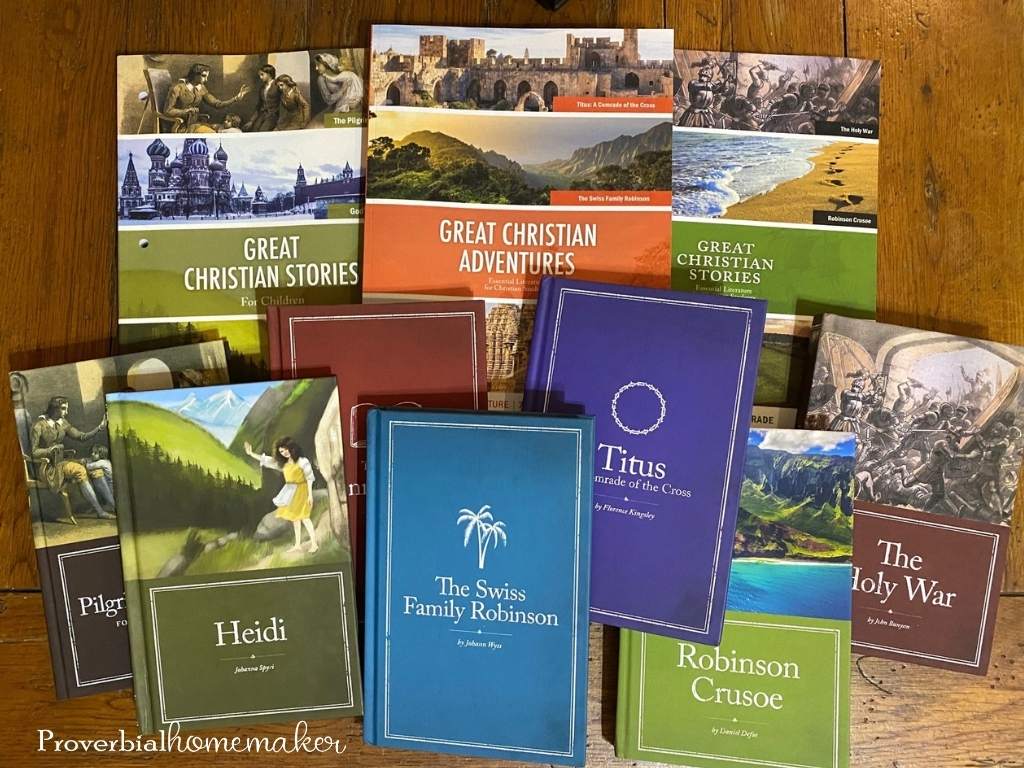 Example 2: Language Arts Using Generations Curriculum
*Note: I bought the God's Big Story curriculum and liked it so much I reached out to Generations and offered to do this in-post review for you in exchange for the cost of the material I purchased. I already owned the other Generations literature books.
In addition to the Bible, there are many other Bible-based language arts resources that you can use in similar ways to teach these skills.
This past year, we started using Generations literature curriculum in our language arts program and it has been such a blessing.
God's Big Story – Reading Series
I really love the God's Big Story series. Such a great idea! It includes a leveled Bible story reader and workbook for grades 1-5. Four of my kids are using them as read aloud and oral narration practice.
Here's what I appreciate about this series:
Gives the kids familiarity with the essential Bible stories.
Gives an overall view of the BIG story of Scripture with a focus on the gospel message.
Includes Scripture references for optional additional reading.

Provides leveled reading practice matched to their current skill level.
Each level provides more stories and more complex language.

Interesting color illustrations that add to the story and my kids enjoy looking at and discussing.
The chapters also include key words / vocabulary words highlighted for discussion, with definitions at the end of the chapter, as well as chapter summaries identifying some overarching themes of the story.
The readers are a definite win for us. They were great read aloud and narration practice especially for my first grader and dyslexic 3rd grader. They would read a chapter a day and then we'd discuss the illustrations, summary at the end, and any key ideas or words they didn't understand. It's a great conversation-starter!
The level 1 workbook and level 2 workbook were fun for those two boys as well. They included mazes and fun activities. We got the digital download so we could print off two sets of the pages we wanted.
The level 3-5 workbooks were nicely done, but I would only recommend them if you aren't already doing written narrations (because there's no reason to do both). They are fill-in-the-blank or short answer style workbooks. You could also just use them as a reference to spark discussions or use for oral narration prompts.
Other ideas for using the God's Big Story series:
Choose a sentence or two to use for copywork, transcription, or dictation.
Write out a sentence (or use the copywork a child did) and cut it into phrases. The next day, mix up the pieces and have the kids piece them back together.
Have your child read the story aloud or to themselves and then do an oral or written narration.
Have a child read aloud to a sibling and then the sibling does an oral or written narration.
Get out Legos or drawing paper and have your kids re-create the story they just read.
When Daddy gets home, have the kids tell him what they read about in God's Big Story that day.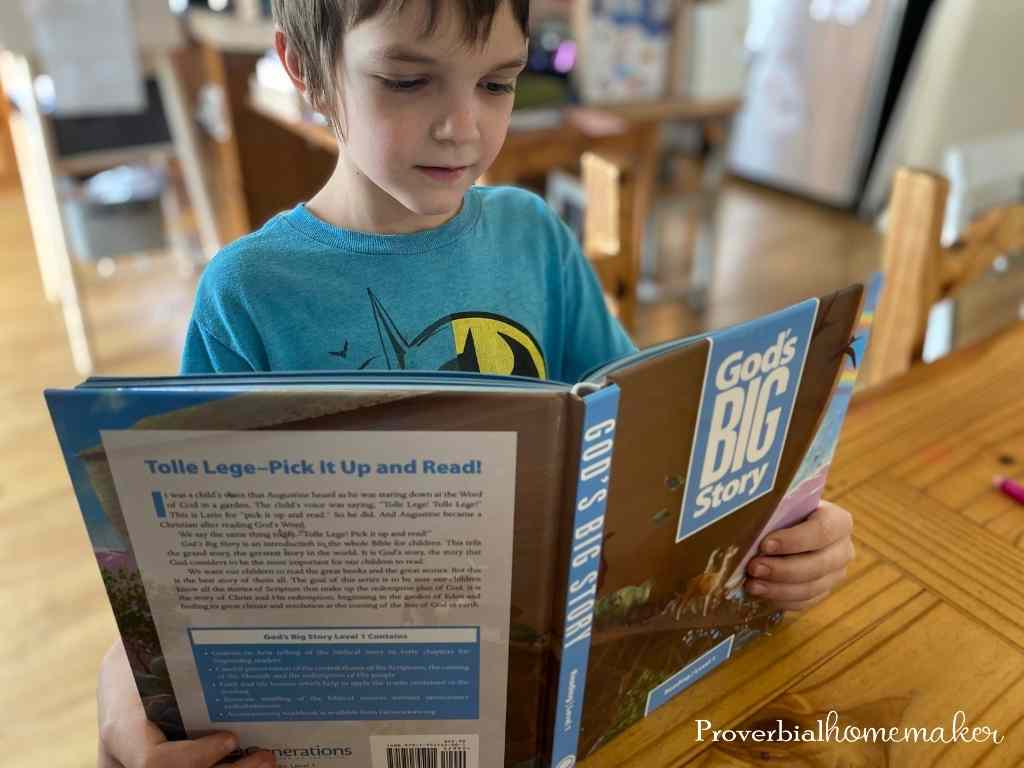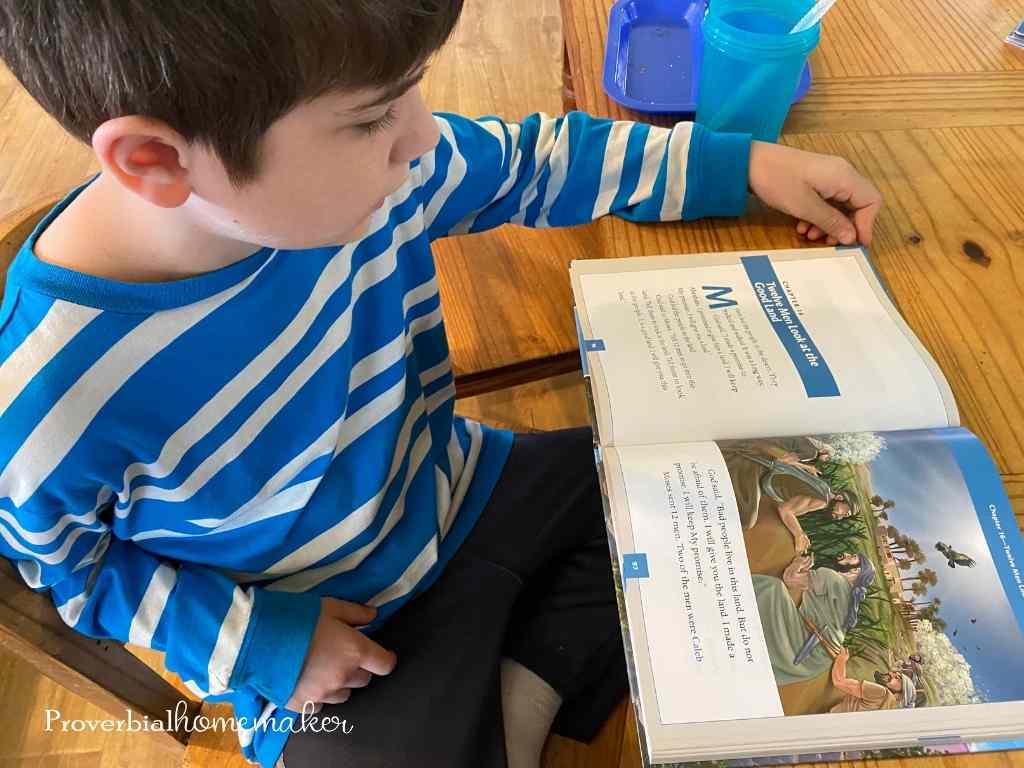 Generations Literature Curriculum for Grades 6 and Up
After the God's Big Story series, Generations provides more more literature sets we've been enjoying. Each set comes with a few Christian literature selections to read and a workbook.
My older two kids (the ones who like these short-answer style workbooks) really loved everything about the sets, especially the stories. I loved the quality Christ-focused literature!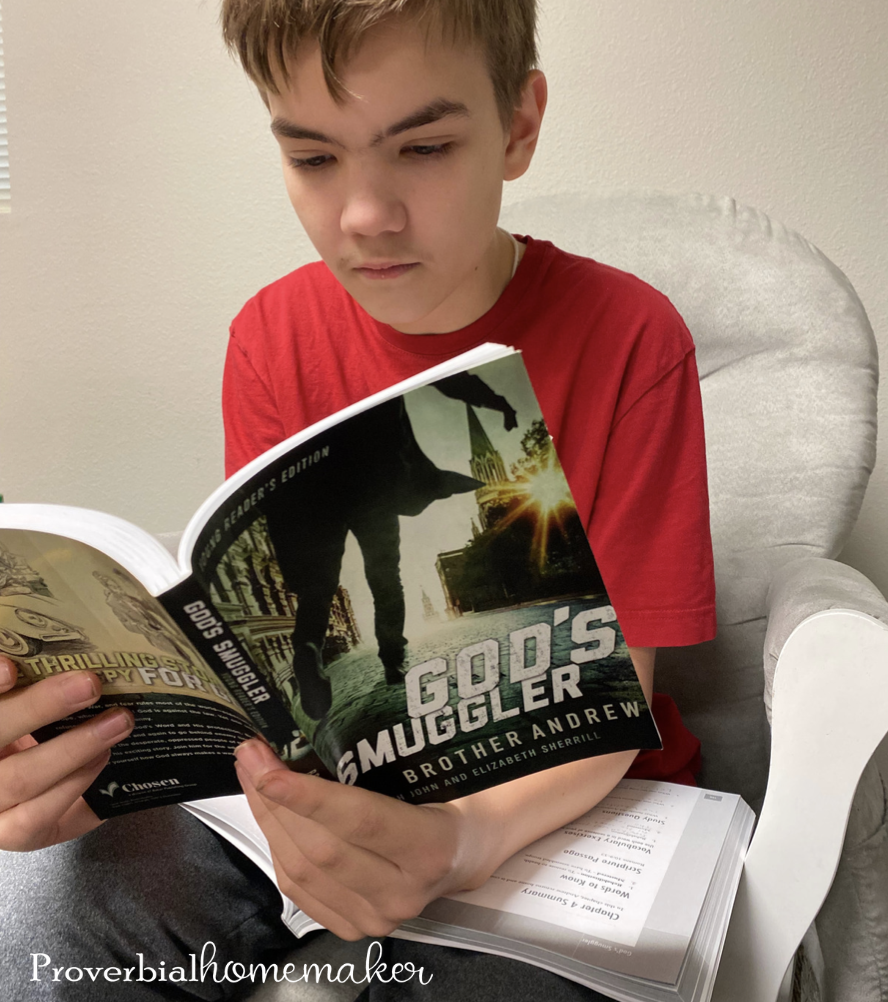 I got all three sets below and let them pick and choose which one they'll do next. I've been reading ahead on many of them as well for discussion purposes and have been blessed by them!
Great Christian Stories for Children Set (Grades 6-8, includes Heidi, The Pilgrim's Progress for Young Readers, and God's Smuggler Young Reader's Edition)
Great Christian Adventures Set (Grades 7-9, includes The Swiss Family Robinson, Titus: A Comrade of the Cross, and The Life of Henry Martyn)

Great Christian Stories Set (Grades 7-9, includes Robinson Crusoe, The Holy War, and The Hiding Place)
We also have almost all of their read-aloud book collections. They're great additions to our home library.
In addition to the ones listed above, Generations has Great Christian Classics volume 1 and Great Christian Classics volume 2 that cover grades 7-12 but we have not tried those yet.
Note that with these resources from Generations, we can still use our read, copy/dictate, and narrate tools to practice language arts skills further.
For example, my son sometimes highlights a particularly powerful quote from the chapter he is reading and do a dictation on it to practice spelling and penmanship, and sometimes even goes on to memorize it. They also almost always do an oral narration of their reading. If they weren't using the workbooks, I'd incorporate written narrations as well.
Generations has been an excellent addition to our Bible-based language arts homeschool approach!
---
Exclusive Discount from Generations!
Generations is generously offering Proverbial Homemaker readers 10% off anything in the store!
Expires 12/31/22 and does not combine with other offers.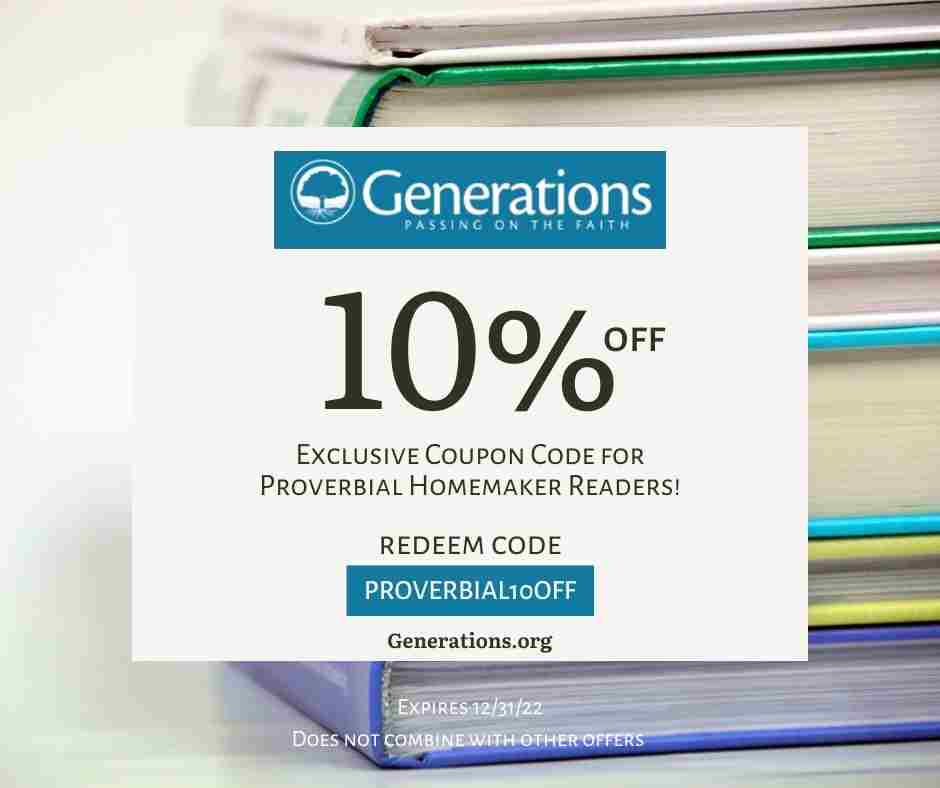 ---
More Favorite Curriculum & Resources
Now, not all of our curriculum selections are Bible-based. For example, the tools we use to teach our kids to read or for extra spelling help don't include Christian content. However, we use several Christian resources for our Bible-based language arts approach and they are a huge blessing to our homeschool.
In addition to the Bible itself and the Generations curriculum, below are some other favorites we enjoy.
Bible Road Trip
Bible Road Trip is the Bible curriculum we've used from the beginning and I LOVE It. Four days a week we read the assigned Scripture together and discuss. My older kids have their own Scripture readings and book assignments as well.
The notebooking journals are what makes Bible Road Trip such wonderful language arts addition. They are so well done!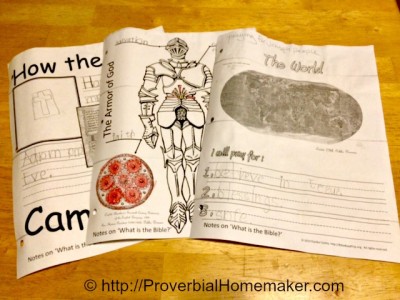 Sound Words for Kids: Lessons in Theology
Sound Words for Kids is my family-style theology curriculum. It goes over the overarching themes and truths of the Bible. We use this once a week and it includes Scripture and lesson readings, discussion, copywork, fun worksheet activities, and notebooking pages.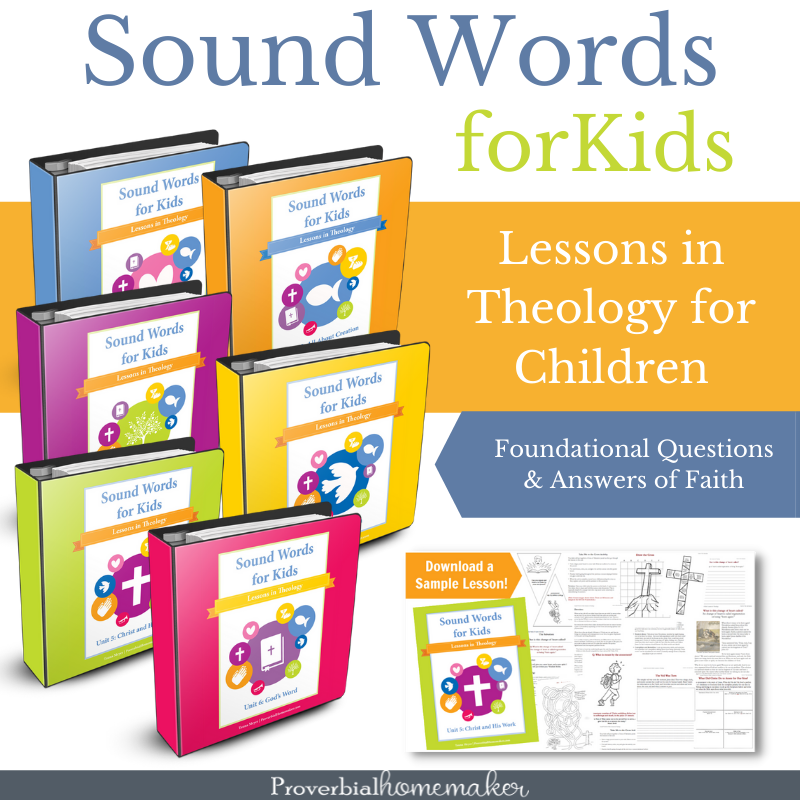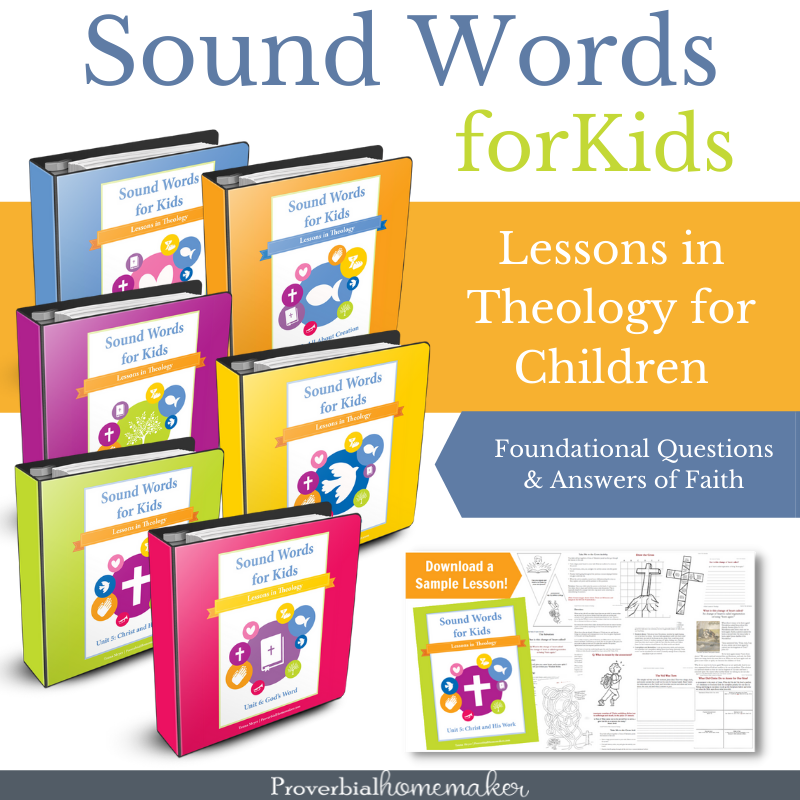 Bible Drawing Notebooks
My kids love to draw, and remember that drawing is narrating, too! The Bible Drawing Notebooks (OT and NT) come with a daily Scripture reading (usually 1 chapter) and then a place to draw and notebook about the passage.
My kids especially enjoy creating comic book panels in the drawing area and telling the story in their own words that way. These encourage independent reading, discussion, and narrating, and have become keepsake treasures!
Bible Brick Challenges
I mentioned that Legos can also be used in narrations, especially for younger kids. You can read aloud Scripture and have them build as they listen. Then narrate back to you in their own words what the story is about, pointing out how their Lego build connects with it.
For even more Bible Lego learning fun, try out my Bible Brick Challenges! They come with Scripture readings, build prompts, and more. There are specific book activities such as for Matthew or Proverbs, one-year Bible build challenge plans, and holiday-themed challenges.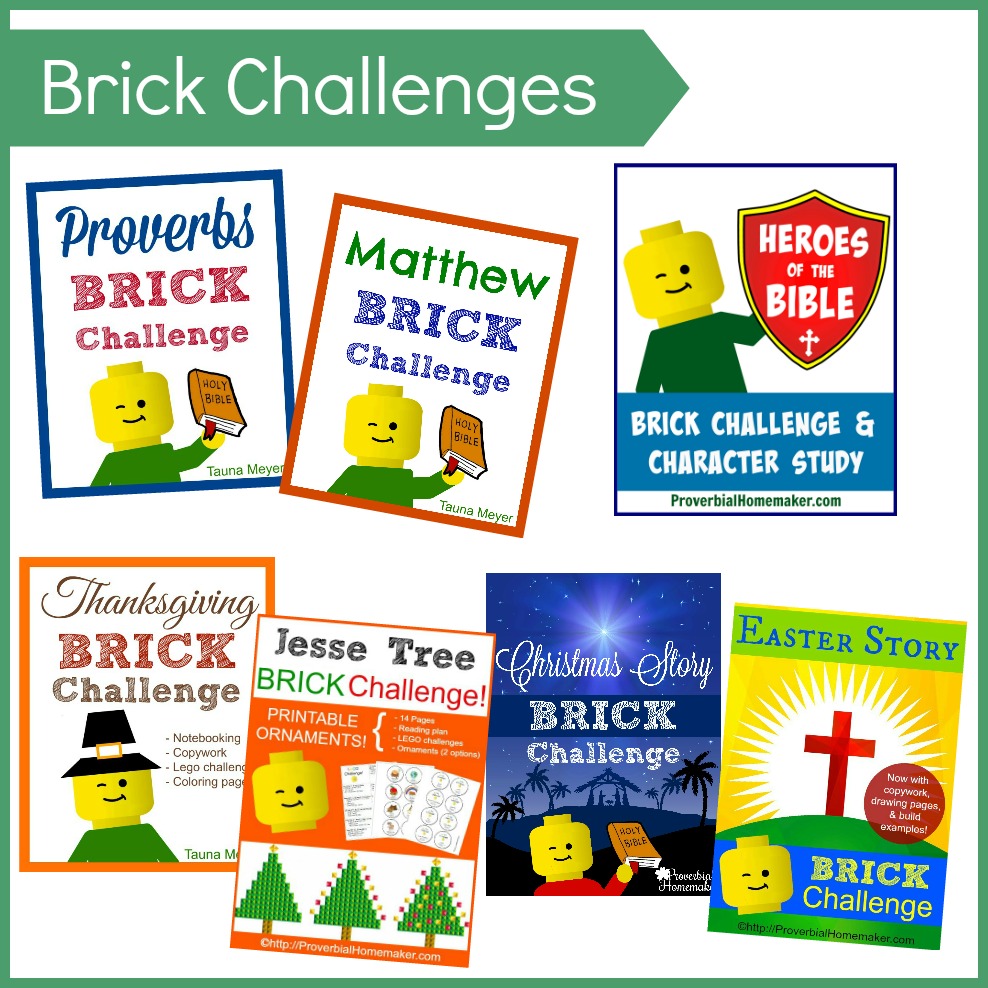 A Reason for Handwriting
You can use passages from Scripture and other readings to practice copywork. We also like to use A Reason for Handwriting. It includes letter formation instruction and practice, Scripture Copywork on lined paper, and a transition to cursive.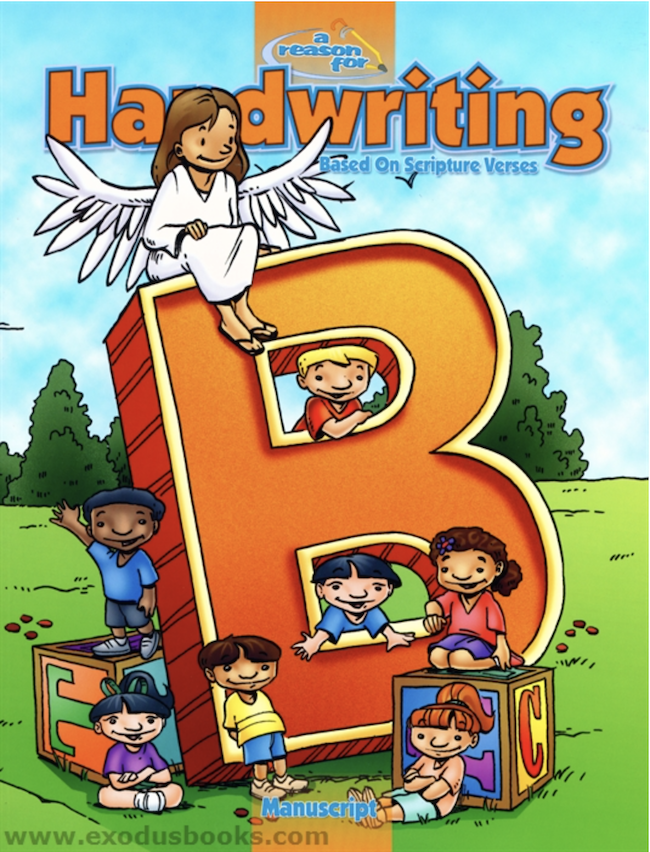 Writing Curriculum
We have dabbled with various writing curricula over the years. My oldest really enjoyed Writing Strands by Master Books for a couple of years and enjoyed the author's approach to teaching. I loved the integration of Scripture and Bible study. If you're looking for a leveled, Bible-based writing curriculum for 5th grade through high school, it's a fantastic option to consider.
During middle school my oldest switched to Jump In by Sharon Watson for a change of pace. It's not overtly Christian in content but is from a Christian company. He enjoyed that as well. It's a great 2-year Jr. High course for writing to prepare for high school, especially helpful for those who don't use a formal writing curriculum during elementary ages.
Additional Literature Selections
The history curriculum we use, BiblioPlan, includes several great Christian literature selections as well. They include historical fiction, biographies, more. We can use our read, copy, narrate tools for these readings as well.
Missionary biographies are also wonderful to add to your language arts routines. Read them together or listen to the audiobooks and use the read, copy, narrate tools as you see fit. Our family has several missionary biography sets we enjoy.
We like to use these free missionary biography notebooking pages along with them. But your family will gain a lot just by reading and discussing, too!
What About All-in-One Christian Language Arts Curriculum?
I personally don't prefer all-in-one style language arts curriculum because my kids tend to be at different levels for spelling, reading, writing, etc. However, several families do enjoy those resources. If that's you, here are some to check out: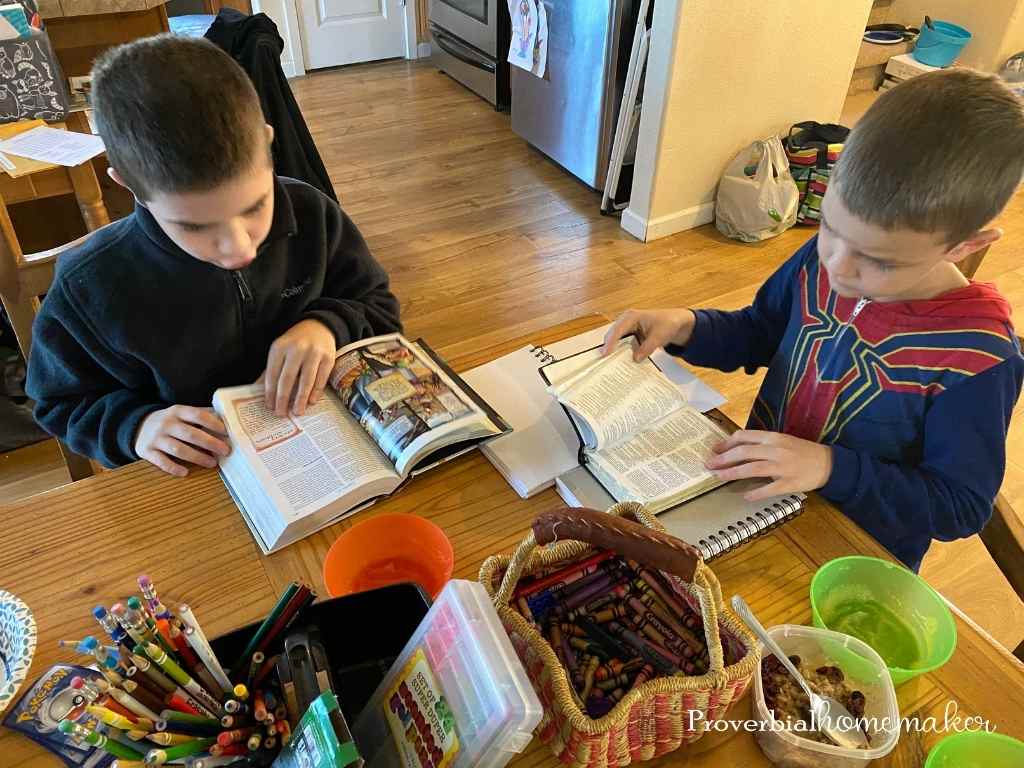 Other Language Arts Activities to Consider
Latin – I don't require my kids to learn Latin but for those that ask to, we like Visual Latin from Compass Classroom. Not only does learning Latin help with skills like grammar, spelling, etc., but this particular course uses the Bible as a text, helping your kids to learn to read passages in Latin. Pretty neat!
Lots of Read Alouds & Audiobooks – You can probably tell by now we're big on books. Over the years, I added times to our days and weeks, little by little, so that it's a core part of our homeschool and family life. Use a lot of great Christian audiobooks, read-alouds, and independent reading selections! They'll learn language arts skills, focus on Christ, and expand their imaginations.
Memorization – Memorizing Scripture, poetry, or other passages of literature provides a lot of value for language arts as well. Choosing Scripture and great Christ-focused language to tuck into your child's minds will serve them for a lifetime. It will also help them connect with styles, ideas, and expression more, especially if you have them practice with writing and reciting.
Sword Drills – This may seem like a funny one to include, but it's really helpful. Our kids love doing sword drills so we do it a few times a week during our morning time. They each learn to listen carefully (I don't repeat the reference), practice where to find things in their Bible, and they all practice reading, taking turns youngest to oldest. Sometimes we end the time by using the final verse for copywork/dictation. Wonderful for Bible skills and a great reinforcement of their language arts learning!
Phew! That was a big list of Bible-based language arts ideas and resources to consider! I hope it's a blessing to you as you build your own Bible-based homeschool! ❤️
~ Tauna
You might also like…
Christian Motherhood: What Christian Moms REALLY Want