With over 465 known species of sharks living in our oceans today and so many close encounters happening all over the world, this Shark Printable Pack will encourage children to learn more about these predators and how they support a healthy ecosystem.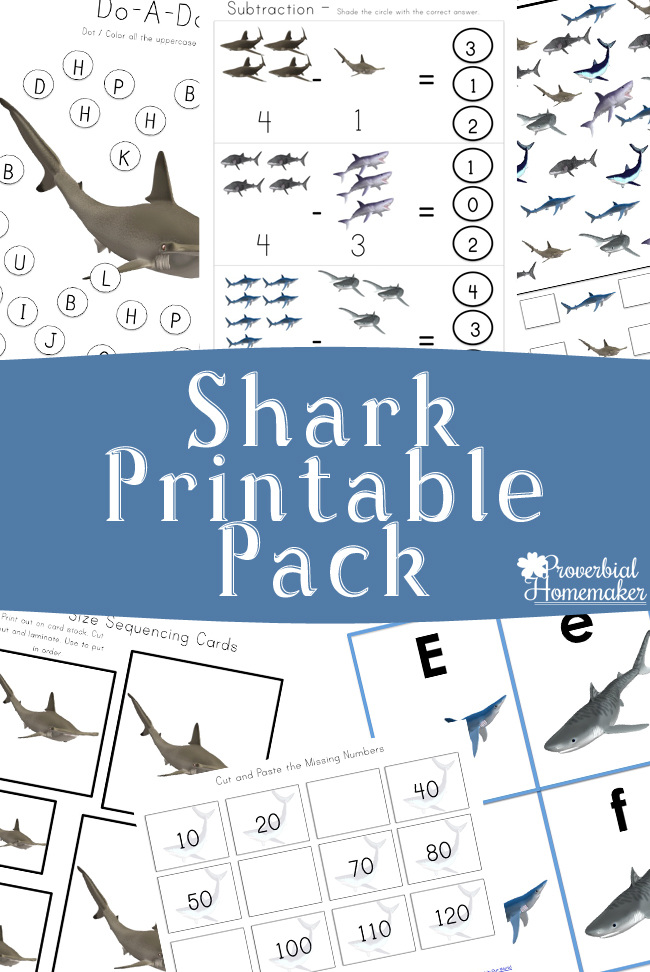 Disclosure: *This post may include affiliate links. As an affiliate, I earn from qualifying purchases. Read the disclosures and terms for more information.
This massive 73-page Shark Printable Pack is aimed at children ages 2 – 9 and contains many fun activities such as:
alphabet matching cards – match the lowercase letters to the uppercase letters
do-a-dot – find the lowercase/uppercase letters
counting– find the sharks and count how many there are
handwriting practice pages – trace the names of the sharks while practicing forming the letters correctly.
trace the path pages trying to stay in-between the lines
counting puzzles – learn to count in 1's, 2's, 3's, 4's and 5's
4 part puzzles – place the four pieces together to create a picture of a shark
size sequencing cards – place the cards in order from smallest to biggest or biggest to smallest
cut and paste the missing numbers – cut out the number rectangles and paste them in the correct order
story writing pages – research sharks have fun writing short stories about them
count and clip cards – a great way to practice counting while working on fine motor skills
simple addition and subtraction pages – a great way to learn and practice adding and subtracting
vocabulary cards – can be used to play games such as memory or snap or used as part of spelling practice
shark information cards – these cards are a great way to learn about different species of sharks. Use them to play games or as copywork or part of spelling practice
I personally prefer to laminate the cards for repetitive, long-term use, as I more than one child and can bring them out again when the second child is ready to use them but that is up to you.
I hope you enjoy learning about these magnificent creatures!

You Might Also Like…