Disclosure: *This post may include affiliate links. As an affiliate, I earn from qualifying purchases. Read the
disclosures
and
terms
for more information.
Have your science and eat it too! The kids and I recently did a cell biology unit and just had a blast. They always retain their lessons better with hands-on activities. This one was definitely a memorable lesson! You will love this simple and effective cell biology unit, as well as the fun edible cell model we made!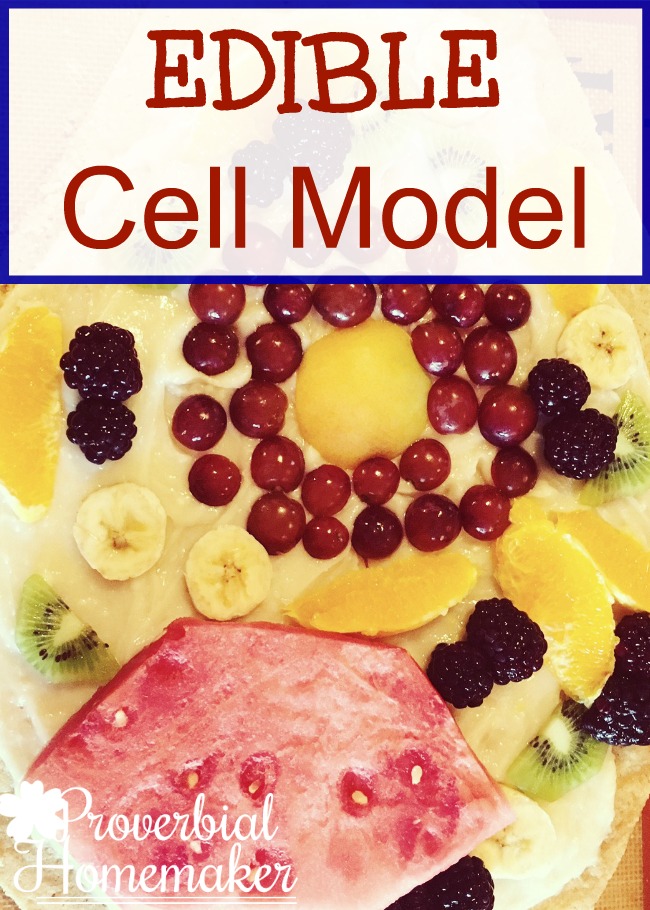 This is a sponsored review post in cooperation with Bright Ideas Press. All wording, details and opinions are my own. Please see my full disclosure for more information about reviews.
This lesson was from one of our main science books this year: Christian Kids Explore Biology. It is perfect for my younger crew of 8 and under. We started out with a read-aloud about animal and plant cells and their various parts. I printed out the coloring sheets from the resource CD download I bought (you can also photocopy them from the book) so they could color the cell models as I read.
We spent some time looking up the different functions of the organelles and talking about how cells work in general. The younger kids used a pre-labeled worksheet and the olders filled out the names of the organelles themselves.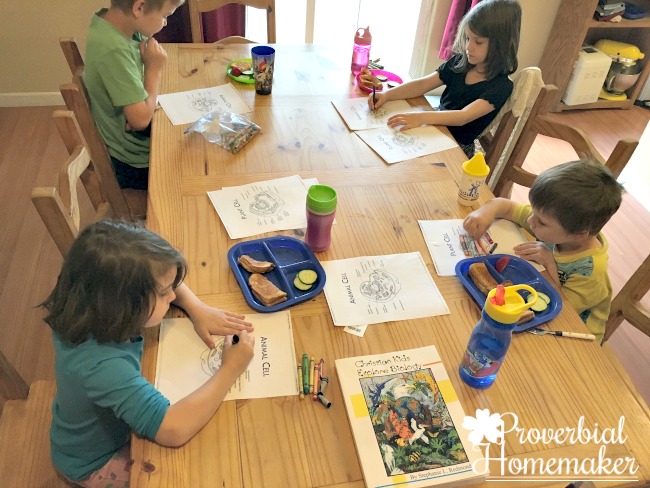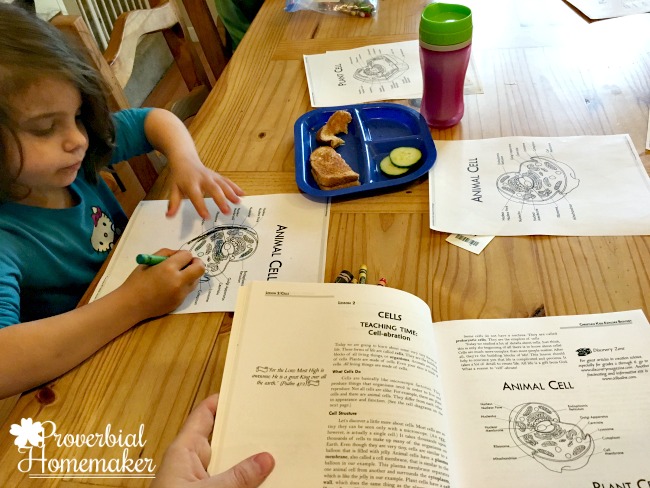 Edible Cell Model
For the main activity, we made cell models. There are so many fun hands-on ways to do this! You can create a model on the floor with toys or differently shaped and colored blocks, use Legos, have the kids pretend to be different organelles and act out their roles, or use food. We like food, so we went with that!
Our edible cell model was a fruit pizza! We used a sugar cookie crust for the membrane, cream cheese frosting for the cytoplasm, and various fruit for the different organelles of the cells. In this case we made a plant cell, so the edges were cut to be more angular after the crust was cooked and a vacuole was added (a big piece of watermelon), among other things.
The kids put together the whole thing and we talked about each organelle and it's role as we chose the fruit to represent it and arranged it on the edible cell model. It was so much fun! It also had the extra side benefit of getting my kids to try fruit they hand't tried yet, such as kiwi.
Assembling Your Edible Cell Model
The fruit pizza edible cell model is pretty simple. You can use your own sugar cookie recipe or go easy and buy a roll of sugar cookie dough in the refrigerator section of your grocery store. Guess what I did? 🙂 It totally works the same, so don't feel guilty about it, busy mama! But if you want to use a homemade recipe, go for it!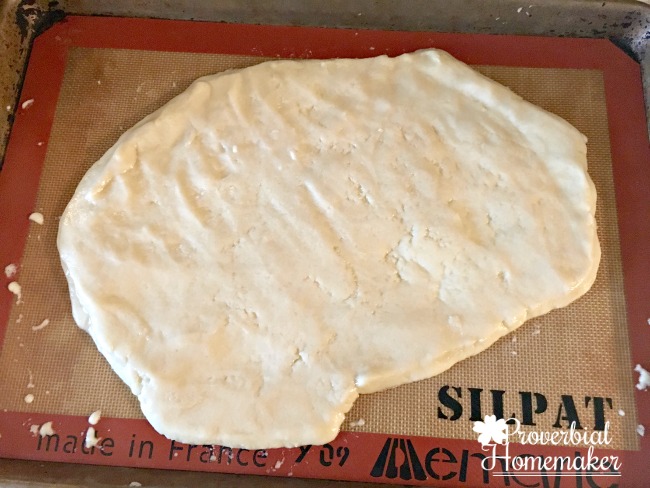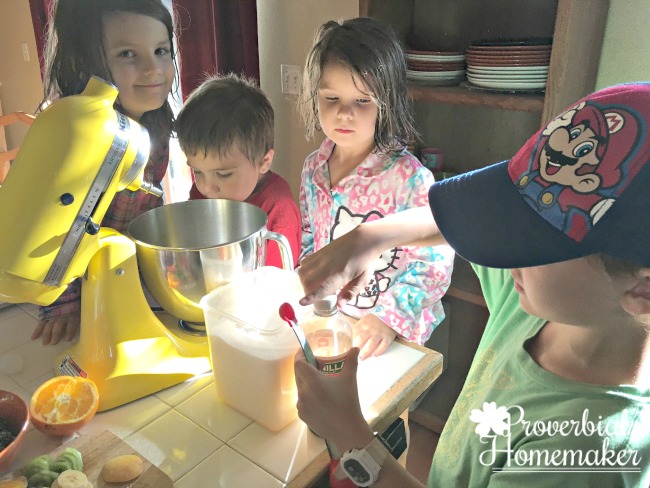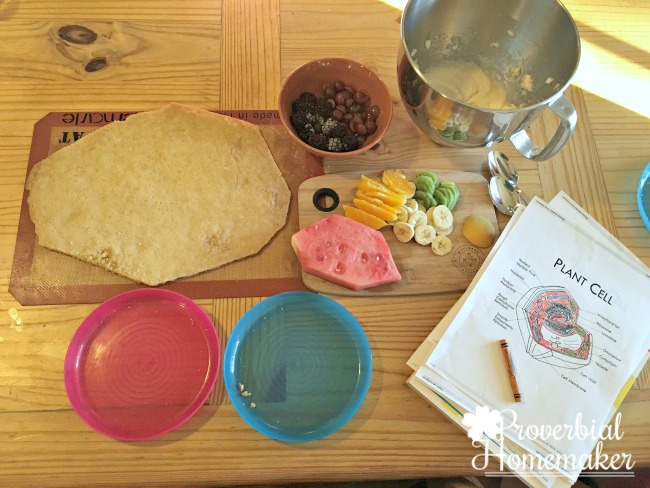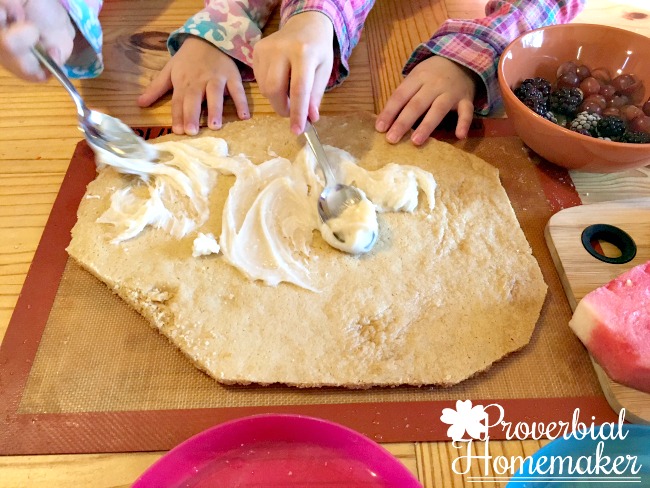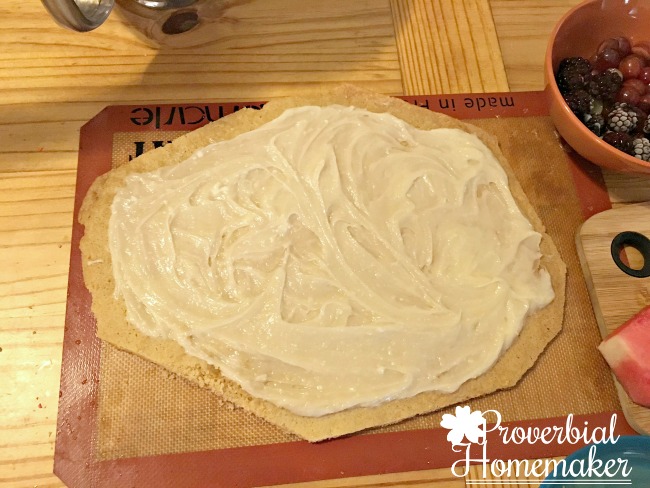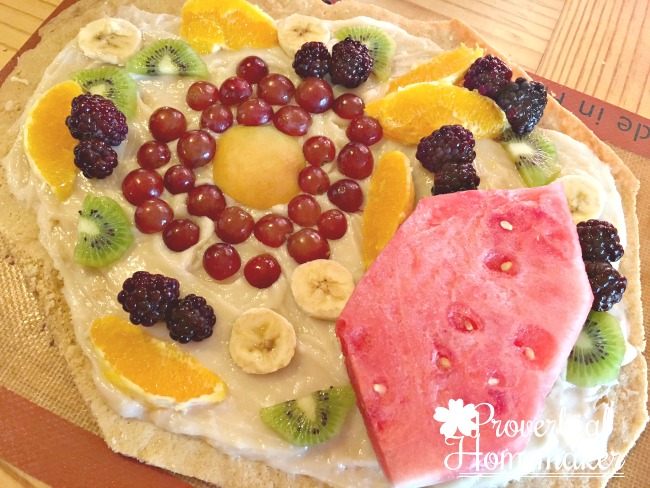 Cook the crust according to package or recipe instructions. Then make a simple cream cheese frosting as the cytoplasm (recipe below). After the sugar cookie crust cools, you can leave it round or cut it to be more angular if it's a plant cell model. Then spread the cream cheese frosting on the crust, leaving a little crust edge to show the cell membrane.
Then begin placing fruit on the pizza as you match them up to organelles and talk about their functions! It helped me to have an idea ahead of time about what would work for this and have the fruit pre-cut and ready to go. Be sure to take a picture of your edible cell model before digging in!
How We Matched the Fruit to Organelles
Membrane – sugar cookie crust
Cytoplasm – cream cheese frosting
Vacuole – watermelon
Nucleus – half an apricot
Ribosomes – halved grapes
Mitochondrion – orange slices
Kiwi – chloroplasts
Lysosomes – banana slices
Smooth endoplasmic reticulum – blackberries
Simple Cytoplasm Recipe (Cream Cheese Frosting)
Use a mixer to blend 1 package (8 ounces) of cream cheese with 1/2 cup sugar and 1 tsp of vanilla extract. If it will be a while before you can use it, be sure to refrigerate. Easy peasy!
Variations on the Edible Cell Model
This is definitely more of a dessert. There are a few ways you can change it up to suit your preferences. One idea is making it a regular pizza instead of fruit pizza, using different toppings to represent cell parts. If you go with the fruit pizza, you could make it healthier by using the sliced round of a watermelon, rind and all, for the cell and use toothpicks to secure fruit to represent the organelles.
Christian Kids Explore Biology
Since this is the first time Ive mentioned this curriculum I want to tell you all a little more about it. This year's homeschool plans included an intentional shift toward units and nature studies. I'm so pleased with how Christian Kids Explore from Bright Ideas Press is working for us in those goals. It's a perfect series for science units that are flexible and fun.
Here's what I love:
Christ-centered with scripture and Christian worldview throughout
Easy lessons and units that I can expand on if desired
Simple hands-on activities that I can actually do as a busy mom
Beautiful coloring pages and diagrams
Review questions and discussion points to go over orally or in writing
Can be used for multiple ages up through 6th grade (my kids are pre-k through 3rd and it works great!)
Extra activities, recipes, and reading ideas in the back
Optional resource CD download with coloring pages and other printables for easy use
Find out more about Christian Kids Explore and see if it's a good fit for your homeschool!