You've heard the recommendations for keeping your physical heart healthy: eat right, exercise, watch your blood pressure, and get plenty of rest. Well it just so happens that those recommendations will keep your spiritual heart heathy too.
And dear homeschooling mom, if we want to speak to the hearts of our children, we have to start with taking care of our own.
Disclosure: *This post may include affiliate links. As an affiliate, I earn from qualifying purchases. Read the disclosures and terms for more information.
4 Habits for a Healthy Spiritual Heart
1. Eat Right
No one argues that a balanced diet rich in vegetables is good for our hearts (although now, almost every other part of our diet is disputed!) But one thing we know for sure, a spiritually heart healthy diet includes spending time in God's Word. How beautifully the words of Jeremiah illustrate this,
Your words were found, and I ate them,

and your words became to me a joy

and the delight of my heart,

for I am called by your name,

O LORD, God of hosts. (Jeremiah 15:16)
I know you may be in a season of life that leaves little time for you to do anything alone, but I want encourage you: find a way to do something.
Write scriptures on index cards and place them where you spend a lot of time (I'm thinking above the washing machine or kitchen sink!).
Buy a spiral notebook or journal and follow a scripture writing plan. (I'm including one that you can print.) This concept may seem simple, but it can make a huge difference in your life. Simply copy the scripture, pray, and journal a few thoughts on it or your prayer.
Use an app. Proverbs 31 Ministries First 5 or She Reads Truth are two popular ones.
Join a Bible study. Often Bible studies offered at churches include childcare, but if that isn't available to you, consider starting your own with one or two other moms. Have a teen watch the kids in another room and gather around the word together. It may not be ideal and a little distracting, but it is worth it!
A steady diet of the Word doesn't mean we have to spend hours a day in Bible study. But it does mean we have to be intentional. And for us to give to our children day-in-day-out, it is as essential as the air we breathe.
2. Exercise
We know we need exercise for our bodies because it helps us physically be able to keep up with the demands of homeschooling our children. But there is one type of exercise that is even more valuable:
Rather train yourself for godliness; for while bodily training is of some value, godliness is of value in every way, as it holds promise for the present life and also for the life to come. (1 Timothy 4:7b-8)
The word train here means "to exercise vigorously, in any way, either the body or the mind." In order to live lives that honor God, we have to exercise our minds. Exercise involves discipline, and through it we build up our spiritual muscles and increase our endurance. How do we exercise our minds, though? We have to renew them.
Renew means to renovate. We watch shows on HGTV and see pictures on Pinterest and dream of redecorating our homes, and there is nothing wrong with that. But what if we spent that amount of time on renovating our thoughts? Replacing old thought patterns with new ones—ones aligned with God's? How do we do this?
Meditate on Scripture. Meditate means to roll something over in the mind. Instead of rolling over-and-over in our minds lies like "I can't do this homeschooling thing. I'm tired. I'm not doing enough. My children will never be prepared for life with me as their teacher," we must contemplate His Word. "I can do all things through him who strengthens me (Philippians 4:13)." God is the one who calls us to homeschool, and He supplies the strength we need.
Think on these things. "Finally, brothers, whatever is true, whatever is honorable, whatever is just, whatever is pure, whatever is lovely, whatever is commendable, if there is any excellence, if there is anything worthy of praise, think about these things. What you have learned and received and heard and seen in me—practice these things, and the God of peace will be with you." (Philippians 4:8-9). And just a note: we must think on what is true. As women, we can imagine all sorts of things we think are true—like what someone else is thinking—but let's stick with reality.
Delight yourself in Him. Psalm 37:4 says, "Delight yourself in the LORD, and he will give you the desires of your heart." The thing is, as we delight ourselves in Him, He aligns our desires with His. As we take great pleasure in Him, we begin to think His thoughts instead of our own.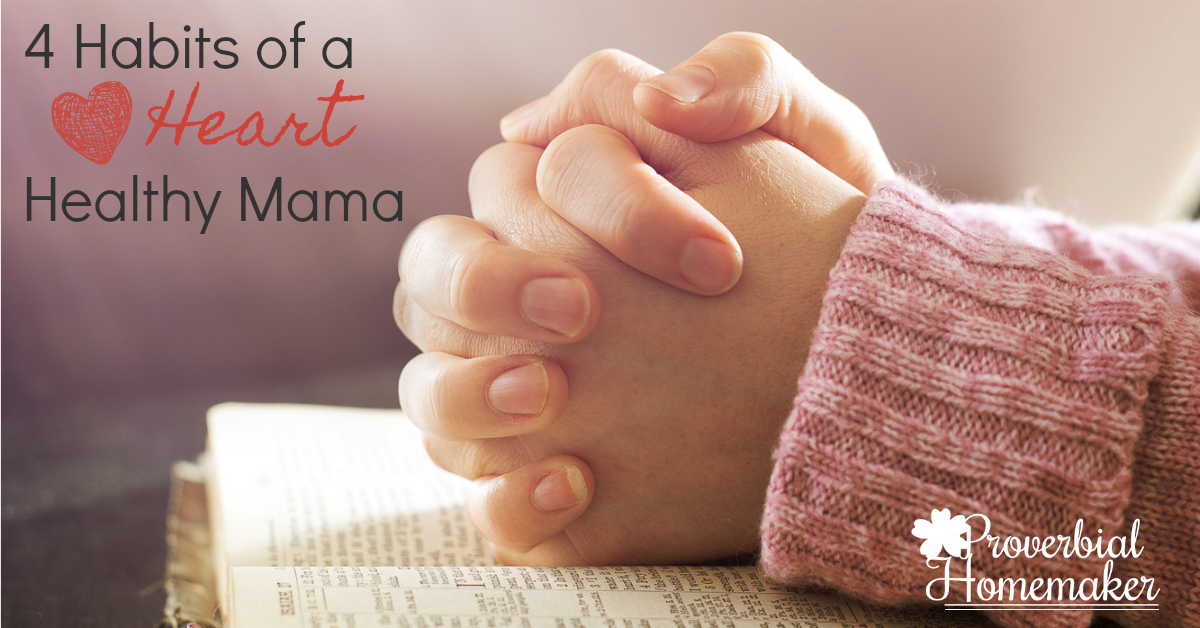 3. Watch Your Blood Pressure
The truth is, homeschooling can be hard! Juggling responsibilities of teaching, cooking, cleaning, shopping, and so much more leaves us feeling overwhelmed and exhausted. And often we end up irritable and quick-tempered. We just run out of patience.
None of us want anger to characterize our interactions with our kids. What can we do, though?
Know this, my beloved brothers: let every person be quick to hear, slow to speak, slow to anger; for the anger of man does not produce the righteousness of God. Therefore put away all filthiness and rampant wickedness and receive with meekness the implanted word, which is able to save your souls. (James 1:19-21)
Be quick to hear. Sometimes when we are overwhelmed and hurried, we don't really listen to our children. But by slowing down and taking the time to look them in the face, we will be able to really listen to them. It calms both us and them, and diffuses the anger of the moment.
Be slow to speak. This goes hand-in-hand with being quick to hear. If we are the ones doing all of the talking, we will never really hear them. As difficult as it is, we need to let them talk before we respond.
Be slow to anger. Oh my, this can be difficult! When we feel the anger rising, we may need to take a break in the teacher's lounge (otherwise known as the bathroom). Getting away for just a few minutes, taking some deep breaths, and saying a little prayer calms our racing hearts. And when we are calm, our reactions will be appropriate for the situation.
Receive with meekness the implanted word. This is the key. Psalm 119:9-11 says:
How can a young man keep his way pure?

By guarding it according to your word.

With my whole heart I seek you;

let me not wander from your commandments!

I have stored up your word in my heart,

that I might not sin against you.
4. Get Plenty of Rest
And he said to them, "The Sabbath was made for man, not man for the Sabbath. (Mark 2:27)
After creating the world, God rested. Do you think it was because He was tired? Nope. From the very beginning God, the ultimate teacher, modeled for us what He desired for us. He, our creator, designed us—so He knows our need for rest.
Go to bed. Sometimes we just want some time to ourselves, without the constant demands of our children. And so we stay up way later than we should. But one of the absolute best things we can do is go to bed at a decent time. We need the sleep.
Keep the Sabbath. People disagree on what day of the week this should be, but I believe in a grace-based interpretation. Take a day—whatever that means for you and your family—and lay aside some of your work, tasks, and responsibilities. Renew yourselves by spending time with God and enjoying one another.
Give yourself a break. And by this I mean, don't expect perfection from yourself or your kids. Part of rest is the ability to step back and be OK with the less than perfect so you can concentrate on the most important. In the story of Mary and Martha (Luke 10:38-42), we find that Mary figured it out, and so must we.
Take Care of Your Spiritual Heart, Dear Mom
Did you know that heart disease is the leading cause of death for women in the United States? Dear Homeschooling Mom, spiritual heart disease is deadly too. It will kill your joy and destroy your relationships. So, please don't neglect your physical or spiritual health. Your kids need a heart healthy mom.
Download the Scripture for the Heart Healthy Mama Printable:
Kay is offering a free printable to help you on your journey to becoming a heart healthy mama.
Scripture for the Heart Healthy Mama
Your download link will be emailed to you and you will be subscribed to Proverbial Homemaker if you aren't already. Be sure to check your spam/promotions folder. If you have any issues, check out this troubleshooting guide or feel free to email me!
Note: Signing up to download this form will subscribe you to ProverbialHomemaker.com and cultivatemyheart.com.
✤
Kay Chance is a Jesus loving writer, photographer, and retired homeschooling mom of two sons. Her heart's desire is to encourage and equip other homeschooling moms on their own homeschooling journeys at cultivatemyheart.com. She would love for you to connect with her on social media: Facebook, Instagram, Pinterest, or Twitter.