Disclosure: *This post may include affiliate links. As an affiliate, I earn from qualifying purchases. Read the
disclosures
and
terms
for more information.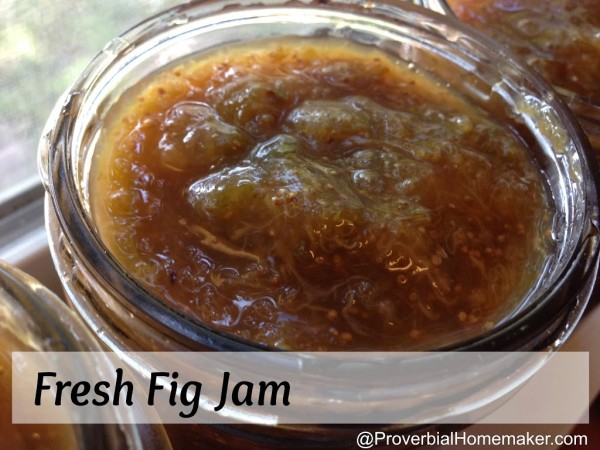 I am blessed with some great friends who like to give me their produce. One of them in particular has very productive fig trees that had a second crop this year, and so a second batch of figs for me to put up!

Figs are generally very sweet, so I don't put much sweetener in them. I also don't bother with pectin since the fruit has enough substance to make it thick. Of course, you could add pectin if you wish. 

Fresh Fig Jam Recipe With Honey and Vanilla
4 quarts figs, washed, stemmed, and halved (skin on)

1-2 tbsp lemon juice

1-2 tbsp vanilla extract

1 cup honey
Add figs to large pot and cook down some. Add the remaining ingredients and cook until soft and well mixed. Cool a bit and then process in a blender to the desired consistency. This is optional, but my kids won't eat it unless it's relatively smooth. You can also just mash it up with a potato masher. That's how I like it! 
This most recent batch was a bit underripe, so I added a cup of regular sugar and a quart of frozen sweet plums I had. I thawed the plums and pureed them first. 
We also enjoy our figs frozen and dehydrated. They are such a great treat this time of year!
What is your favorite jam to make?