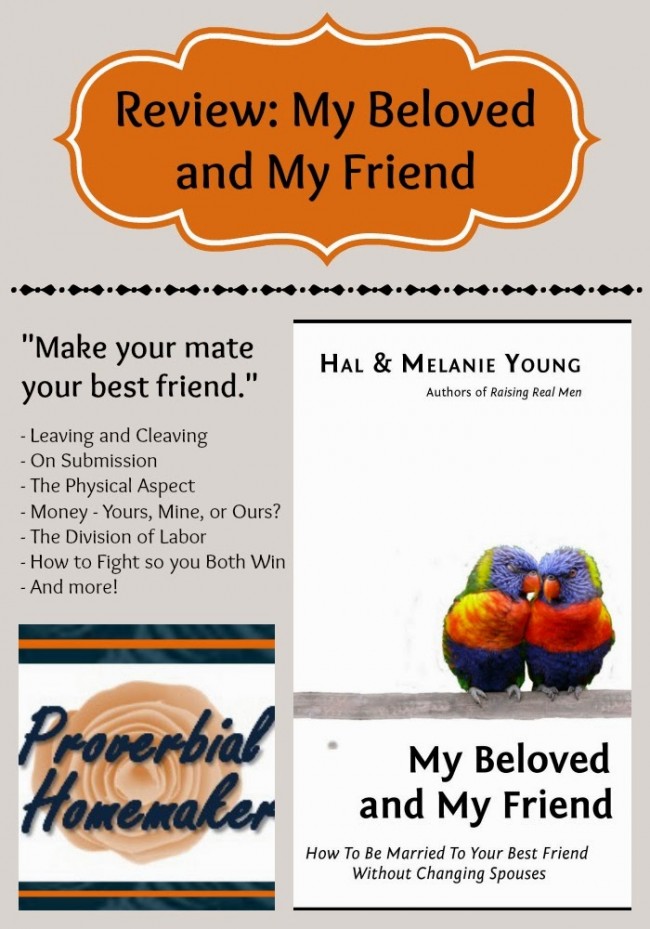 Disclosure: *This post may include affiliate links. As an affiliate, I earn from qualifying purchases. Read the disclosures and terms for more information.
This is really, seriously one of the most satisfying things you will ever do. Make your mate your best friend. ~ My Beloved and My Friend, pg. 47

Is a thriving marriage important to you?
Are you looking for fresh joy in your marriage?
Do you and your spouse ever argue?
…feel disconnected?
…struggle?

Are you a sinner who married another sinner?

If so, My Beloved and My Friend: How To Be Married To Your Best Friend Without Changing Spouses is a book you'll want on your shelves!

Hal and Melanie Young, award-winning authors of Raising Real Men, have been married for nearly 30 years. In the pages of My Beloved and My Friend, they pour out their experiences, wisdom, and advice on marriage.


They walk through different aspects of marriage and how we can intentionally cultivate our relationship with our spouse. We can be lovers and we can be best friends! It also offers balanced, biblical perspective on hard marriage issues.

Here are some of the topics you'll find:
Cultivating friendship with your spouse

Submission

Dealing with sickness

Physical intimacy

Raising children together

Unity with finances

Roles and division of labor

Handling conflict

Much more!
What I Took Away

My husband and I are truly blessed with a best-friend kind of marriage. But I was still inspired and challenged by this book. I have come away with a renewed energy to pour into the friendship I have with my spouse and a determination not to take that friendship for granted.

I love the biblical vision Hal and Melanie have cast for a family with a mission, and a couple that functions well to work effectively toward that mission. My role to help my husband in that effort is no small thing!


Get the Book!

Whether you are a newlywed or have been married for 30 years, or anywhere in between, My Beloved and My Friend offers encouragement and advice that will bless your marriage!

Get My Beloved and My Friend now!

Read more reviews from the Bow of Bronze Launch Team.