Yes, Jesus loves me! But where does the Bible say so?

Here is a little printable you can use during morning devotions with your kids. Pull out your Bible and read through a couple of the verses each morning, discussing how they describe Jesus' love for us. I plan on framing it for their room later!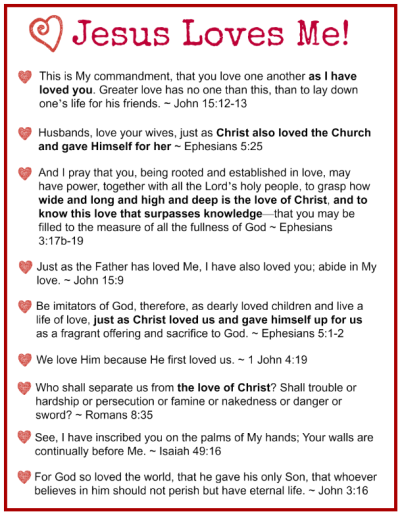 Disclosure: *This post may include affiliate links. As an affiliate, I earn from qualifying purchases. Read the disclosures and terms for more information.

Download the Jesus Loves Me scripture poster!

This poster will be a part of the next Sound Words lesson, which will be Bible/hymn study unit on the song "Jesus Loves Me."

I hope you are blessed by it!

I realize there are so many more scriptures that say "Jesus loves me," especially considering all the scriptures about the love of God. Jesus is God! However, I wanted a printable for the wall. So, for the most part, I focused on verses that were about Jesus specifically.