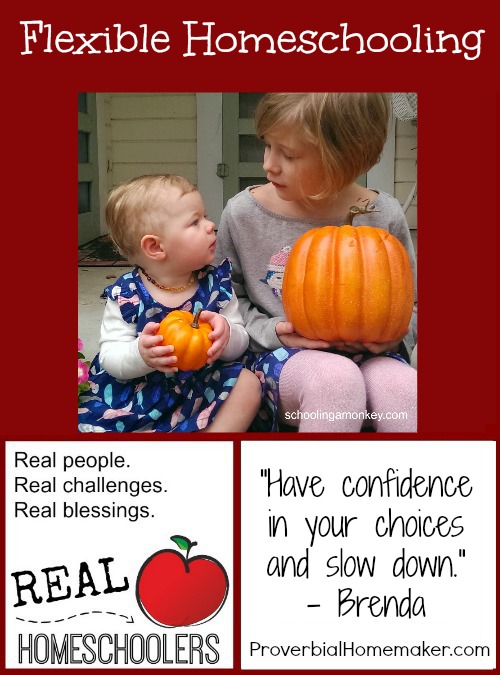 Disclosure: *This post may include affiliate links. As an affiliate, I earn from qualifying purchases. Read the disclosures and terms for more information.
Welcome back to the Real Homeschoolers interview series! Join me in welcoming Brenda. She is a writer, coffee-lover, and homeschooling mom to two girls. She blogs at Schooling a Monkey. There, she provides practical and simple solutions to other parents in the areas of crafts, homeschooling, green living, and fun! Follow Schooling a Monkey on Facebook and Twitter.
---
Our Homeschool History and Vision
Our family consists of me (Brenda), my husband Josh, my daughter Monkey (8), and my baby Bo (nearly 2). Both Josh and I were homeschooled as children all the way through, and I never really questioned the idea that I would homeschool my children one day as well. This year, Monkey is in 3>rd grade, so we have about 5 official years of homeschooling under our belts. 🙂
The vision for our homeschool is to prepare our children to succeed in whatever career path they choose (which at this point means developing good study habits for college). Right now, our priorities are getting Monkey to a point where she can study independently. We follow the eclectic style of homeschooling– mostly because I am quite particular when it comes to curriculum and look for specific elements in each program we choose. To date, I haven't found a core curriculum that offers all the points I am looking for in every subject.
Curriculum Choices and Flexible Homeschooling
What I want from school each year depends on Monkey's progress from the previous year. For this reason, we often jump from curriculum to curriculum from year to year. This year, the find I am most proud of is the Shurley English program. It is a comprehensive English program that is quite strong for writing, vocabulary, grammar, and even has some social studies and geography thrown in there for good measure.
When Monkey was small, I was quite gung-ho about pushing her into formal school early and we used the Calvert preschool program. I was not impressed with it, so we didn't return to it. However, with Bo, I plan to use a different approach. I am not planning to push any school for her until she is 5 or 6. I now believe children can easily catch up to "grade" level in the 6-7 year without going through 3 years of preschool. This belief is part based on my experiences with Monkey, and part on the Finnish school system. Bo is nearly 2, which means she is into everything! Right now, I more or less follow the strategy of include, distract, wait.
Our Daily Routine
Our daily routine looks something like this:
Early Morning: Breakfast and a TV episode (right now, we are watching Dr. Who)
Later Morning: School, or if Bo is too squirrely, chores or hands-on activities. I also try to do some work during this period.
Early Afternoon: Lunch and if we're doing really good, some cleaning. While Bo naps, Monkey and I wrap up school and I type like a maniac (I am a writer in addition to blogging).
Later Afternoon: Monkey does independent school, I keep working, and Bo plays by herself or might watch a movie.
Early Evening: Cleaning up and supper.
Later Evening: Monkey and Bo get ready for bed, we keep cleaning, and the children go to bed! After that, it's work wrap-up for me.
Reluctance and Learning Differences
Reluctant learner? We will do one of two things. At first, I will try to get Monkey to push through with encouraging words, telling her about how important the school is, what she can do with it when she learns it, or new techniques about how to get it done easier or faster. If that doesn't work, then I may allow her to take a break and come back later. In some cases, she may lose a privilege if she doesn't do her school in a timely manner.
My favorite thing about homeschooling is how flexible it can be! Monkey has some learning differences that she would have struggled with in a traditional school setting, but we are free to choose learning that fits her best at home.
My Advice to YOU
Dealing with burnout? Burnout is hard. I usually deal with it by taking a step back and refocusing on what I want to accomplish. I've come up with a few ways that helps heal burnout in both children and parents. My tips for transitioning back to school also help during burnout as well.
Have confidence in your choices and slow down. I see so many homeschooling parents second guessing their decisions and worrying about whether their children are learning enough, but in my experience, all parents who are legitimately trying to educate their children have children who grow up to become great college students and workers.
---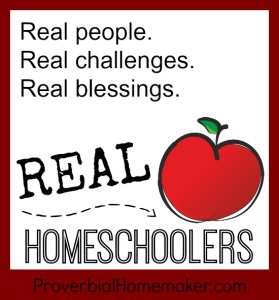 Check out all the interviews in the Real Homeschoolers series as well as a complete list of the questions that were asked. Not all the answers were included, but I have been careful not to change anything about their answers other than grammar and structure for the sake of presentation.