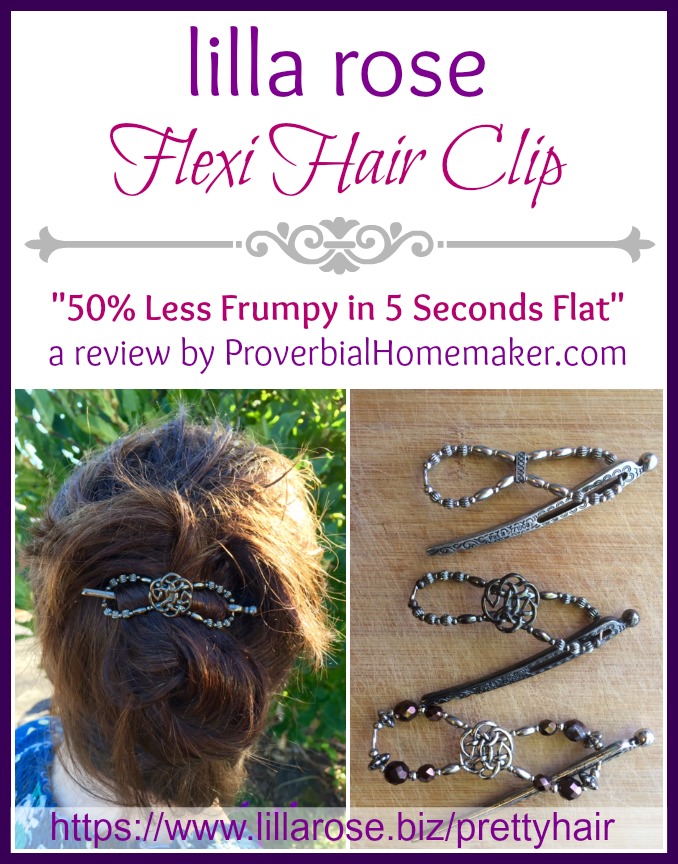 Disclosure: *This post may include affiliate links. As an affiliate, I earn from qualifying purchases. Read the disclosures and terms for more information.
I am not a frilly person, a high-maintenance person, a person who cares much about looks… however you want to put it. If it takes more than 5 minutes, count me out. Most of the time, this is a good trait. I am ready quickly, don't buy hardly any products or supplies, and I don't fuss over my appearance. The downside, however, is that I can slip into frumpville if I'm not careful.
This is my hair care and styling routine: Wash. Do ponytail. The end. Again, I think this is a good thing and I plan to continue my trend. However, I do sometimes feel a little blah with my ponytail all day and no easy/fast way to do it up nice when the occasion calls for it. Any attempts and a nice hair-do end up in frustration and leaving it down or throwing it back into a ponytail.
Then one day my blogging friend Jennifer offered to let me review a Flexi Hair Clip by Lilia Rose. I had seen and heard of them before but didn't really think they were my thing. I scoffed a bit and warned her I wasn't really the type to do anything with my hair or buy into any bling. She reassured me that if I didn't like it, that was fine, but she would send me one to try out. The clip arrived in the mail and I tried it out.
Bottom Line
I have been using Flexi Hair Clips for several months now. The verdict? I like them. In fact, I like them so much that I bought more of them, and my mom and mother in law bought some too!
Here's why Flexi Hair Clips are awesome:
Very easy – If I can do it, you can do it. Really.
Super fast – Takes 5 seconds most days, depending on the style and my coffee intake.
Really cute – There are a range of styles, including the most simple, for any occasion and taste.
Effective hold – They don't slip out. They hold the hair really well.
Durable – I even sleep in them, because I'm lazy like that.
With the Flexi Clip you will be 50% less frumpy in 5 seconds flat. My standard ponytail has a new look and it's cute! I can now even do a half-up ponytail, "tails-up," a simple french twist, and a ponytail tuck that make me look pulled together in less than a minute. Love it!
How Flexi Hair Clip Works
The Flexi Hair Clip is made of a flexible beaded wire that connects at the back with a strong, attached sliding pin. With a little practice, you can gather up your hair and pin it up with ease. There are several sizes to accommodate various lengths and thicknesses of hair.
Many women with really long or thick hair particularly love the flex clip, but there are sizes for thinner hair and even for kids! I stuck with the pretty basic colors and styles, because that's how I roll, but there are some amazing designs with different colors, beads, and bling if you so desire.
Some Tips to Know
New/Featured clips come out each month. October's is beautiful!
Watch the videos for sizing and style information before purchasing.
Current promo: New customers get one product free (up to $16) when you purchase 3 (I did this!).
Check out all their products – hair sticks, hair bands, bobby pins, and more.
I'm not an MLM fan, but this one is ok by me, probably because of my experience with Jennifer.
Jennifer is a wonderful consultant, able and willing to answer all your questions and make it a great experience!
Find Out More
Browse the site to learn more about Jennifer, Lilia Rose, and their products.
Prices vary, but the small clip I started with was priced at about $15.
Connect with Jennifer's shop on Facebook
Follow on Twitter
Find Flexi Hair Clip info from Jennifer on Pinterest
Have you ever tried Flexi Hair Clips? Check them out today!
*** Disclaimer: I received the initial product at no cost in exchange for my honest review. All opinions are mine. ***