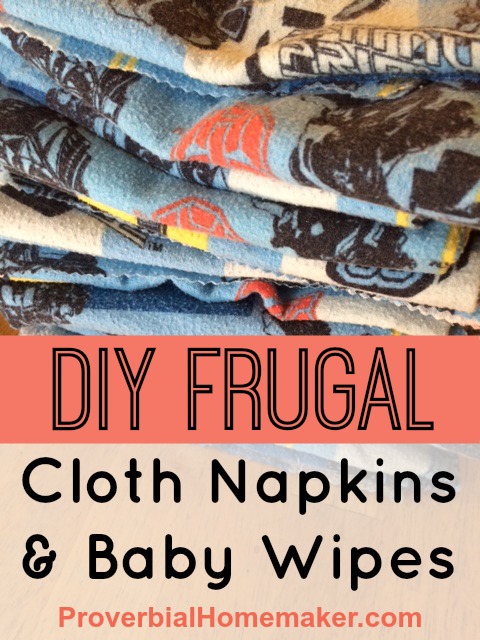 Disclosure: *This post may include affiliate links. As an affiliate, I earn from qualifying purchases. Read the disclosures and terms for more information.
Using cloth napkins can be a great money-saving choice for your household. We made the switch a few years ago and have enjoyed it. You can buy nice napkins, wait for some to go on clearance (like we did) or use simple plain kitchen towels.
You can also make your own! The same goes for baby wipes, especially if you already use cloth diapers. Try these DIY frugal cloth napkins and baby wipes and replace some of those disposable paper goods in your home.
How to Make Your Napkins and Wipes
We purchased some nice white and red checkered napkins at an after-Christmas clearance to use for nights when we entertain guests. For far too long we used them for every day as well. I just couldn't swallow the silly prices of the cloth napkins I was seeing, even in the discount and thrift stores!
Then I had an epiphany. I recently decided that I hate top sheets on the beds. Some people think I'm nuts, but I really dislike making a bed and wrestling the top sheet (yes, I have issues), and my kids have a much harder time making their own beds too. I gathered all the top sheets in the house to give away and then realized, hey, flannel makes good napkins! I also read somewhere that the cut edges of flannel do not fray in the washing machine.
So off I go to make some cloth napkins, and while I'm at it, make some baby wipes!
(Note: A reader commented that flannel did indeed fray. I haven't had too much of a fraying problem, but you may want to sew the edges anyway just to be sure. This post was originally a no-sew post, but I changed that because so many people still have fraying. That same reader (see comments below) suggested a simple zig zag stitch to keep the fraying at bay. Knit fabric like in t-shirts may be another no-sew option to try.)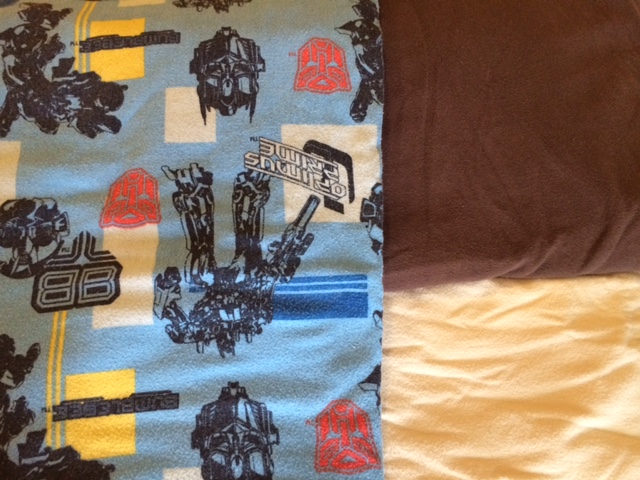 Of course, I couldn't resist the Transformers top sheet. In an effort to secure my spot for Mom of the Year, I grabbed it, borrowed some pinking shears from a crafty-type friend, and got to work.
Lay your sheet on the table and use a pencil to mark off cutting sections. 12 x 12 is a good size for a napkin – about the size of a square scrapbooking page. You can measure and mark for cutting or just eyeball it. Leftover pieces can be cut into smaller squares or rectangles to use as wipes. Wipes that are about the size of your hand, fingers spread, works perfectly.
If you don't have any extra flannel sheets, ask around or check out a thrift store. Even buying a flannel sheet or two on clearance would be so much cheaper than buying pre-made cloth napkins or wipes. One sheet makes more than enough napkins for a family of 6 or a hefty stash of wipes for the changing table.
Now we're all set, and I can validly say to the baby "let's wipe your bum with Optimus Prime!"