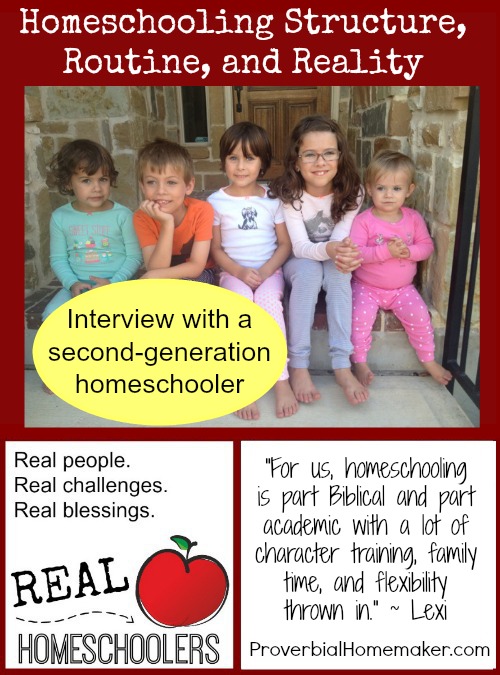 Disclosure: *This post may include affiliate links. As an affiliate, I earn from qualifying purchases. Read the disclosures and terms for more information.
Welcome back to the Real Homeschoolers interview series! Join me in welcoming Lexi. I found this interview very encouraging personally as we add baby #5 to the household and I try to figure out how to make things work with littles, homeschooling, house and home. It's so helpful to hear about how to do homeschooling structure, routine, and reality! Note to self: buy more baby gates. 🙂
Lexi is a Texas homeschool mom of 5 little people who are ages 8 and under. She is a lover of books, connoisseur of curriculum, and allergy-free mama to several children with food allergies. She blogs about her homeschool adventures and growing curriculum collection at Lextin Academy.
---
A Second-Generation Homeschooler
Welcome to Lextin Academy! I'll give you a little peak behind the scenes into our busy little homeschool. I'm a homeschool grad who now has the privilege of homeschooling her own children. We have 5 little munchkins who are 8, 6, 5, 3, and 1. So yes, our hands (and hearts) are full and our days are long.
After my homeschool high school experience (which I loved) I knew that I wanted to homeschool my own children someday. After much praying and lots of discussion, my husband agreed to try this "homeschool thing" when our oldest was just two years old. After several years of preschool and two more children, we both found that we loved our new adventure.
So, why did we both decide to homeschool and to continue this journey? For us, homeschooling is part Biblical and part academic with a lot of character training, family time, and flexibility thrown in. We homeschool for all of these reasons!
Structure, Routine, and Freedom
In our homeschool we are fairly structured, with a daily routine that helps me maintain a steady flow to our days. Our school is somewhat classically-based with an emphasis on history, lots of literature, and learning Latin.
We are a few years into our homeschool experience and I've learned many lessons along the way. I've discovered that it's best to have some type of routine or structure to the days. Yet I've also seen that it's important to be flexible and extend grace to yourself for those days when you feel more like a failure than a success story. In the homeschool life don't compare yourself to other homeschoolers. Allow yourself the freedom to choose the curriculum that best fits your family (and to make curricula changes when necessary). Know that this journey is not just about what your kids will learn but what you will learn through them and alongside them.
Fun Facts About our Homeschool
Here are some fun facts about our homeschool:
I have a homeschool room that I could not live without. I have found it so important to have a separate and dedicated space for our books, notebooks, and supplies.
I think baby gates are essential to homeschooling and I routinely gate my children in various rooms with a variety of toys so I can work quietly with a sibling.
My schedule is one of the most vital parts of my homeschool. I spend much time going through my spreadsheet and making edits to my schedule so our days feel balanced.
I start our school day at 6 AM. Yes, you read that right! I do school work with my oldest (3rd grade) from 6-8 each morning. It's our quiet time together to get most of her school work done and she has started to look forward to the peace in our morning routine.
Our read aloud time is the most important time in our homeschool day. I have a read aloud book for each of my oldest 3 children and they take turns reading with me. Through this time I've seen their vocabulary expand and their imaginations soar.
I have a few favorite curricula choices that have been a perfect fit for our homeschool. They are: Right Start Math, Nancy Larson Science, First Language Lessons, Writing with Ease, All About Reading, Veritas Press Self-Paced Online History, and Bible Study Guide for All Ages.
We plan to homeschool from preschool to high school and I'm excited and yet intimidated by this challenge. I can't wait to watch my kids blossom and learn each year as I tag along for the wild ride.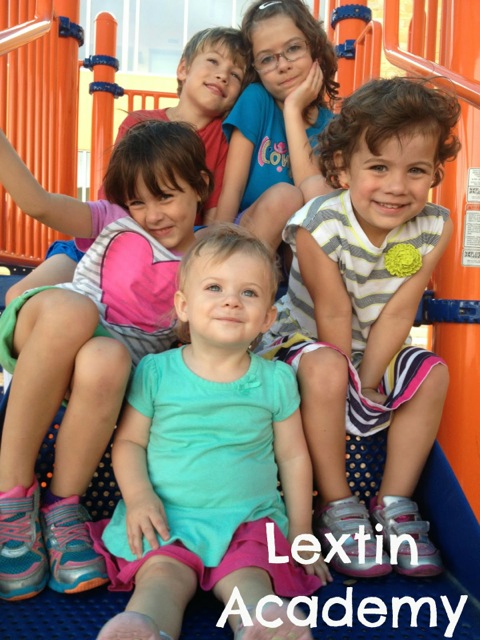 Homeschooling in Reality
What does our homeschooling look like in real life? I usually have a large stack of messy dishes in the sink, a mountain of laundry on the floor, paint spills across a table or two, a trail of marker ink on the couch, and at least one child clinging to my hip or my leg. Ohh, and I rarely make it out of my pj's.
We do school in chairs, at tables, in bean bag chairs, on the couch, and even outside. I cook or prep all of our meals on the weekends and try valiantly to make it through a week with something on the table for each meal. The weekends are often for catching up on the housework and everyone pitches in to help.
My hubby is my support, my sounding board, and my listening ear. I often feel overwhelmed and intimidated by the task that lies before me. No I don't do it all, but I know with God's grace I can persevere day by day.
---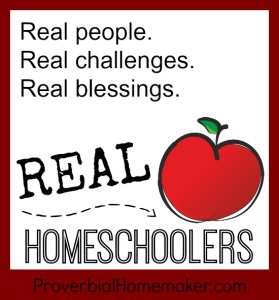 Check out all the interviews in the Real Homeschoolers series as well as a complete list of the questions that were asked. Not all the answers were included, but I have been careful not to change anything about their answers other than grammar and structure for the sake of presentation.