Disclosure: *This post may include affiliate links. As an affiliate, I earn from qualifying purchases. Read the
disclosures
and
terms
for more information.
Have you been thinking about introducing timelines into your homeschool? Or perhaps looking for a more comprehensive system? Today I'm sharing our experience reviewing the History Through the Ages timeline materials from Homeschool in the Woods.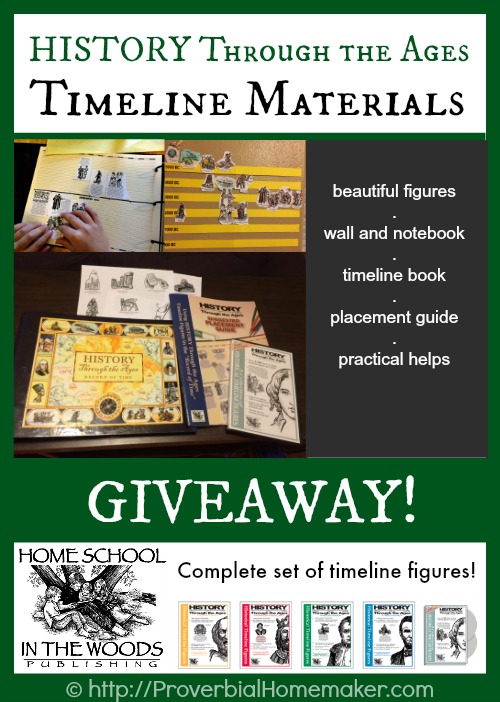 This post may contain affiliate links. Thanks for supporting this site! See Terms and Disclosure for more information.
Homeschool in the Woods is run by a wonderful homeschool family that works together to bring you their experience and excellent resources. After a little research, I decided to approach them to find out if they would be willing to let us try their timeline products. I am so glad they agreed!
Searching for the Right Fit
I was very intimated by the idea of timelines. I know the concept isn't complicated, but the OCD in me couldn't fathom the idea of piecing together something that didn't persist or that we'd be doing different timelines that didn't have a cohesive look and feel. I looked at various products and none of them seemed to fit our needs and preferences.
I wanted a system that would be flexible to work with whatever history curriculum we use both now and in the future. I also wanted it to be easy with some hand-holding as I got started. Not to mention the fact that it had to look beautiful. Basically, I want the timelines in our home to make me look like a rock star homeschooling mom with little or no effort on my part. What? Is that so much to ask?
Not for Homeschool in the Woods!
About the Timeline Products
These CDs contain all 1,260 of the timeline figures offered by HITW, from creation to present-day.
Here are some features:
2 CDs with PDFs
A set of figures with description text and a set without
A set of figures sized for notebooking and a set sized for wall placement
A set of all the figures in high-quality GIFS that can be used for coloring pages, notebooking, games, whatever you can think of!
Help and suggestions for setting up your timeline
More!
You can also buy the figures in smaller sets that are divided by ages: Creation to Christ, Resurrection to Revolution, Napoleon to Now, and America's History. Figures can be purchased in CD, download, or printed format.
The Record of Time book is a beautiful hard-cover 3-ring binder filled with 122 heavy duty pages lined and dated, ready for your timeline!
Dated from 500 BC to 2025 AD
Faint black lines to help keep written notes neat and tidy
Lays flat and allows for adding pages
17 pages of ancient and modern world maps
More!

Here's where my hand-holding comes in. 🙂 The placement guide is made for parents like me who need a little help figuring out how to make the timeline functional and lasting and where to put all those figures so that they fit! Once you get the hang of things, it's easier to feel free to change it up as you wish.
If you're like us, you'll be adding figures to your timelines in layers over the years. The placement guide helps ensure consistency in event placement and that all your pieces will fit in the book or on the wall strips.
We have been using the Homeschool in the Woods Tiemline Trio, which includes all of the above in a bundle price of $113.95 (totaling $126.85 when sold separately.) For information on individual pricing, see the Homeschool in the Woods product list. (I noticed they also sell separate packs to accompany Mystery of History!)
How We Are Using the Timeline
A Little Background: Our kids are all 7 and under. We know the Classical Conversations timeline song (although we're not in a group). Our main history is through Bible Road Trip, using it as our history, notebooking, and Bible curriculum. We also will do some holiday-related history unit studies throughout the year.
Before starting the timeline materials, the kids and I did a little project to reinforce the concept of a timeline. We looked at different timeline examples, did a story book timeline, and then they each did a timeline of their own lives. Once they could explain a timeline in their own words, we jumped in with Homeschool in the Woods.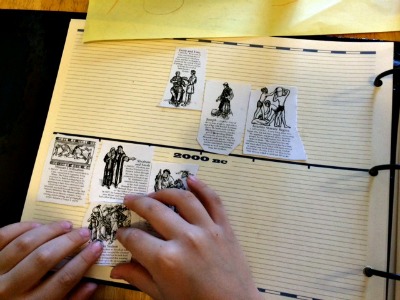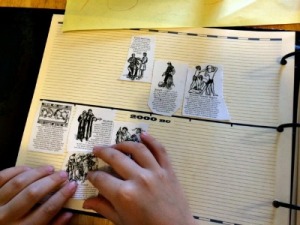 Since we are focusing on OT this year, the first thing I did was print out the summary sheet that listed all the figures in the Creation to Christ set and highlight the items I wanted to make sure we included. I printed out both the notebook size and wall size of the sheets we needed and the kids got to work coloring and cutting out the ones I marked. Figures we didn't use were put in a ziplock bag, in order.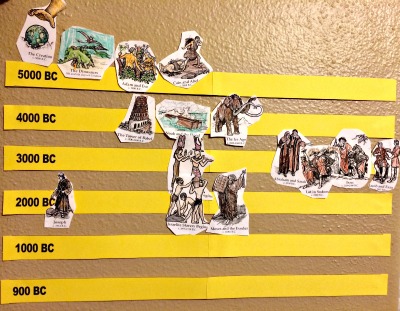 My oldest put together the Record of Time book first for the figures we had learned so far. Then we set up our wall timeline, mounting the strips and figures with Scotch adhesive putty. It was the only thing that would hold the pieces to the textured wall but still be easily moveable! As we learn new lessons, we add to the book and the wall strips.
What I love about History Through the Ages
We have really been enjoying History Through the Ages. here are a few of the things I love about it:
Suited to a variety of homeschooling methods
Flexible to our needs and preferences
Beautiful figures and presentation
Effective helps and great organization of materials
Suitable for all ages
Homeschooling Methods
The main thing I love about HITW is that it is so flexible to whatever you are studying in history. It is very well suited to those involved in CC, in other classical history studies, in unit studies, or any other method of learning history. It perfectly fits our eclectic approach as well.
Our Needs and Preferences
I'm really glad we got the Record of Time book AND the wall strips. As we learn pieces of Bible history, the kids color the larger images for the stories and we put them up. They like to see the timeline right in front of them every day and I know it helps them retain the information we've learned.
Since we have limited space at the moment (a giant animal classification system is eating half our wall space), we put up a smaller section corresponding to one or two books of the Bible, and then plan on moving those pieces to the upstairs hallway as we move forward.
Having the Record of Time book is also wonderful for my oldest (7). He colors and cuts the notebook sized images and uses the placement guide to figure out where they go. He's enjoyed reading the text and asking questions about the different events. Sometimes he'll see something interesting we haven't covered and we spend some time on an educational rabbit trail on that topic.
Beautiful figures and presentation
I love that the figures are black and white for simplicity and if my kids want to color them. they are beautifully done as well. No cheap looking clip art! The text is well written and the Record of Time book is definitely worthy of becoming a family keepsake.
Effective Helps and Organization
Love it! The placement guide and extra helps on the CD gave me all the information I needed to consider different usage and display options. They boiled down timelines for me sot that it wasn't so intimidating anymore and set me off running.
Suitable for All Ages. A pleasant surprise has been that i can do timeline work with all my kids, even the youngest ones. Including the high-quality GIFs on the second CD allows me to print off coloring pages for one or more of the events/people we are learning about. The younger kids can color as I read or as I help my older ones cut and place their timeline figures.
Bottom Line
I am very pleased with History Through the Ages and know we'll be using into the future! I am equally sure we'll be using other Homeschool in the Woods history materials later on. The customer service is great and they have wonderful products such as maps, studies, hands-on units, and more.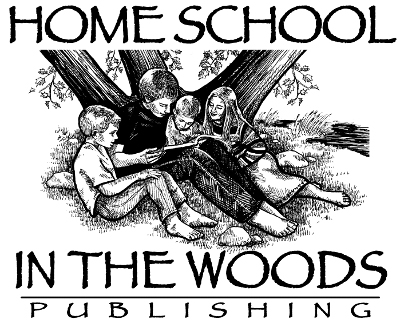 Find Out More About Homeschool in the Woods
Connect with Homeschool in the Woods: