Disclosure: *This post may include affiliate links. As an affiliate, I earn from qualifying purchases. Read the
disclosures
and
terms
for more information.
As Christian parents, we want to teach our kids to know and love the Lord. We want our children to understand the world from a biblical perspective and be able to navigate the challenges they will face in a godly, Christ-centered way. We want scripture to be their compass.
In short, we want to teach kids biblical worldview!
How To Teach Kids Biblical Worldview
A "worldview" is the lens through which we interpret reality. Our assumptions, beliefs, and thought processes all play a part. A biblical worldview interprets reality and all of life (past, present, and future) through the lens of scripture.
There are many subtle (and not-so-subtle) ways that children learn worldview from their families, friends, media, and the environment. But there are also ways that parents can intentionally instill a biblical worldview in their children that will serve them well for life.
Those intentional lessons in biblical worldview are what my husband and I purposefully teach our children in our home. Here are some ways you can do the same in yours.
Teach Them Scripture & Hide it In Their Hearts
Biblical illiteracy is a big problem, even among Christian families. If we don't know what God says about life, death, and the gospel message, how can we possibly live it out, let alone cling to its truth when we're going through struggles or facing opposition?
We have purposed to raise children who know scripture. We want them to have read it several times through before they leave our home. To be as familiar with it as they are with the Dr. Seuss books they read over and over. There is absolutely nothing more important we can do to train our children and equip them for adulthood.
Read from the scripture each day and discuss it as a family
Teach them to study the Bible for themselves as well
Teach and require them to memorize scripture, hiding God's Word in their heart
Saturate their lives (decor, books, movies, music, curriculum, etc) with scripture
Teach Them to Evaluate Life by Scripture
As much as we want our children to know God's Word, we also want them to evaluate life by it! When they are tempted to lie to get out of trouble, when another kid tries to convince them to look at something inappropriate, when they are choosing how to spend their free time… all of these are opportunities learning how to apply God's Word for right living.
It is easy to find ways to practice this with your kids. An hour or two in our home provides plenty of opportunities! Here's how we do it:
What does God's Word say about this? (Everything can be evaluated by the light of scripture)
What are the pros and cons in this situation, and what truth is revealed by applying scripture?
How can you handle this situation in a way that glorifies God?
We can use these same steps whether they're 5-year-old trying to manage his temper, a pre-teen considering choices in friends, or a young adult managing a difficult relationship.
Teach Them to Look For God's Hand
Your kids will really begin to internalize God's Word and how to apply it when they see God working in their lives. I know that has been true for my kids. And for me as well, truthfully!
Develop a habit of pointing out God's hand and how He is moving in your life, in your children's lives, and in the lives of those around you. Talk about how He provided in a difficult situation, how He helped your child when they were struggling to obey, how He protected a friend when they were in need, and so on.
You can do this as you find out about news stories, read fiction and non-fiction for fun or for homeschool, interact with neighbors and friends… the opportunities are endless.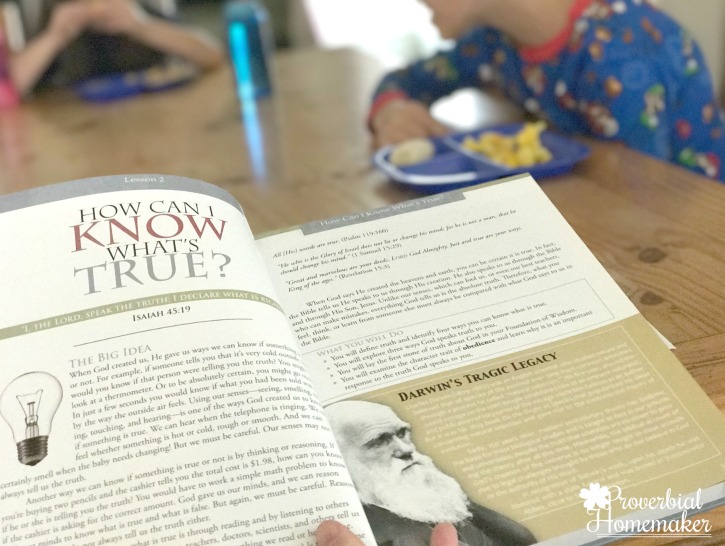 Teach Them to Receive and to Preach the Gospel Daily
Your children should know the gospel message as well as you do. And if you aren't sure how to articulate it well and in a way they can understand, learn how and even practice it! Make the gospel of Christ central to your message as a parent. The more they know it and hear it, the more they'll repeat it to themselves when they need it most, and even to others at opportune times.
The gospel should be spoken often in your home in some form or another! Then it will become that lens through which all life and reality is viewed in your family. There are many ways to present the core truths of the gospel. It takes practice to make it a regular part of your conversation and vocabulary, but it's worth the effort! Here is one way we've talked about it recently:
We have all sinned and fallen short of the glory of God. On our own we cannot have a relationship with Him or save ourselves from sin and death. It's a very sad place to be and we see it all around us in the world! But God loves us so much that He sent His only son, Jesus, to die for us and pay for our sins! When confess our sins and ask foreignness, and we say that we believe Jesus is Lord and that He lived, died, and rose again to take our sins, we become part of God's family and get to have a special relationship with Him that starts now and lasts forever!
As much as presenting the gospel to your children accurately is important, you (we) cannot let your discomfort or lack of practice prevent you from doing it.
Teach Them by Example and Stand Firm in the Faith!
Of course, showing them by example is one of the best ways we can demonstrate a powerful biblical worldview to our children! How do WE make choices, handle conflict and struggle, and deal with difficult relationships? How can we give them insight into how our walk with Christ and our biblical worldview influences and guides us? That will speak volumes to our children and leave a godly legacy for generations.
A Favorite Tool to Help Teach Kids Biblical Worldview
Finding good resources to help you teach biblical worldview is extremely helpful. Of course, you'll need your Bible, but having some other tools on hand can also be useful.
One of our favorite resources is Apologia's series What We Believe. It is specially written for Christian parents to help ground their families on solid biblical worldview and we are big fans! Lately we've been working through Who Is God? which is the first volume in the series.
Who Is God? introduces the concept of worldview to your kids and then helps you walk them through these essential areas:
God is truth and He reveals His truth to people
He is the one true and almighty God
He is the Father, the Son, and the Holy Spirit
He created everything
We are God's children and are made to love and to praise Him
God meets all of our needs
Sin separates us from God
Jesus is the only way to God
This is our second volume to go through in this series, so we know first hand that you can start anywhere in the series and don't have to work through them in order. The first one we did was What on Earth Can I Do? Also highly recommend that one. We'll be going through the entire series as a family. Our kids are all 9 and under but we'll be saving them afterward for independent studies as the kids get older.
Here are some things I really love about the What We Believe series:
Great for homeschool or family discipleship
Older kids can use it for independent study
Notebooking Journals are available for two levels (we use both and they're really good – I consider them necessary for our purposes). For the younger kids they include coloring pages, and both have areas for drawing, notebooking, games, etc., as well as lesson plans if desired
They use fiction and non-fiction stories to illustrate the lessons in an incredibly memorable way. I particularly enjoy the stories from history that often intersect with our other studies.
Low-prep (you're just reading) while still being very engaging for the kids. The stories are great, and there are little fact snippets and illustrations to break it up.
AUDIO CD! This busy mama just loves that feature in any curriculum. Whether you use it as your main car curriculum or as a reinforcement, it's gold!
You Might Also Like…
Sound Words for Kids: Lessons in Theology