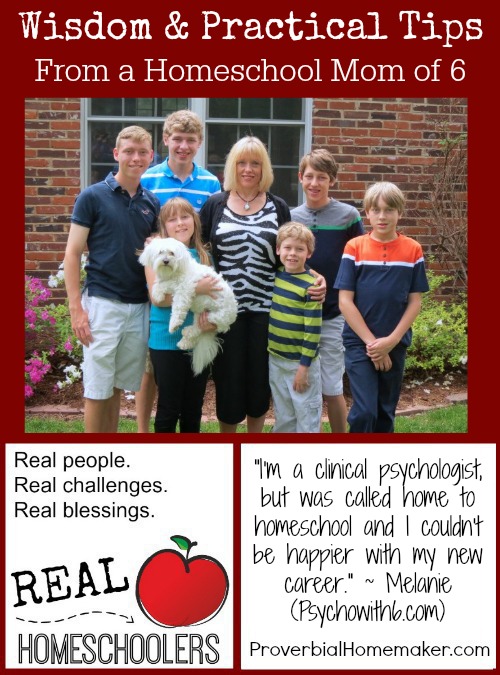 Disclosure: *This post may include affiliate links. As an affiliate, I earn from qualifying purchases. Read the disclosures and terms for more information.
Welcome back to the Real Homeschoolers interview series! Join me in welcoming Dr. Melanie Wilson. I first started following her through some great talks she's done at the Ultimate Homeschool Radio Network. This has been such a helpful interview for me personally, and I'm sure it will be for you as well as we glean wisdom and practical tips from this homeschool mom of 6!
More about Melanie: She is a Christian psychologist turned homeschooling mother of six. She credits God and her husband of 22 years for the time to write, speak, and homeschool too. While she doesn't practice anymore, she does share sanity-saving ideas at Psychowith6.
---
Our Homeschool
I started homeschooling 15 years ago when my oldest was a preschooler. He just started college so I am down to five that I'm homeschooling. My husband works out of our home selling library books to schools and that has been a huge blessing for our homeschooling. I'm a clinical psychologist, but was called home to homeschool and I couldn't be happier with my new career.
What would you consider your homeschool vision and priorities?
My primary vision is to teach my children to love the Lord, their family members, and other people because that's God's priority. After that, I want my children to have an excellent education so they can provide for their families and possibly homeschool themselves. After sending a child to college, I've impressed upon his younger siblings our desire for them to earn as much scholarship money as possible.
Do you follow a particular homeschool method?
I'm very eclectic, but the bulk of my homeschooling years have been focused on unit studies.
What is your basic daily routine?
I start with Bible because it's the most important.
I recently started teaching language arts immediately afterward to the four youngest because I think it's second most important. It's also my strength and I want to impart what I know to them–especially since I am working on a language arts curriculum of my own.
After spending individual time with some of the kids, I do read alouds and read science with my youngest.
After lunch, the kids do individual work and I write and attend to important tasks.
I shared my schedule as part of the back to school challenge.
Read about how Melanie organizes their homeschool space.
Logistics
How do you homeschool while keeping up with family, housework, etc?
Routine, time blocking, and focusing on one important thing in each area help me make it work. It's also critical that the kids help out. I'm glad I have six children, because if I didn't I would be tempted to try to do everything myself.
What are your strategies for homeschooling with littles underfoot?
I don't know that it was a strategy, but I learned not to expect much. There are always interruptions, but my oldest children, who experienced the most interruptions to their schooling, are very well educated. My best advice is to relax. Keep toys accessible for them while you're working with olders, do projects with olders during nap time, and save educational videos for times when you're desperate and do NOT feel guilty about using them.
How do you handle a reluctant learner or whining about school work?
I start with determining why the child is whining. Sometimes it's because they don't understand the work. Sometimes it's because it's a poor or unnecessary curriculum (I just scrapped a curriculum I had all the kids doing because it wasn't teaching them anything). Sometimes it's because the child doesn't want to work alone. If I can address these issues, I do. Other times, the kids are whining because they're ungrateful. I remind them of our sponsored children in countries around the world who thank God for an education. I remind them of the sacrifices I make to teach them. That usually takes care of it.
Resources and Ideas
What are your favorite homeschool books, web sites, or resources?
My all-time favorite is Pinterest because I love the creativity other homeschoolers share there. I have so much fun sharing my best finds.
What are your all time favorite curriculum finds?
I could go on and on, but that's good for now.
What is your approach for preschool and kindergarten? What curriculum did you use?
My favorite preschool curriculum is Little Hands to Heaven from Heart of Dakota because it took so little time when I was so busy teaching the older kids. Once I started using Konos, I incorporated my kindergarten students into our unit studies, but with my oldest I used Five in a Row and really enjoyed it. I read many of those books to my younger students even when I wasn't using the curriculum.
What advice would you give those going into the high school years?
Let your students take classes and learn note-taking, studying, and accountability. We have done that with combining classes with other families in our home and by attending co-ops outside of our home. Focus on math and language arts as these comprise most of the material that the SAT and ACT focus on. Begin building a college resume right away. College admission and scholarships are more competitive than ever. Instead of just taking any class or job, think about how it will affect his college application. I don't believe that homeschooling high school is harder; it's just different. You may need more outside support, but it's doable!
Encouragement
What is the single best piece of homeschool advice you were given from a more experienced homeschooler?
Not to let the curriculum dictate to me. It's so easy to feel like you're not doing school the right way if you don't want to follow a curriculum to the letter, but that's what homeschooling is all about: you as the teacher deciding what is best for your child.
What's one piece of advice you would give to a new Homeschooler?
Don't schedule too many activities. Add space to your schedule for the kids to explore their passions. Otherwise, you could experience burnout quickly.
How did you deal with burnout or find encouragement?
I found a group of friends to spend time with right away. I couldn't do this without them. They give me ideas I can use in my homeschooling and remind me that I'm more than a homeschooling mom. When I feel burnout coming on, I rest without guilt. That's the beauty of homeschooling! I take a vacation with my husband each January where I focus on why I'm home educating. That's an enormous help when the winter blues kick in.
How do you respond to those critical of your choice to homeschool, or how you've chosen to do it?
I explain that I would give up everything else before I gave up homeschooling, because most of the criticism has been about the "waste" of my education. I find that most people who criticize are simply ignorant of what homeschooling is.
What would you go back and do differently as a mom and homeschooler if you could? What would you do the same?
I wouldn't have changed math curriculum so frequently if I had it to do over. I think consistency is key and as long as you have a solid curriculum, that's good enough. I would do all the fun unit study co-ops over again, even though I was so tired having lots of babies. They're my favorite memories.
What are your biggest challenges homeschooling?
Staying on top of all the kids' work and boredom. I don't like to check that the kids are doing what they're supposed to be doing and I don't like to use the same materials, but both are an important part of teaching. I have to push myself to do these things.
What is your favorite thing about homeschooling?
Being with my children. They are my favorite people! They make me laugh, touch my heart, and challenge me to become a better mother and person.
---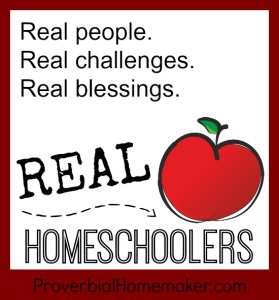 Check out all the interviews in the Real Homeschoolers series as well as a complete list of the questions that were asked. Not all the answers were included, but I have been careful not to change anything about their answers other than grammar and structure for the sake of presentation.