Homeschooling is not for the faint of heart. In fact, it's just plain hard. Still there are some pits you can identify and deal with – 5 ways to ruin your homeschool that you can deal with and exchange for joy!
There are so many challenges that they are likely to make your head spin. You are teaching three levels of students, putting dinner in the crock pot, trying to keep the toddler alive, planning curriculum, tending the garden, answering the door (no, we can't come out to play again), and nurturing eternal souls for the sake of Christ. That's just before lunch.
Of course, you love homeschooling! You know this is the right thing for your family and you are following God's lead. However, there are times when the joy just isn't there. The obstacles seem insurmountable and you can't seem to do anything but just survive the day.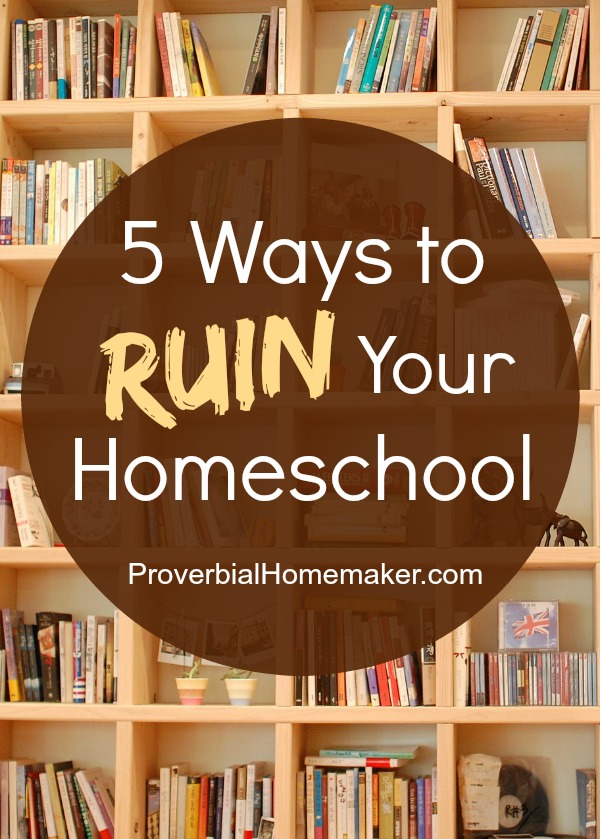 Disclosure: *This post may include affiliate links. As an affiliate, I earn from qualifying purchases. Read the disclosures and terms for more information.
5 Ways to Ruin Your Homeschool
Joylessnes. That's not where you want to be, is it? It sure isn't what God has intended for this crazy wonderful homeschool journey. When I find myself in this state of joy-less homeschooling, I know it's because I've fallen into one of these five pits.
Believing in Lies
We play tapes in our heads all the time, telling ourselves some version of reality and making choices every day about what to believe. What tapes are you playing in your head? Are they lies like these?
"I'm not cut out for this."
"I'm not doing enough."
"Suzy Homeschooler is better than I am."
"This is hopeless."
"I'm a horrible mom."
Lies, all of them. I'm sure you have your own lies playing on your tape on the hard days, don't you? What lies do you allow yourself to believe in those moments when the only thing that matters is the truth?
Capture those thoughts for Christ, my friend! They aren't from Him. Instead, cover yourself, your children and your homeschool in truth by praying the scripture over it all. Combat each lie by identifying the truth that demolishes it, then make that your new tape.
Keep Up With the Joneses
We see the mom who seems to be confident in her homeschooling. She has all the answers, a list of curriculum choices for the year, and an amazing ability to juggle 5 kids, a ministry, a marriage, a household, and then she raises chickens just for fun. We're lucky if the laundry gets moved over before it starts to get funky.
Bottom line: God didn't choose her to raise these kids. These kids are placed in your care for a reason and God has great plans for you. Yes, learn from others and be inspired by their example – whether it's a blog post or a conversation with the homeschooling Joneses – but set aside comparison. Comparison will eat your joy for breakfast. Instead, remain in the truth that God designed your family perfectly, and there's nobody to keep up with. Keep your foundation firmly planted in Him and you cannot go wrong.
Want step-by-step help putting together your vision, goals, yearly planning, and more! Check out our Relaxed Mom Homeschool Planner & eCourse!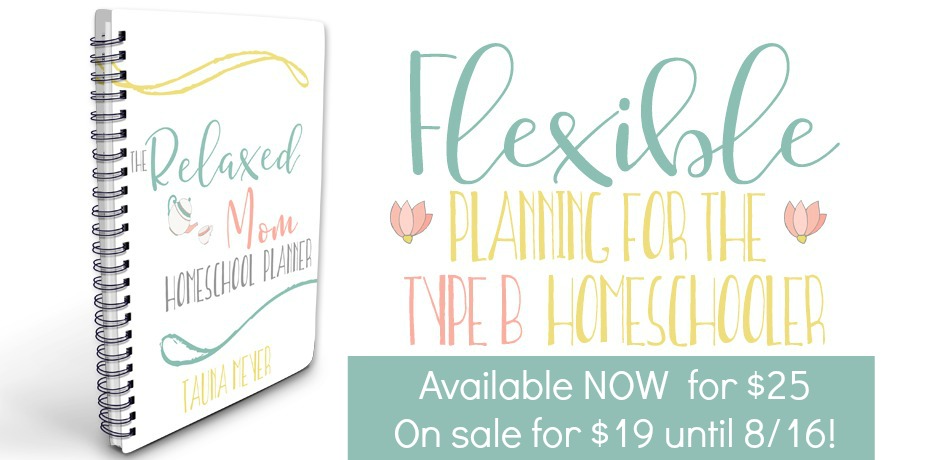 Put Yourself Last
When you're on a plane and you're watching the pre-flight safety instruction, the flight attendant will tell you to put your air mask on before helping a child. There's a reason for that! In homeschooling as well, you cannot run yourself ragged and expect to take good care of your kids. You certainly won't be able to give your best to your family!
Taking reasonable care of yourself is important, and by doing so, you are actually putting your family first. Find time for rest and reflection. Be with God daily in His word. Taking care of ourselves physically, emotionally, and spiritually are all critical for the task of homeschooling. Care for yourself as an act of obedience to God and service to your family.
Cling to the Plan
Plans are good and flexible, and routines are even better. Finding our groove is important in our homemaking and homeschooling. I have had such an uphill battle in this area, but it is worth it!
However, clinging to our plans is not healthy. If we put too much stock in our schedules and plans for the day, let alone the whole year, we will be left with disappointment. Being flexible is just as important as having some order to our days! Hold loosely to your plans and trust God to guide you in whatever changes you need to make for your family.
Wear Out Those Bootstraps
When things go south, many of us homeschooling moms tend to just take a deep breath and pull ourselves up by our bootstraps. We carry the success of our homeschool on our own shoulders and don't seek out help from others. This isn't how it should be!
It's good to be able to pick up after a disappointment or a change in plans and keep moving forward. Living as if we are doing this all on our own efforts is not the same thing! First, the Lord is our daily help and source of encouragement. How often are we really on our knees in prayer in planning for our homeschool, or when navigating those rough days? Second, we can find (or pray for) friends and other homeschoolers to walk beside us in this journey.
Which Pit are YOU In?
Dear homeschool mom, we don't have to stay in these pits. God has this covered we can trust Him to save us out of them.
Remember:
Believe in the truth
Trust God's plan
Take care of yourself
Hold your plans loosely
Seek and give help
Relaxation for Moms – here are some fun things to try!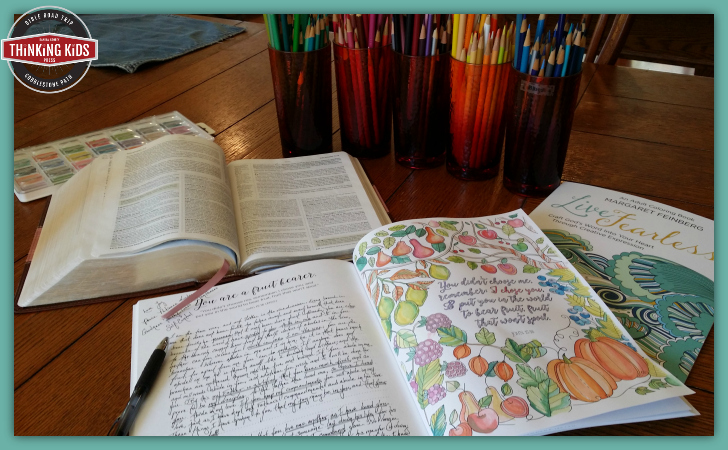 Live Loved
focuses on Scriptures that talk about God's love for you, with great illustrations to color in and journaling pages on every spread.
Live Free
focuses on Scriptures that talk about your identity in Christ, with beautiful coloring opportunities and journaling pages on every spread.

Live Fearless focuses on Scriptures that talk about trusting God's provision for you, with fun images to color and journaling pages on every spread.
Images of Grace
features whimsical coloring pages, interlaced with Scripture.
Prismacolor Colored Pencils are excellent, and the Verithin have been developed specifically for use with adult coloring books. They have a hard core, rather than Prismacolor's usual soft core, so the sharpened tip holds a point well.
Essential Oil Relaxation
Rocky Mountain Oils Mom's Essential Kit
This is the essential mom's relaxation kit! Rest easy knowing you have an arsenal of ten fabulous oils at your command. The Mom's Kit includes:
Tea Relaxation
Tea Sampler Kit from Blooming with Joy Tea & Gifts
~ $14.99
You get to choose 12 teas loose leaf teas, pre-measured for a one 10 ounce cup of tea. Each single serving tea will arrive in a fold over card. The cards are bound, into three sets of four samples, with jute ribbon. A total of samples 12 in all. Each card has a place for you to write a message to a friend or your notes about the tea.
Styled Hair Relaxation
Lilla Rose Mom & Daughter Tree of Life Matching Flexi Clips
I love Lilla Rose flexi clips–they hold my fine hair perfectly, and they're so pretty. Two flexi clips–one in XXS and one in XS–the design is Tree of Life surrounded by lovely glass pearls.