Our house stays decently (not perfectly) clean most days and the burden does't all fall on me. Not only that, but our kids learn valuable lessons that far outweigh the inconvenience of teaching them how to run the home.
Do you need to teach kids to do chores? I thought I'd share our tips and experiences today!
Disclosure: *This post may include affiliate links. As an affiliate, I earn from qualifying purchases. Read the disclosures and terms for more information.
There are many different kinds of families and many different approaches to chores. In our family, we view keeping house as a basic responsibility of everyone who lives in that house. If you're a part of our household, you have a job to do that helps keep everything running as smoothly as possible.
Contrary to what people might assume, it is not my job to do all the housework. Instead, my job during the day is to run a household while teaching and training the children.
In many families, the burden of housework primarily falls on the wife or the one who is staying at home with the kids. Our family doesn't work that way. Nobody has a primary job of housework, and yet keeping house is essential to the health, happiness, and efficiency of our family. So everyone has to pitch in! It is not only our responsibility, but our privilege to serve our family in this way.
Let's Get Real
Now, the reality is that it doesn't always run that smoothly or feel so wonderful. My idea of "clean and tidy" just meant that it's relatively sanitary, nothing smells bad, and I wouldn't die of mortification if someone popped by. I don't set my bar too high.
Even so, I am not off the hook. While the burden of all housework doesn't fall on me, I am still responsible for making sure it all gets done at least reasonably well. That means that while I am tired, nursing, homeschooling, caring for children, disciplining, and so on, it is also my job to be a keeper of the home.
So, how does that work?
Frankly, doing things myself is usually easier and quicker than teaching a child how to do it. I have grabbed the broom away more times than I care to admit. I have let the sweeping just go undone even more often. However, the benefits of training children to keep house are so numerous that I would be cheating them if I didn't help them learn it.
Besides, let's get real. I am learning just as much about diligence, perseverance, self-discipline, and homemaking skills as my children are. As a domestically challenged (but divinely equipped) woman who loves God and takes my calling to house and home very seriously, this is no small thing. So I keep working on teaching and training and learning self-discipline along the way.
That sounded so noble just then. I'm going to pretend that there's not currently a sink full of dishes I should be cleaning right now. Ahem.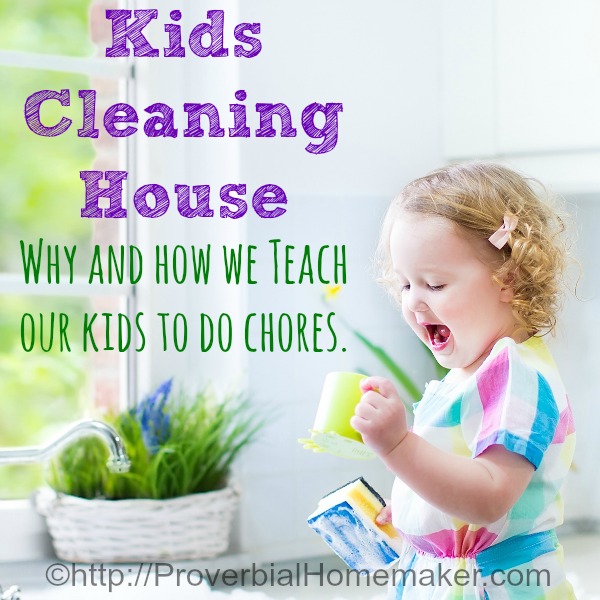 Why Kids Should Do Housework
We have found that there are many benefits to teaching our kids how to do chores. Here are just a few:
Lean how to work as a part of a team
Learn their roles and responsibilities as a family member
Serve their families in their daily work
Learn how to teach younger children and encourage them
Appreciate the work that others do in serving them
Learn how to encourage their siblings in their work
Practice perseverance, diligence, following instructions, completing a task, time management, and more
Learn how to properly clean and run a home for their future life, both single and married
Value and acknowledge the work of others
Practice fine and gross motor skills in their work
We don't pay our children for their normal work, simply because we want them to understand that it is a basic part of life and responsibility to others. We do, however, provide opportunities for them to do extra work or projects that will earn them money. Money management is also an important thing!
How To Teach Kids to Do Chores
There are many different ways to teach kids to do their household responsibilities. I'll just give you an idea of how we've done it, although it changes now and then depending on the stage we're in and which child is being taught.
First, we don't usually call the work "chores." We do our best to make it a positive experience and encourage working with a happy heart. Admittedly, this is something that I have felt convicted on myself, knowing that my children see my attitude and mimic it. That's just scary sometimes.
Here are a few things we do in our training:
Teach age-appropriate jobs for each child
Choose one job at a time to teach the child
Demonstrate how to do the job, sometimes with an index card with pictures or text (repeat as needed)
For a while, attend the child as they do their job to encourage and instruct until they can do it on their own
Perform "inspection" after the job is done. (Don't skip this.) They come to us saying they are ready for inspection and we do a quick check, requiring them to fix anything that needs to be re-done. Eventually they will do it correctly the first time to avoid the repeating.
When they have mastered that chore, move onto the next one.
Our Daily Cleaning Schedule
We have used different systems at different times. This is what is working for us right now, although we need to add some new jobs to our rotation soon. We basically "anchor" different types of jobs to different events in the day – usually mealtimes.
"Do your responsibilities" – we say this right after breakfast. The kids go upstairs individually (to avoid distraction) and do the following: get dressed, brush teeth and hair, tidy room, make bed, say prayers.
"Clean Up Blitz!" – Right before most mealtimes, the kids work with mom and/or dad to quickly clean up all the toys, books, blankets, pillows, etc. around the house. This work has to be done before they can eat, and if they complain or drag their feet, they are left to do it alone while the rest of the family goes off to their meal.
"Your Job/Chores" – After the meals, each kid works on the job they are learning or have just mastered. Right now, the 7 year old unloads the dishwasher or cleans the bathroom. The 5 year old sweeps the floor. The almost 4 year old wipes down the table and chairs. The 2 year old does a clean up blitz.
Our home isn't perfectly clean. Far from it, actually. I am not the best housekeeper and there are times when I let things slip with training the kids and their jobs. However, it is so important to their training and so very helpful in keeping up with the housework, that I promise you it is worth the time and effort to find the system that works for you!
Your family may work better with a reward system or an "anchor" system like we use, or perhaps both! Chores and responsibilities can be a main teaching tool in your home as a parent who wants to raise responsible children while getting some help with the workload.
Do you have "chores" or cleaning responsibilities for your kids? What system do you use?
You Might Also Like
Course: Simple Chore System for Busy Moms