Our family went on a big vacation this past month and one of the places we were most excited to visit was LEGOLAND California! It's no secret we're a Lego family, so this was a huge treat. One concern we had is that there wouldn't be enough to keep our youngest kids interested. Boy, were we wrong! There is so much to offer at LEGOLAND for multiple ages! Our family of 7+ was not disappointed.
Disclosure: *This post may include affiliate links. As an affiliate, I earn from qualifying purchases. Read the disclosures and terms for more information.
First of all, LEGOLAND is HUGE! Much bigger than we thought. We had the Hopper Tickets, which is a 2-day pass with admission to LEGOLAND California, SEA LIFE Aquarium and LEGOLAND Water Park. We had no idea how big the parks were and with only one day alotted for this part of the trip, we spent the whole time happily exploring the main LEGOLAND area and still didn't hit every single nook and cranny!
Next time, we'll set aside two or even three days to hit ALL the awesomeness, plus save up to stay in their amazing LEGOLAND hotel.
LegoLand for the Littles
The first thing we did was get a map. We were totally blown away at how big the place was! With our oldest navigating, we set off for the attractions.
The very first thing we found was something just right for the littlest of littles. The DUPLO Play area had little stations where the kids could build and explore. Our youngest ones spent quite a long time making fun creations there!
I was also surprised at how many of the rides were made with the younger kids in mind. Fun Town was the area we spent most of our time in. Although the whole park had fun things we could all enjoy, we found most of those here, especially with the rides. Sadly, we missed the opening of Lego Ninjago World by just a few days, but we've heard great things about it!
Here were some of our favorite attractions:
Two words: Driving School – We spent a looooong time in the Driving School ride! There was one ride for the older kids right next to one for the younger kids, so everyone could join in! They drove their little Lego cars around and were even able to get Lego driver's licenses! Very fun.
LEGOLAND Express – A fun little train ride near a play area provided lots of big laughter.
Police & Fire Academy – The kids joined with parents and grandparents as teams to race each other to the fire to put it out!
Sky Patrol – These mild rides lifted us up and down and allowed the little ones some control to look around. They loved it!
Kid Power Towers – Kids can pull themselves up these towers (some with the help of parents) to get a great view of the park and then gently lower themselves down.
Coastersaurus – A fun roller coaster just right for young kids
LEGO Show Place – A theater where they were showing a short movie the kids loved: The LEGO Movie 4D A New Adventure
Splash Battle – We formed teams and picked pirate ships to blast each other with water cannons as we sailed around!
Friends Forever Stage – The girls were so excited to catch a little song and dance show on the Friends Forever Stage! There are also places to build with these girl-themed Legos, a carousel, and a special shop.
Boat Races – We also spent quite a bit of time building Lego boats and racing them on a fun water course they had set up for them.
Big kid rides – There is plenty for the older kids, too! Including bigger roller coasters, huge racing slides, wave racers, elaborate Lego building stations, and more!
For the Parents & Advanced Builders
My husband and I probably appreciated Miniland USA the most. Elaborate Lego reproductions of cities and towns, Las Vegas attractions, camp sites, famous people, and more! The Washington D.C. area was particularly impressive. The kids also loved the amazing Star Wars scenes and characters that were on display. There were little building stations for them to participate in throughout the area.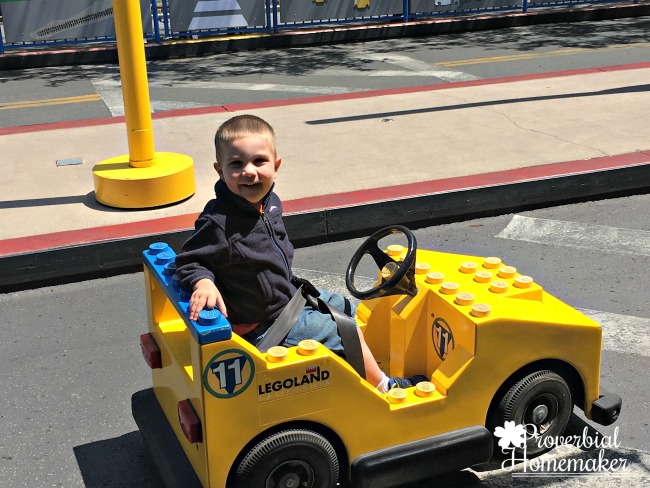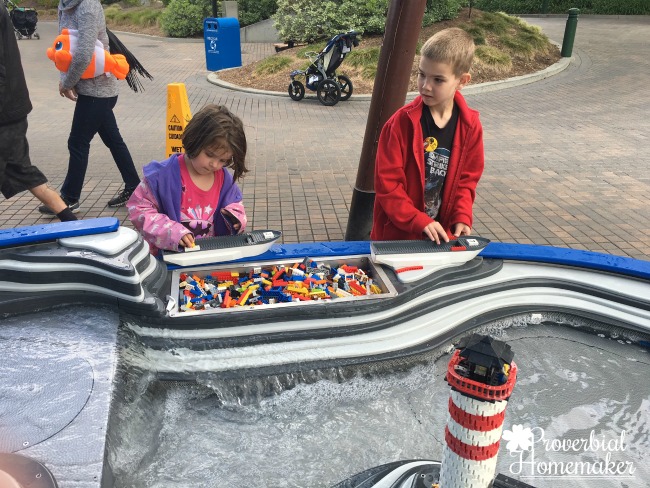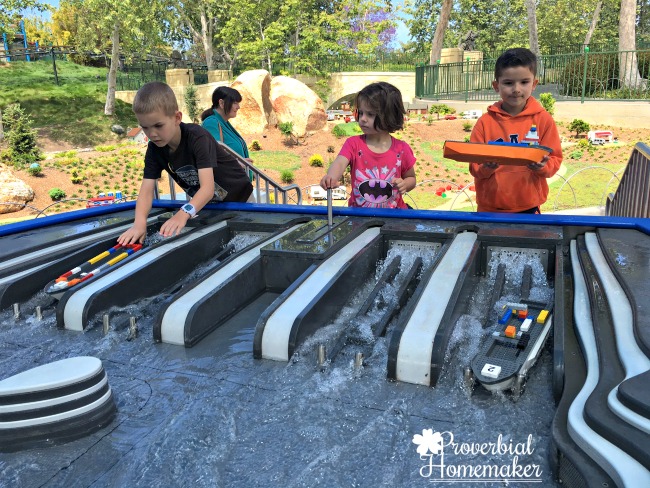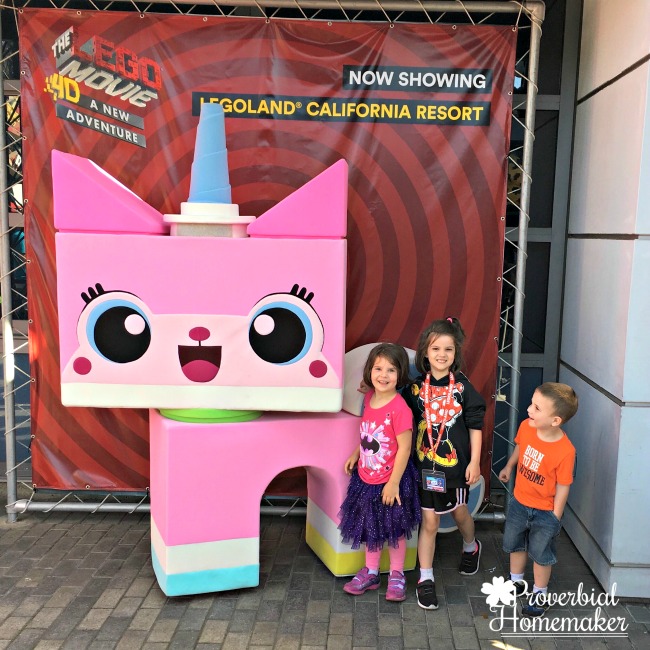 A Little Extra Fun
To make things even more interesting, you can bring and/or buy mini figures to trade with others at the park! You can buy or build custom mini figures at the store just as you enter the park. Another fun feature is that you'll come across characters for meet and greet sessions! We happened upon some from The LEGO Movie.
Family Logistics
There are some great things about LEGOLAND that really helped us out as a family. This is a full theme park with all the perks!
Food & Drink – You can bring bottled water and any food needed for dietary concerns into the park. The food was expensive, of course, but I don't know any theme park where that's not the case. However, all the food we bought was very good with large portions, so that helped because we didn't have to buy as much.
Model Mom Baby Care Center – This is such a great idea for moms! If you want more privacy while nursing or just a place to care for baby, there are rocking chairs, changing tables, a fridge and a microwave available here for your use.
Convenience – You can rent strollers and lockers to make things extra easy on yourself. There's also a package pick up option you can take advantage of if you don't want to lug purchases around.
Know Before You Go – The Know Before You Go page on the LEGOLAND site has great information, including height requirements, important contact info, how they handle dietary restrictions, and more. The FAQ section is also one you'll want to browse beforehand! I will say this: Bring sunscreen, water, comfortable shoes, and plenty of time to explore!
Bottom Line on LEGOLAND for Multiple Ages
I highly recommend LEGOLAND! We had so much fun there and it was honestly just as memorable for us as some of the other major theme parks that might come to mind. 😉 Definitely either do one day at just the main LEGOLAND area or spend 2 or even 3 days and hit all three! That's what we'll do next time, for sure.
Connect With LEGOLAND California
Disclaimer: I received some park passes in exchange for a review. However, all opinions are my own. And my opinion really is that LEGOLAND is awesome. You'll love it!
You Might Also Like…