The July One Year Bible Brick Challenge takes us from Daniel into the New Testament, through Matthew 7! You'll enjoy stories like Daniel in the Lion's Den, Jonah, and the birth of our Savior!
This is the calendar for the July One Year Bible Brick Challenge, and although you can jump in anywhere you like, you can also check out the list off all the One-Year Bible Brick Challenge calendars along with some tips on how to use it!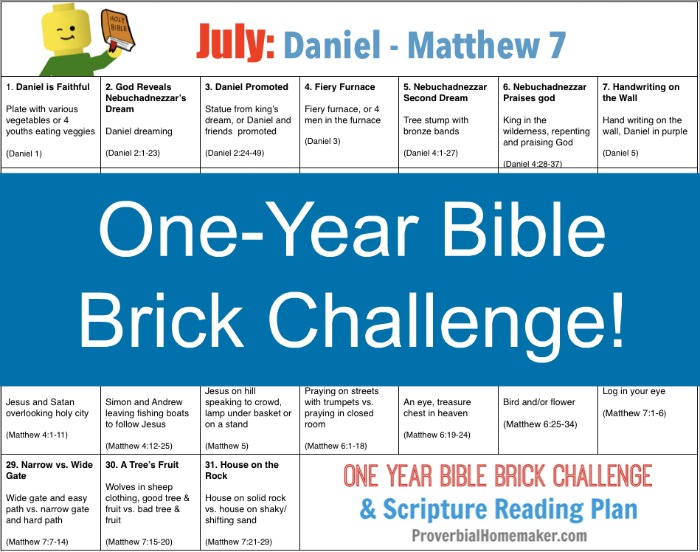 June One Year Bible Brick Challenge Calendar
Here are the stories covered this month:
Daniel proves faithful
Daniel interprets Nebuchadnezzar's dreams
Shadrach, Meshach and Abednego in the fiery furnace
Jonah and the whale/fish
Prophecies and promises
Genealogy of Christ
Birth of Christ
Wise Men
John the Baptist
Temptation of Jesus
Jesus Begins Ministry
Sermon on the Mount
It was hard to skip over some of the passages in the books of the minor prophets, but many of them just didn't lend themselves to short readings or Lego builds.
If you'd like to include some engaging questions and devotions, I recommend pairing this challenge with Bible Road Trip (the Bible curriculum we use) or 365 Great Bible Stories: The Good News from Genesis to Revelation, which is a great simple devotional for younger kids.
Don't forget to share your photos on Instagram and tag me at @tauna_phomemaker and tag #proverbialhomemaker and #biblebrickchallenge! Or you can email them to me at tauna (at) proverbialhomemaker (dot) com and I'd love to feature them on the Proverbial Homemaker Facebook page, here on the blog, or our Homeschool Successfully FB group.
July One Year Bible Brick Challenge
Download the July One-Year Bible Brick Challenge & Reading Plan!
*Your download link will be emailed to you and you will be subscribed to Proverbial Homemaker if you aren't already. Be sure to check your spam/promotions folder.
If you have any issues, check out this
troubleshooting guide
or feel free to
email me
!
You will find all the Bible Brick Challenges on this page – we'll keep it updated as the year progresses.
SaveSaveSaveSave
SaveSave