Last year I learned that I am great at creating detailed homeschool plans, but horrible at implementing them. I learned that my kids love unit studies in certain subjects more than others. I learned that I can't handle a curriculum with too many moving pieces, no matter how awesome it is otherwise. Yes, I learned SO much about what works for me, for my kids, and for an effective year in our homeschool. This year's homeschool curriculum choices reflect that!
I love looking at what other homeschoolers are doing for their curriculum each year. It gives me good ideas for subjects, combining curriculum, activities, etc. Of course, we need to make homeschool curriculum choices that best fit the realities and needs of OUR homeschooling. So keep that in mind as I share my picks for the year!
Disclosure: *This post may include affiliate links. As an affiliate, I earn from qualifying purchases. Read the disclosures and terms for more information.
This year we have a new 3rd grader, a 1st grader, Kinder, preschooler, tot, baby, and newborn. 🙂
Preschool
I don't do anything formal for preschoolers on down. We have some busy bags and dry erase tracing/maze books on hand for when they want to "do school" but I learned a long while ago that anything more is just not our style. Lo and behold, they still learn with lots of love, play, and read alouds!
Kindergarten
Kindergarten is very loose for us as well. This year, however, my upcoming Kinder would really like to continue doing her "lessons." I have done Get Ready for the Code, Developing the Early Learner series, and preschool books from Costco for her and other Kinders and they all work just fine. This year I bought some simple preschool and kindergarten from Christian Light Education. Other than that, she'll tag along with the group subjects!
First Grade Curriculum Choices
Math – Christian Light Education (CLE) Math level 100 & 200. My first grader was already doing first grade work this past year, so she'll wrap up CLE math 100 and move on to 200.
Reading

Christian Light Education Grade 1 Reading (reading practice and comprehension workbooks)
The 1st grade book list from Exodus Books
Reading aloud to mama!

Language Arts – When she's ready, we'll start Christian Light Education Grade 1 Language Arts. This will review phonics, cover basic grammar, etc.
Handwriting – I haven't decided on a handwriting curriculum yet but we'll probably just find some simple practice sheets and then focus on copywork.
Character/Life Skills – This year we'll be slowly starting the activities from Doorposts' Polished Cornerstones, a book with great Bible studies, activities, and life skills for girls. She's especially interested in homemaking tasks so we'll use our Home Blessing Days to allow her and anybody else interested to practice some home economics type tasks.
Third Grade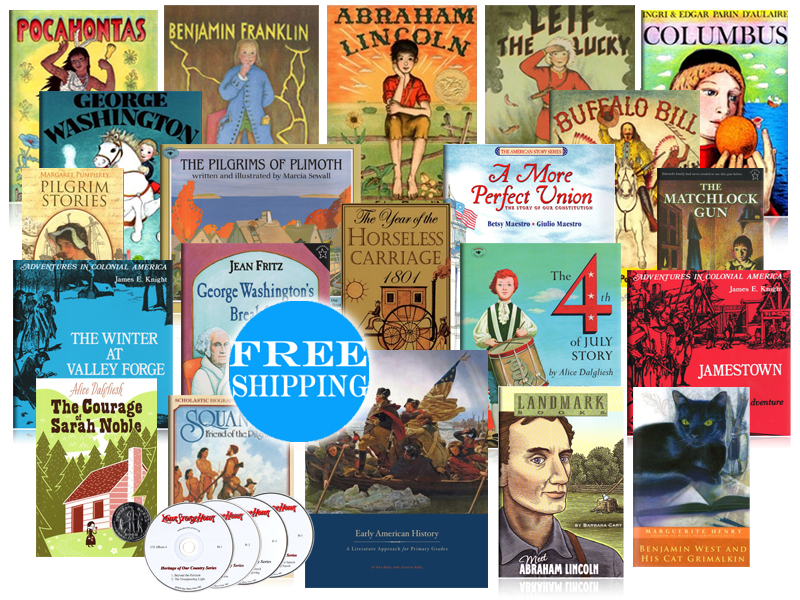 Homeschool Curriculum Choices For Everyone
Bible – Bible Road Trip Year 2. I really love this curriculum. It is in-depth Bible study and we also use it for family devotions. It also includes notebooking journals for older kids (we're just starting to use them more), praying for other countries, What's in the Bible videos, and more.
History – We switched this year to Beautiful Feet Books' Early American History. We also thought a year or two of American history would be a fun focus to start with. We ended up loving the literature-based approach of Beautiful Feet so much we'll likely continue with it and loop back to ancient history with Beautiful Feet!
Geography – For this year I decided not to add anything too complicated for Geography. We'll be using NotebookingPages geography pages along with our missionary studies and the countries they serve as well as our American history studies.
Poetry – I've been eying IEW's Linguistic Development Through Poetry Memorization program for a couple of years and I think we're ready to start! We'll basically add it in with our regular memory work for scripture and hymns. I'm excited to tell you all how it goes!
How Do We Get It All Done?
Well… we don't. At least, not all at once. We actually end up with a pretty relaxed routine that includes all of these pieces. I'll be writing more soon on exactly how we do that.
In the meantime, you can start setting you your own custom homeschool routine with the Relaxed Mom Homeschool Planner & eCourse! You will love this valuable resource that walks you through setting up a rhythm-based homeschooling system like ours that works just for you and your family.
The Relaxed Mom Homeschool Planning System includes a planner and web course, and is ON SALE through 8/16 only – don't miss out!