When our kids play with Legos, they are building a story whether they realize it or not. Writing stories with Legos turns their imagination into a valuable learning experience. With a few guided questions from you, they can turn a day of play into a storybook!
Disclosure: *This post may include affiliate links. As an affiliate, I earn from qualifying purchases. Read the disclosures and terms for more information.
Post it notes, random notebooks here and there, apps on the phone and iPad, all contained bits and pieces of a Lego story. It all started with a day of play. It ended with a lego story. From a girl who hated to write.
How to turn a day of playing with legos into a storybook:
1. Create
Create the scene. As your child creates the scene, encourage her to think of a story.
2. Play
That's all – just play!
3. Question
Your questions will take your child deeper into the story (writing) process.
Setting: How did the lego person get here? Who lives here? What would be surrounding
this? What animals are here?
Characters: Tell me about the person. What happened to the person before this sceene? What is the person's favorite (color, animal, food, holiday…)? What will happen to the person in the story?
Plot: What happens in the story? As they tell the story, ask questions that will clarify and bring out details. If the action points of the story don't flow, ask questions to lead the child to realize something doesn't fit. Make suggestions if they just aren't getting it.
4. Outline
Either you or your child makes a basic outline of the major points of the story. This helps keep them on track.
5. Picture
Create the different scenes of the story, taking pictures after each one. Before you make a new scene, make sure the picture is clear and has good quality.
6. Write
Write the story as you are creating the scenes. If your child is a struggling writer, use a speech to text app to help get the story on paper. When your child is on a roll, don't stop writing to make new scenes. Let your child set the stage on the writing and scene building – as long as the story gets written.
7. Create
Don't forget to edit! After the writing is ready, put the story and pictures together, then print!
You can use anything to capture the imagination of a child. Finding something they are excited about is key to getting stories on paper. Recently I witnessed that struggling learner, who found it difficult to write more than a few sentences at a time, write a 32 page book to go along with lego scenes. Such a proud moment. Do you have a struggling writer? Time to get out the legos!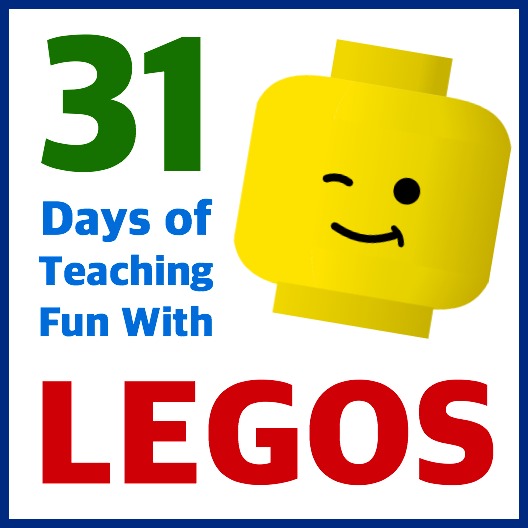 This post is a part of the 31 Days of Teaching Fun With Legos here at Proverbial Homemaker! Check out all the other great posts in the series!