Do you want to intentionally keep Christ in Christmas this year with your family? Looking for a simple but effective way to focus on Jesus during the holiday season?
Me too.
That's why I am so that my family was able to review Birth of Jesus from GrapeVine Studies!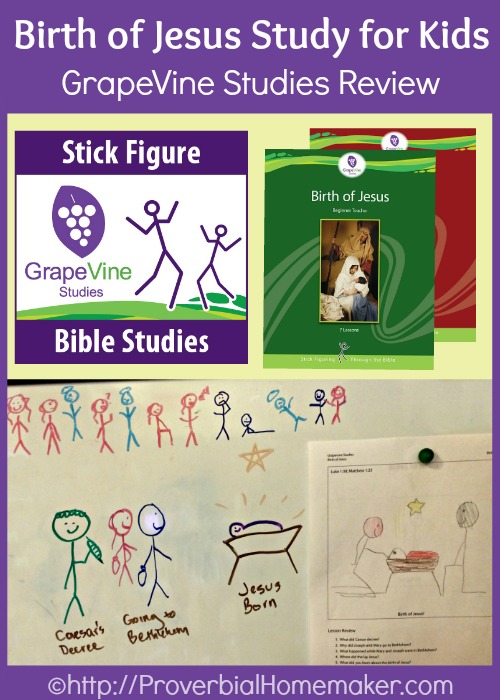 Thanksgiving and Christmas are always busy times of the year, and my husband and I strive to keep them as simple as possible. This is true for this year in particular, since we plan to welcome a new baby on Dec 1! I wanted to be able to do a focused study on the Birth of Jesus, but I don't have the capacity for anything too involved right now. These studies fit the bill perfectly!
About GrapeVine Studies
*** In October 2015 all GrapeVine books and ebooks are 20% off! Use code Oct2015 to claim your discount AND download a free lesson on the 12 Apostles! ***
GrapeVine Studies are unique. They start at ages 3 and up. For the younger kids, the lessons use a "Hear-Draw-Review" method. The children hear the scriptures and the Bible story events and characters, draw them out using stick figuring, and then answer review questions. Going into elementary years, the method becomes "Read-Draw-Review," and new skills are introduced such as timelines, basic geography, and Bible research skills.
There are several studies and features to choose from:
Studies by topic

Birth of Jesus
The Resurrection
Biblical feasts
Various books/characters of the Bible
NT or OT catechism
Timelines
Studies by level

Traceables (ages 3-5)
Beginners (ages 5-7)
Level 1 (ages 6-8)
Level 2 (ages 8-10)
Level 3 (ages 10-13)
Level 4 (ages 13 and up)
Multi-Level (ages 7 and up)
Studies are available as digital downloads or as printed books. You can view sample lessons and teacher manuals for the lessons on the GrapeVine site (with the product descriptions) as well as browse additional resource books.
Birth of Jesus Study
For the Birth of Jesus study, the Traceable (3-5), Beginners (5-7) and Multi-Level (7 and up) books are available.
There are 30 pages and 7 weekly lessons, with a final review at the end:
Mary
Joseph
Birth of Jesus
The Shepherds
The Temple
The Wise Men
Herod
The study starts with Mary hearing that she will bear a son and that He will be the Messiah, and ends after the family returns back from Egypt to Nazareth.
Each lesson includes the same basic steps:
Review last lesson(s) and memory verses
Teacher reads the day's storyline (3-4 events) and illustrates it with stick figuring
Students stick figure the story on their student sheets
Review questions and answers
Practice memory verse
How We Used the Birth of Jesus Study
We reviewed the studies for Traceables and Beginners, as my kids range from 1 to almost 7 years old. the 3.5 and 5 year old used the traceable sheets and the oldest used the blank box ones. Even though the lessons are designed to work for up to 7 weeks, they are so fun and so short that we are easily completing them in under two weeks by doing a lesson every day or so.
I take a few minutes to get the kids' sheets out and quickly scan the teacher's guide. We keep a running timeline on our dining room white board, so before beginning the new lesson, I copy the previous lesson's figures up to the end of the timeline.
The kids and I review the story so far with the stick figure timeline. As they memorized the pieces, they recite those on their own. Then they listen as I read the story prompts from the teacher's guide and draw the new stick figures on the board. Instead of reading the actual scripture verses before or during the lessons, I read them during mealtimes as a reminder and reinforcement.
The kids then draw their own stick figures on their sheets for that lesson. I encourage them to use colors and add elements to their pictures – things that help them remember the story or just express their creativity. We go through the review questions together and then we're done!
Bottom Line
The Birth of Jesus study is just perfect for our kids and this busy time of year. I really like the stick figuring aspect as it lends a hands-on way of the children to commit the story to memory. The lessons are a bit too easy for my oldest (who will be 7 in December) but it was nice to be able to do a study all together. We will definitely be trying some of the other studies in the future (perhaps the Easter one).
One point of interest: I was glad to see the wise men in their proper place and time. I twitch a little every time I see the wise men visiting baby Jesus in the manger since that is not biblically accurate. In the Beginner's studies, you can see that they come after the temple visit. Their place is even more accurately depicted in the multi-level teacher's guide, and they are shown presenting gifts to Jesus as a small child (not in a manger). This makes me happy. Twitching crisis averted and we are sold on GrapeVine Studies!
These studies are simple and effective enough that I am confident we can add them on easily to our regular Bible curriculum when we get back into the groove of homeschooling. We are now nearing the end of the Birth of Jesus study and we may just do it again in December!
Get the Birth of Jesus Study
From now through December 15th, the Birth of Jesus studies are available for 20% off, starting as low as $5.20!
Be sure to keep up with Grapevine Studies on Facebook and Twitter.
Enter to Win!
GrapeVine is generously offering a Proverbial Homemaker reader their choice of a print or digital download of the Birth of Jesus study! (Beginner (ages 5-7) or Multi-Level (Ages 7 and up))
The giveaway is open until 11:59PM PST on November 27. Winner will be notified via email and has 48 hours to respond before a new winner is selected.