My little girls just adore the story of The Nutcracker and every year around Christmas we watch the ballet on video and read the books that re-tell the enchanting story! How could I possibly turn down a chance to use The Nutcracker from Maestro Classics? This is a one-hour version of this magical classic that is child-friendly, with the complete ballet score and a re-telling of the story by Jim Weiss.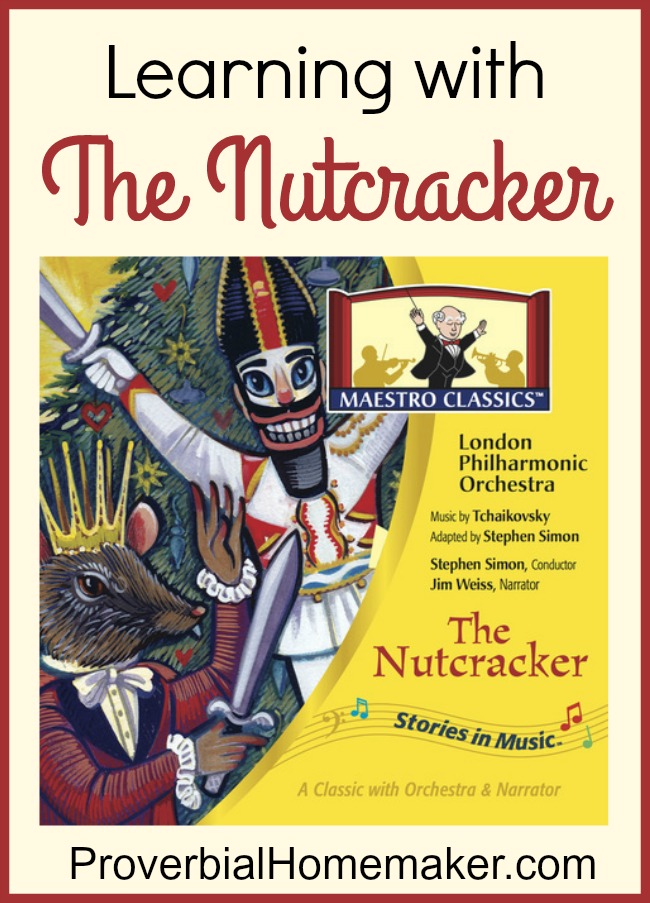 Disclosure: *This post may include affiliate links. As an affiliate, I earn from qualifying purchases. Read the disclosures and terms for more information.
Tchaikovsky's The Nutcracker
If you're not familiar with the story of The Nutcracker, it is set on Christmas Eve and follows a little girl named Clara through her spectacular encounters with a fairytale land and a magical prince. Clara and Fritz's parents throw an elaborate Christmas party with dazzling decorations, dances, gifts, and friends to play with.
Their godfather, Herr Drosselmeyer, arrives at the party with a flourish and presents amazing life-size toys to the children. The prize gift for Clara, however, is a precious nutcracker doll that looks like a soldier. In the excitement of Christmas, Clara falls asleep and is swept away into a dreamy story of battles, heroes, and her nutcracker that turns into a handsome prince and whisks her away to his kingdom.
Learning with The Nutcracker
I was SO excited to introduce this product to my children, and especially my girls (ages 6 and 4). Although they are familiar with The Nutcracker story, and they have seen children's ballet for other stories, this year we hope to take them to see The Nutcracker in person. The music and re-telling of the story by Maestro Classics is perfect for us!
The Nutcracker by Maestro Classics takes you through an hour of this enchanting story with the beautiful music and excellent storytelling of Jim Weiss. We used the product primarily during quiet time but also have plans to put it into our rotation for car rides. That's a captive audience for educational audiorecordings!
The girls (and boys) listened to the whole thing in one sitting and that wasn't enough for them! There is also a beautifully illustrated 24-page storybook included with the CD that includes the story in print, simple musical instruction, and some activities. For those who have a harder time sitting idly while listening, those activities came in handy, such as this crossword puzzle that you can complete as you listen to the story.
The Nutcracker CD has an accompanying Curriculum Guide as well, and I do recommend using it. We were able to get a copy and the activities are SO much fun! They include things like exploring simple machines (like the nutcracker), learning about ballet and ballerinas with fun videos and activities, geography, math, music, and more!
Bottom Line
We really enjoyed Maestro Classic's The Nutcracker and I was very pleased with the quality of the program on the CD and the extra materials like the printed storybook and online curriculum guide. I have already been telling friends about this company and plan to purchase some other products there for future studies and family fun!
You can get a great discount on Maestro Classics through educents! Browse individual CDs or get the whole set for a steal! That's what we plan on doing. 🙂
You can also purchase The Nutcracker directly from Maestro Classics as an MP3 or a CD, listen to a sample before buying, and download the Curriculum Guides!
You Might Also Like…
Draw Through the Birth of Jesus Story