We did this fun craft with our kids a few years ago and I still cherish the pieces of art we created using their foot and hand prints! This simple nativity art doubles as a beautiful keepsake of your child's foot or hand. The older children can complete theirs by themselves while the younger children are being helped by a parent. Take an afternoon to do this project as a family. You will not only end up with precious foot and hand print art, but the family memories of creating them together!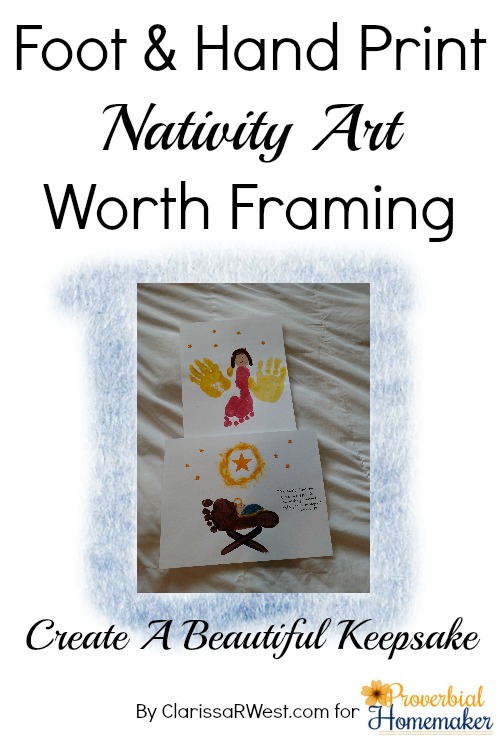 Disclosure: *This post may include affiliate links. As an affiliate, I earn from qualifying purchases. Read the disclosures and terms for more information.
Foot and Hand Print Nativity Art
For this artwork activity, you will need a few simple supplies.
Finger paint. Brown for the manger, yellow for the star, angel wings & halo, and any color for the angel's body. You may want a variety of other colors depending on how much detail you want to add.
Cardstock. We just used white.
Sharpie. A black, ultra fine point works best.
Stencils. We used a stencil for the stars.
Foam brush. If you choose to use a stencil for any part of the artwork, a foam brush works great for it!
Paper Plates. We used these for the paint that we wanted to press the kids' hands/feet into for the artwork.
Old t-shirts, something to protect the work space from paint, etc.

Footprint Manger with Baby Jesus
We used a footprint on its side for the manger and used our fingers to put a wide "x" for the manger legs. I drew in the baby Jesus, but you could also use a child's fingerprint to create His head and body and then use the black Sharpie to draw His face. Use the star stencil and yellow paint to finish the picture. You can also write your favorite Christmas scripture on it with the black Sharpie!
Handprint Angel
To create an angel, use a footprint as the body (heel upward) and handprints as the wings! You can then add a face, halo, and stars to complete the picture.
Let dry in a safe place and then you are ready to display the artwork! These are great as grandparent gifts, too. Just place in a nice frame and you can give them a gift that they will love!
Countdown Til Christmas
Another way to use the completed artwork is to create a paper chain link to hang from the bottom of the picture to countdown the days until Christmas. We did this with the Footprint Manger and Baby Jesus.
More Nativity Art
Baby Jesus in a Manger Fingerprint Craft for Kids at Christmas