Getting Started Homeschooling can seem daunting and overwhelming! There are so many factors and questions to consider before jumping into this important task.
However, the process can be made more simple by following several steps. While each child and family are different, there are general things that should be addressed in the beginning.
I hope these steps will help you think through the why and how to homeschool your child. They do not have to go in any particular order, other than that they should be completed before you start officially homeschooling.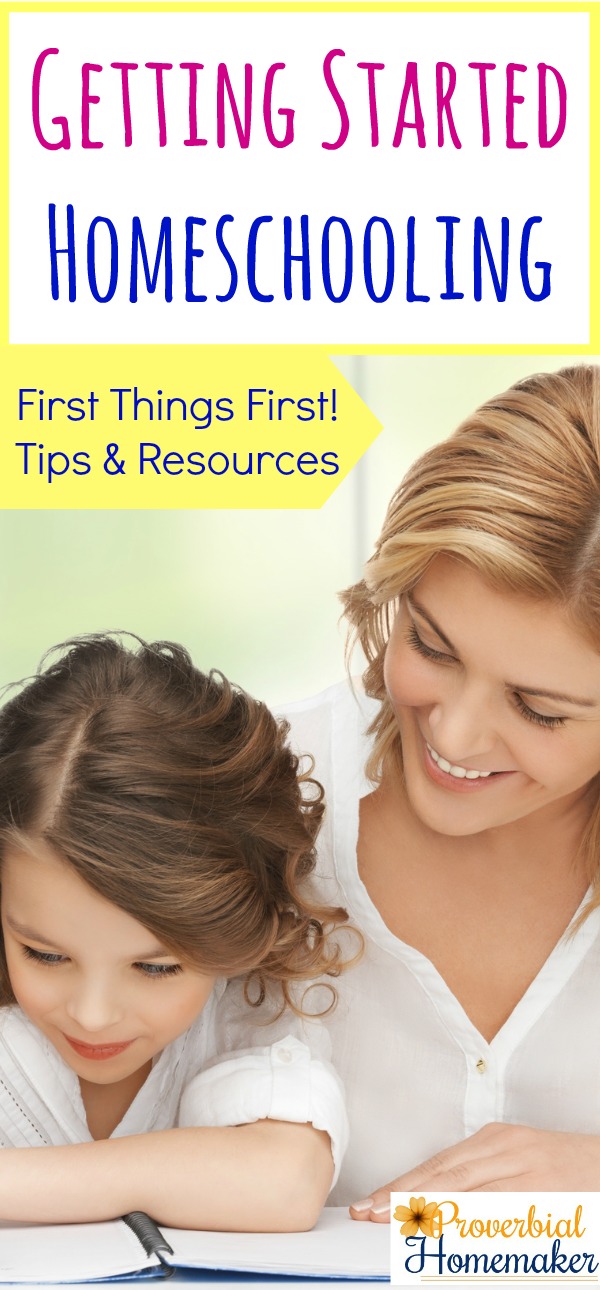 Disclosure: *This post may include affiliate links. As an affiliate, I earn from qualifying purchases. Read the disclosures and terms for more information.
Getting Started Homeschooling: Tips & Resources
Find Mentors – If possible, seek out some women who have a few years or more of homeschooling under their belt. Ask them questions, share your fears and concerns, bounce ideas off them, and get a feel for how they homeschool. Don't plan or expect your homeschool to be the same as theirs, but just take their advice and information as part of your research. Being a homeschool mom can seem lonely if you don't have a support group. If you can connect with some moms in your area, whether through church or community, then that is great! Joining online homeschool groups are a wonderful option, as well.
Legal Stuff – Learn about the laws in your state (or country). This will tell you at what age your child must officially start their education, what your responsibilities are as the parent teacher, and other requirements. A great place to start is with the Home School Legal Defense Association. Just click on your state and read the information provided. You can also do a web search for your state's Department of Education and see if they offer any info on homeschooling. Once you understand the laws, make plans to become legally prepared to homeschool.
Define Your Purpose – Why do you want to homeschool? What are your goals? What is your homeschool vision? What is your ultimate hope for your child, family, and life? This includes academics, of course, but also think through the life-long lessons and skills you want to teach your child. Write these down and refer back to them whenever you wonder why you started homeschooling in the first place!
Home Atmosphere – Other than following your state's laws, homeschooling allows for flexibility. You can often fulfill the state's requirements in several different ways. You'll want to think of your teaching style, your child's learning style, and the atmosphere you desire in your home. Do you want to have a more scheduled homeschool day? Do you want to follow a relaxed routine? Are you more of the 'do the next thing on the list' type of person? Do you want to spend a lot of time outdoors? Do you want to incorporate a lot of crafts and hands-on activities? Do you want to use a literature-based program? Do you want to use a more STEM-minded curriculum (Science, Technology, Engineering, Math)? Your teaching/learning styles may change through the years and that's okay. Just start with how you feel most comfortable.
Plan Your Year – You will need to sketch a homeschool year plan. If you are starting with your oldest child in kindergarten, then you can take things more slowly. Either way, you will want to create a 'whole picture' type of plan to start and then you can tweak and adjust it as you become more experienced. It has been said that it takes 3 years of homeschooling before you really know your family's rhythm and routine. You can choose a few different year-plans. Year-round homeschooling, traditional school schedule, or something in between. Most families start on one end of the spectrum and gradually move towards the other until they land somewhere in the middle. It is all part of the process of finding what works best for your own family.
Find Your Curriculum – This is usually one of the hardest parts. There are so many options and varying opinions on which is best. However, it all comes down to your state's requirements, your family's overall purpose in choosing to home educate, your teaching and learning styles, and your initial year plan. Find the curriculum that seems to fit with all of those and go with your gut. If you are on a tight budget, then spend your money on the foundational subjects, like phonics, reading, and math. Many elementary grade subjects like science, history, and social studies can easily be taught through frugal means such as free printables, real-life experiences, and so on. Use your local library if possible, too.
Prepare To Educate Yourself – You do not need to be a college-educated parent to homeschool your child, but you should be ready and willing to learn alongside them. A good homeschool parent teacher is the one who researches, is resourceful, and most importantly is dedicated to their child. Modeling a lifestyle of learning and a love of learning is one of the best things you can do for your child. Exploring, reading, and doing with your child is going to be what impacts them the most.
Homeschooling is a wonderful whole-family journey that is full of mistakes, grace, and growth. Not easy, but so worth it!
Download the Getting Started Homeschooling Guide Sheet!
Download this FREE guide sheet to help you go through all these steps with success!
Download the Getting Started Homeschooling Guide Sheet
Your download link will be emailed to you and you will be subscribed to Proverbial Homemaker if you aren't already. Be sure to check your spam/promotions folder. If you have any issues, check out this troubleshooting guide or feel free to email me!
You Might Also Like…
Our Year-Round 4-Day Homeschool Week