Disclosure: *This post may include affiliate links. As an affiliate, I earn from qualifying purchases. Read the
disclosures
and
terms
for more information.
Easter is my favorite holiday for a reason! Resurrection Sunday is the event upon which the entire Christian faith hinges. The entirety of history hinges on it, actually. It is a time where we pause and focus even more on Jesus and the true hope, renewal, and redemption that only He brings!
We have so many ways we teach and celebrate Easter and Resurrection Sunday with our kids. We put together one more to share with you! Teach your children the true meaning of Easter this year with this He Is Risen Resurrection Sunday Printable Pack. There is a great selection of activities and worksheets that can be used in your personal homeschool or Sunday School Class.
With 100-pages of printable resources, this He is Risen printable pack is filled with Bible activities and worksheets that will also help children practice and improve their math and literacy skills.

Resurrection Sunday Printable Pack
Included in this 100 page printable pack are:
Vocabulary Cards – these are great for memory/matching games as well as spelling and vocabulary.
Colouring Pages– Decorate or colour as you wish and hang up to decorate your rooms.
I Spy– These pages are great for counting practice.
Word Tracing– These pages help children learn to form letters and spell words correctly.
Colour Matching Cards– A great way for kids to learn their colours.
What Comes Next?
Finish the Pattern
Spot and Dot – Spot the letters and then dot them.
Shadow Matching Cards– These shadow matching cards are so much fun and can be used in games such as memory/matching as well.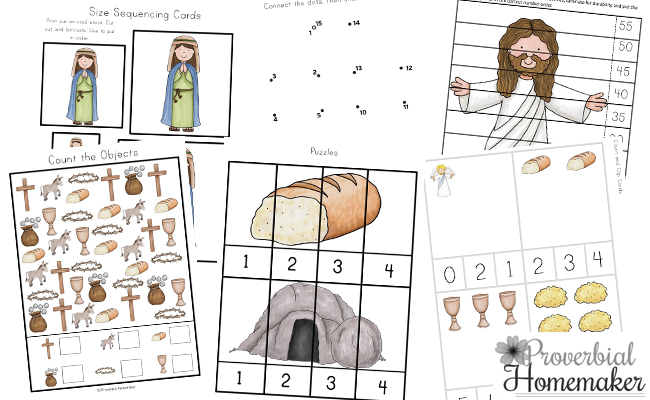 Story Writing Pages – These can be used to retell events of the Winter Games or describe the different sports of the Winter Games.
Size Sequencing Cards– Match the cards from smallest to biggest or the other way round.
Count and Clip Cards– These are great for kids learning to count and recognize numbers.
Alphabet Matching Cards – These are great for learning the lowercase and uppercase letters of the alphabet.
Number Puzzles – These are great for learning skip counting.
4 Piece Puzzles– These are always fun for kids to do. Store in zip lock bags and take them with you to appointments to keep the kids occupied.
Cross Themed Activities – Activities include tracing, scissor skills, puzzle, maze and a stained-glass coloring activity.
Bible Copywork Pages – There are 15 different Bible verses that all relate to the death and resurrection of Christ. These are great for copywork as well as for memorisation. They are in both King James Version as well as The English Standard Version.
Download the He is Risen Resurrection Sunday Printable Pack
Download the He is Risen Resurrection Sunday Printable Pack
*Your download link will be emailed to you and you will be subscribed to Proverbial Homemaker if you aren't already. Be sure to check your spam/promotions folder.
If you have any issues, check out this
troubleshooting guide
or feel free to
email me
!
You Might Also Like…
Christ-Centered Easter Books and Resources