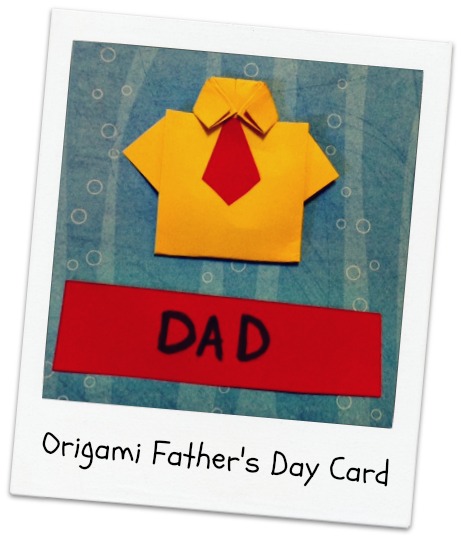 Disclosure: *This post may include affiliate links. As an affiliate, I earn from qualifying purchases. Read the disclosures and terms for more information.
Today was art day and we made these cute Father's Day cards. Since the kids and I also happen to be doing a mini Japan unit, we decided to try out origami.
I found a tutorial for making the origami shirts here and cut out the shirt papers, ties, and other pieces ahead of time.
Here's how to make a Origami Father's Day Card shirt:
Start with a piece of 4×6 paper
Fold edges to center
Fold the top half inch down
Fold another half inch but toward the opposite side
Fold the top corners in until they just touch
Fold the bottom up and tuck it under the shirt collar
Open it back up and fold back the lower corners
using the middle fold mark as a guide.
Fold the bottom back up and tuck in. A shirt! 🙂
Add a tie. Of course.
So cute!
The kids helped as much as they could and glued the tie on. It turned out pretty well! The kids decorated and wrote on the inside.
Since the kids had a hard time folding, we also did this quick ladybug origami because it was a bit easier for their little hands. Find the directions for folding here.
Origami seems to be a fun and simple craft for the kids and I think we'll try more in the future!