Disclosure: *This post may include affiliate links. As an affiliate, I earn from qualifying purchases. Read the disclosures and terms for more information.
It is amazing how technology has changed the way we teach. The various apps that were seen as a mere distraction are now some of the best teaching tools out there. If you have seen the way kids respond to learning via apps, youíll know how true it is. My daughter, who is normally apprehensive about math, actually enjoys tackling math problems when she plays on the latest Penguins of Madagascar mobile app!
So, what makes these apps so cool? They are fun and promote interactive learning. There are graphics and sound, and the apps are highly engaging with educational concepts woven into games. I decided to make the most of my daughterís love for these apps by compiling a list of fun apps that I could use to teach on almost every topic under the sun. They are available on various platforms. Here are a few that you might find useful.
Math
Penguins of Madagascar: Dibble Dash – Kids can learn basic math in this endless runner game with Skipper, Kowalski, Rico, and Private – the uber-cool penguins from the movie Penguins of Madagascar.
Find it on: iOS, Google Play
Free App
Meteor Math – This is a fun game that teaches kids mental math skills. There are different levels and kids have to learn to solve problems quicker with each level.
Find it on: iPhone, iPod Touch, iPad
Paid App
Rocket Math – Kids can create and launch rockets. Apart from basic math operations, they will learn basic physics, money, time, fractions and decimals.
Find it on: iPhone, iPod Touch, iPad
Paid App
Science
Ansel and Clair: Little Green Island – This is a simulation game that teaches kids about ecology as they take care of an island.
Find it on: iPhone, iPod Touch, iPad, Android,Amazon
Paid App
Angry Birds Space HD – The birds have to rescue a hijacked Mars rover. The app also teaches kids about NASA and Mars exploration.
Find it on: iOS, Android, MAC and PC
Paid App
GazziliScience – Preschoolers can learn science facts with cartoons and games. It also includes a feature to help hearing-impaired kids.
Find it on:iPhone, iPad, iTouch
Paid App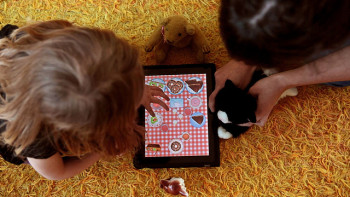 Language
Green Eggs and Ham by Dr. Seuss – This is an interactive book with a highlighted narration and tappable words and pictures.
Find it on: iOS, iPhone, iPad, and iPod
Paid App
Reading Raven – Clear sounds and illustrations make learning phonics fun. Kids can learn to read with reading games and instructions.
Find it on: iPhone, iPad
Paid App
Duo Lingo – Kids can enjoy learning words and phrases in different languages with this app. It also includes multiple choice challenges.
Find it on:iOS, Android
Free App
Social Studies
Barefoot World Atlas – Kids can learn geographical facts and check out videos and photos of places around an interactive 3D globe.
Find it on: iPhone, iPad
Paid App
Stack the Countries – Countries from around the world come alive on this app as kids learn the facts about countries. It includes interactive maps, flash cards and more.
Find it on:iPhone, iPod Touch, iPad
Paid App
Young Learners
Little Writer – Young kids learn the alphabet formation by tracing them in this app. Basic shapes and numbers are included.
Find it on: iPhone, iPad
Free App
Tozzle – The app has around 40 puzzles for young learners and teaches them to recognize basic shapes, and improves motor skills.
Find it on:iPhone, iPad, iPod touch
Paid App
iWriteWords – This is a handwriting app. Kids can also learn numbers and it includes an alphabet song.
Find it on: iPad, iPhone, iPod Touch
Paid App
For Budding Artists
Magic Piano – Kids can learn about tempo and rhythm with three different keyboards. It includes music by Beethoven, Mozart, Pharrell Williams and others.
Find it on: iTunes, Android
Free App
LEGO Super Heroes Movie Maker – Kids can make mini-movies with this app, which is easy to use with good visual and sound effects.
Find it on: iOS, iPhone, iPad, iPod Touch
Free App
bookabi – Kids can create their own storybooks with this app. It is interactive and has a choice of 2D and 3D characters, backgrounds and more.
Find it on: iPad
Paid App
These are just a few of the educational apps out in the market. With apps being introduced regularly and being upgraded frequently, todayís kids are spoilt for choice!
Author Bio:
Catherine Ross is a full-time stay-at-home-mum who believes learning should be enjoyable for young minds. An erstwhile elementary school teacher, Catherine loves coming up with creative ways through which kids can grasp the seemingly difficult concepts of learning easily. She believes that a fun factor can go a long way in enhancing kids' understanding and blogs at http://kidslearninggames.weebly.com/