There are SO many homeschool planners available out there, right? Which one should you choose? Free or purchased? Digital or pen and paper? Pre-Printed or a download? Super detailed or simple and sweet? How can you find the perfect homeschool planner?!
You know you don't want to waste your time or money. However, the truth is most of us still try a few different planners or systems before landing on the one that works just right for us. And that's ok. It's similar to curriculum: you have to decide whether to just make it work or to move on. Still, your chances of success go up if you keep a few things in mind as you look for the right one.
Disclosure: *This post may include affiliate links. As an affiliate, I earn from qualifying purchases. Read the disclosures and terms for more information.
Choosing the Perfect Homeschool Planner
Digital or paper? Some folks are all paper or all digital. Some, like me, are a mix depending on the area. Try a few different ways and see what sticks for you.

Printing: Most free planners need to be printed, so take the printing cost into account especially if color is necessary. Usually a laser color or laser black and white printer is best, or go to an Office Max or similar store for a reasonable printing option. Do keep in mind that some print shops require permission from the author of the document to print. You can often email the creator of the printable and ask for release to print.
Pre-printed: Printing your own planner has some benefits. Usually it's more flexible as far as how you arrange and organize your planner. Having everything printed ahead of time is simpler and requires much less work, especially if you can find something that fits your needs and style extremely well!
Price: Generally, pre-printed and print-your-own planners will come out to be about the same depending on the complexity of the planner, how many pages it is, and whether it is in color. Finding one that fits your particular needs and style is more important, in my opinion! As you are shopping, note that pre-printed planners need to be purchased every year while printable planners are usually a one-time purchase.
Relaxed or detailed? Do you need a detailed plan or can you just put in general topics and wing it? Or maybe you need something in-between? Many homeschool friends plan their lessons out a month, a quarter, or even a year! It works well for them and they rock it!I find that for productivity and personal accountability, I certainly need to have a plan of some kind. However, too many details and checkboxes will derail me. Instead of writing out lesson plans each week, I just write down what we actually DID do, and my planner is designed for that style of planning and recording.


Requirements: Make sure you know your homeschool requirements and what kind of records you need to keep! Start that with your base and go from there. Keep in mind that you want to make this work best for YOU!
Just what you need: What information do you need to plan and record in order to make for an efficient and reasonably manned homeschool year? It looks different for different people. Anything more than what is useful becomes a burden and difficult to sustain long term. Make things as simple as possible!
Pre-filled or blank? If you have a planner with pre-filled dates, days, etc. you might become frustrated if you have a different schedule than it uses. You may end up with weeks or months left blank or weekly plans that look off. On the other hand, some people loathe having to fill in dates and subjects every single week. Determine how important that is to you as you look at planners. Many online printable planners, including the one I use, have customization options that take care of both of these problems.
Homeschool Planner for a Relaxed & Christ-Centered Approach
I have tried several planners but finally decided to design one of my own that would accommodate a more relaxed, yet intentional, homeschool planning style. I plan my goals, yearly forecast, loose quarterly plans, and then carefully design a weekly rhythm based on our life routines. From there, I simply record what I actually DO each week in a weekly record section, happily ignoring the existence of detailed lesson plans. 🙂 This approach to planning and daily work has been such a blessing to us and our homeschool that I designed some tools to help YOU do the same.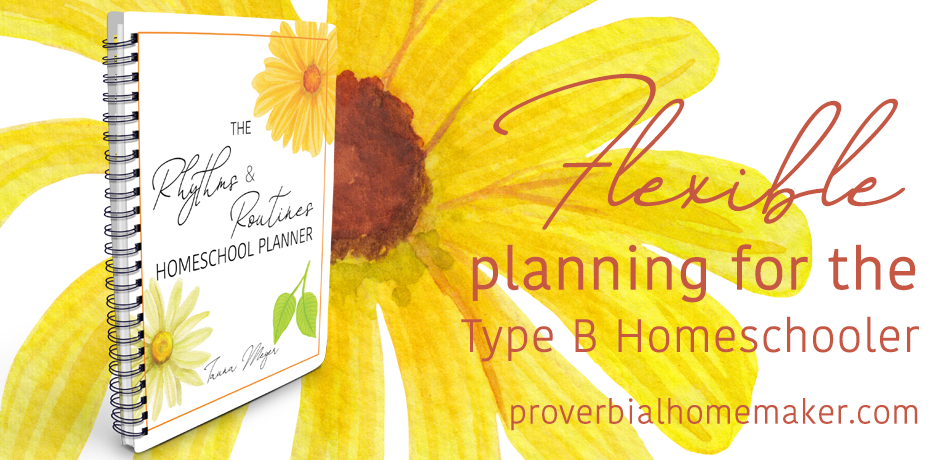 Our popular Loop Scheduling Workshop helps you with templates and examples to set up loop scheduling for a variety of purposes and needs. It includes video lessons and an exclusive FB group!
You will also love our Rhythms & Routines Homeschool Planning System! It includes a printable planner and a course that walks you step by step through how to use routines for homeschool planning and set up a system that works with YOUR family and personality, with fillable pages and various templates to choose from.