Nativity sets can be found in many homes during the Christmas season. They are a beautiful and meaningful way to remember the occasion of the birth of our Savior, Jesus Christ!
Every November I spend a little time looking for new books, toys, and teaching tools about the Christmas story and especially the nativity scene. Today I'm sharing my favorite nativity resources with you as well as a BIG giveaway basket full of a few top picks!
Disclosure: *This post may include affiliate links. As an affiliate, I earn from qualifying purchases. Read the disclosures and terms for more information.
Why I Love the Nativity
When it comes to teaching tools, I prefer resources that are truly biblically accurate. We know the wise men were not kings, did not arrive the night of Jesus' birth (but when he was around 2 years old) and that there were probably more than 3 of them.
I am sure to carefully explain things like these when we teach the kids about the Christmas story, read Christmas story books, and talk about nativity scenes. For me, nativity sets are more of a coming together of the major elements of the story of Christmas into a beautiful single picture of God's entrance into the world as Jesus Christ. I love to use them to tell the Christmas story to my children and remind them of this beautiful gift.
My Favorite Nativity Resources
BOOKS!
Who doesn't love a good Christmas book, right? There are so many fun books for all different ages. Here is one of my favorites, This Is the Stable
– The kids love the repetition and we all love the story.
Room for a Little One: A Christmas Tale
is a delightful, big book with gorgeous pictures that you can really snuggle up with your kids to enjoy. We love it!
Find more of our favorite Christmas books!
Nativity Sets
We have several nativity sets in our home, some of which are specifically for the kids. This one is my favorite Christmas decoration: a Jim Shore nativity set we received as a wedding gift!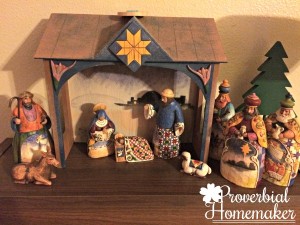 This Fabric Nativity Manger set was a new addition last year and we love it. It's perfect for babies and toddlers, and the kids enjoy packing everything in and then unpacking them as they tell the story.
Of course, we have also enjoyed the Little People Nativity Set! We're on our second one now because somehow we lost the first one. The littles love to play with this set, and all the pieces stand up well so it's easy to play out the story.
This 18 piece handmade wooden nativity puzzle from Arts of the Heart is the newest addition to our home this year and I LOVE it! The pieces come out to make a fun puzzle for the kids, and they use them to tell the Christmas story and pretend their little hearts away. The pieces are sturdy, beautifully made, and you can display them all as one piece or with the pieces out and arranged on your mantle. We have the Easter puzzle from Arts of the Heart as well and it's played with all year long!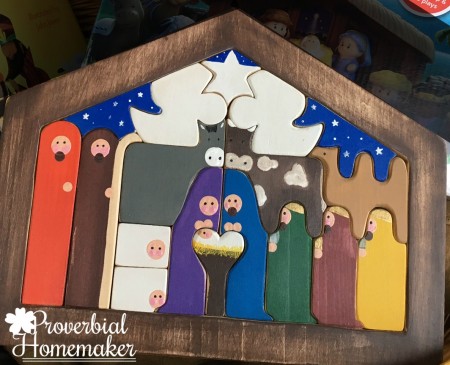 Teaching Tools
There are so many great Christmas teaching tools out there! Here are just three to get started. The Christmas Story Lego Challenge is a new challenge here at Proverbial Homemaker this year. It's a 12-day Bible reading plan with Lego challenge prompts, simple journaling pages, a memory verse with copywork, and more. Go get your copy!
Birth of Jesus study from Grapevine Studies. We did this last year and it was SO much fun and really stuck with the kids! We're definitely doing it again this year.
What are your favorite nativity resources?
You Might Also Like…