Around the World in 80 Days is written by Jules Verne and was first published in 1873.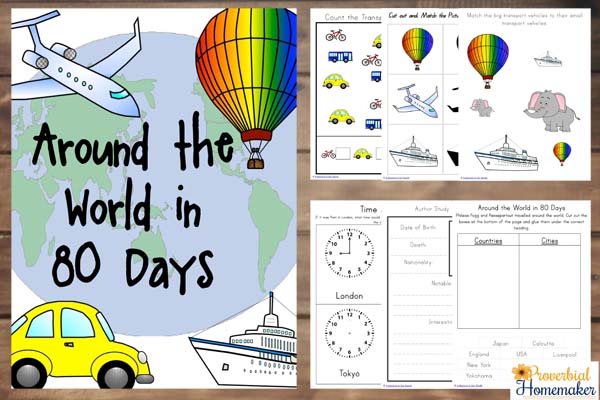 Disclosure: *This post may include affiliate links. As an affiliate, I earn from qualifying purchases. Read the disclosures and terms for more information.
This adventure novel is about a single, rich, Englishman by the name of Phileas Fogg. Though Fogg is rich, he lives modestly and maintains the same schedule every day. At the start of the book, he has just dismissed his former valet, James Forster and is waiting for his new valet, Jean Passepartout to arrive.
Fogg spends most of his time at the Reform Club of which he is a member. While playing whist one day, he gets involved in a heated discussion over whether you can travel around the world in 80 days. Fogg believes it is possible and bets £20,000 that he will complete the journey. That very evening, at 8:45pm, Fogg and Passepartout set out on their journey around the world.
While reading this book, there are many ways you can bring learning to life with hands-on activities.
Learn to Play Whist
Whist is a card game that was developed in England. It was popular in Europe and America in the 18th and 19th centuries. You can learn how to play whist here.
Make a Passport
Make a passport and draw in your own stamps for each place visited while reading the book.
Make a Compass
Compasses are some of the oldest navigational tools around. Make your own simple compass to help you find your way around the world.
Make a Wanted Poster for the Thief
In the past, wanted posters were used to help catch thieves. Make your own wanted poster for the thief who stole the money from the bank in this book.
Print a map of each of the countries that are visited and mark on some of the famous attractions / landmarks in each country
Print an 80-day calendar and plan a trip around the world. Write your methods on transport, departure / arrival times. Keep a list of how much the trip would cost.
Write a list of the things you will take with you.
Learn to play whist
Write up a travel journal for Mr Fogg and Passepartout
Purchase or make some food from each the of countries Mr Fogg and Passepartout visit
Play a traditional game from each country visited
Listen to music from the different countries visited
Make food from around the world
Make a Memory Book: Take photos while reading and completing activities related to this book and glue them into a journal. Then document your thoughts and experiences during this time.
Make a paper mache globe
Though Fogg and Passeportout do not use a hot air balloon during their travels in the book, they do in the movie. Since our boys were interested in hot air balloons, we decided to make some 3D paper hot air balloons. It was lovely to watch them float around in the wind.
To make a 3D Hot Air Balloon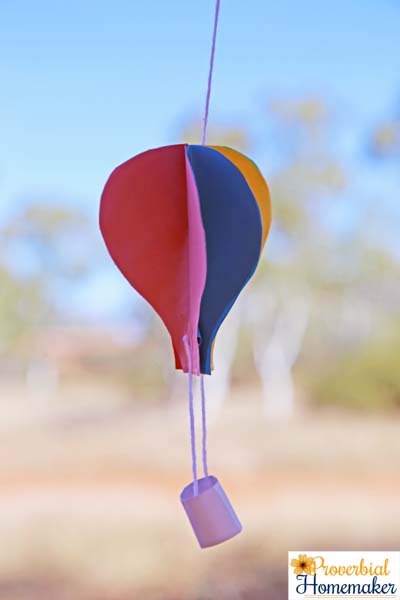 You will need:
coloured paper
string
card or a toilet roll
scissors
glue
template (in the pack)
Cut out the templates that are at the end of the free downloadable pack.
Cut out five different hot air balloon shapes on five different coloured paper.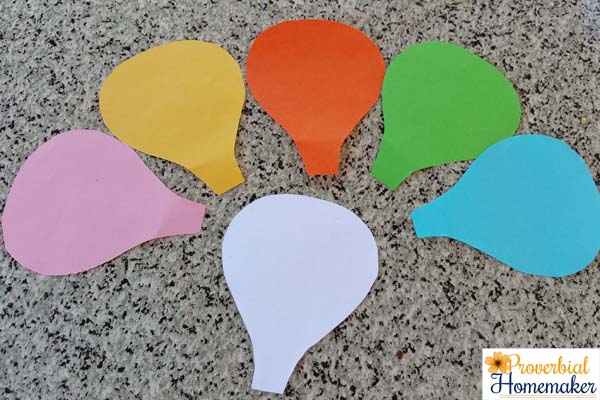 Fold the shapes in half and glue each side to another hot air balloon shape until all the shapes are glued together. If you wish to hand your hot air balloon up, cut a long piece of string and glue one end to one of the shapes before you glue them together.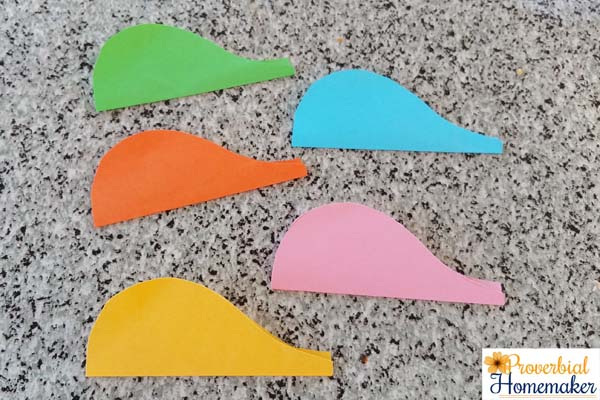 Cut a piece of white card about 2cm wide and 5 cm long and tape together into a circle. You could also cut the bottom off an empty toilet roll.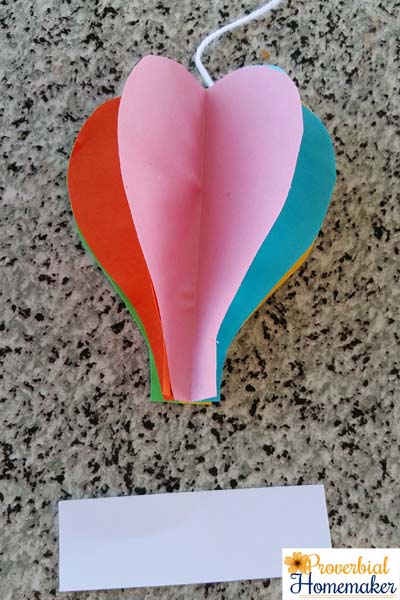 Decorate the 'roll' basket if you wish and then tape one piece of string on each side of your basket.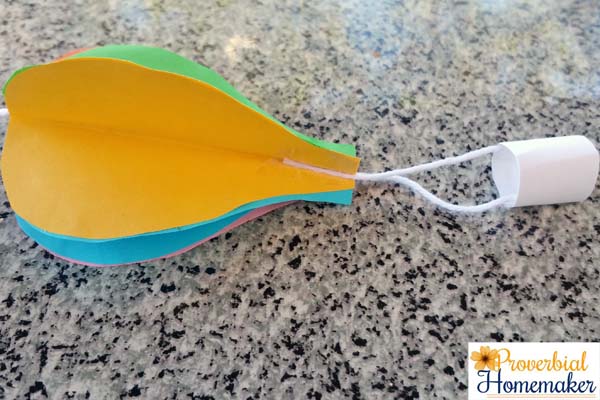 Tape the other ends of the string onto your hot air balloon.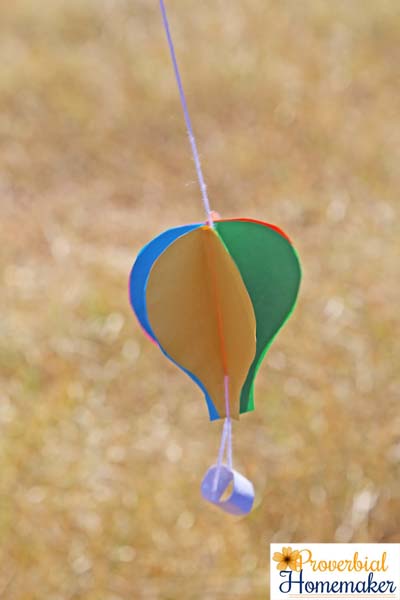 It's great to watch them flying in the wind!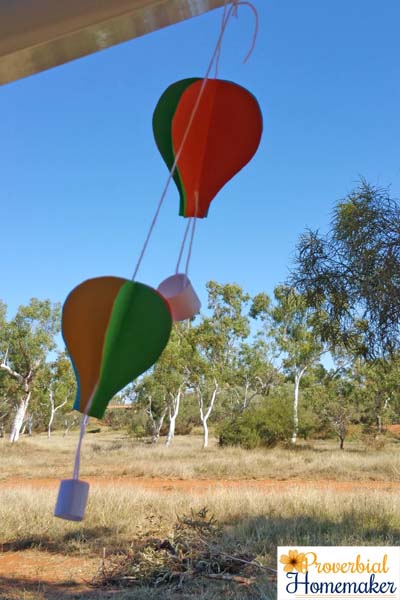 The free printable pack contains over 80 pages with the first 35+ pages aimed for children aged 2-8. The activities in this half of the pack are all about transport, puzzles, adding, counting and shadow matching.
The activities in the last half of the pack are aimed more for children aged 7-12 with pages such as an author study, timeline, postcard activities, vocabulary book, time exercises and mapping exercises.

---
This post is part of the Children's Literature Unit Study series here at Proverbial Homemaker!