Most of us want a simple holiday season. Simple means less stress and more meaning. Less stuff and more memories. Less crazy and more peace. A simplified Christmas. Sounds so good, right? Yet it can be so elusive, too.
Over the years I've learned some things in the forced simplicity of winter newborns and large family living that I really value. I know that we all have different family situations, different constraints, and different goals in our holiday season. However, if you seek simplicity this holiday season, and a focus on Christ, you may just find some freedom and inspiration here!
How We Simplified Christmas
Focus on Christ
If we make the first things first, everything else falls into place. Focus on scripture reading, Christ-focused traditions, prayer, hymns, and all things that center you on the gospel. He will make room for everything else He wants you to tackle in the holiday season. Turns out, the rest isn't that important after all.
Serve Others
Serve others as a part of your focus on Christ. We make simple breads or treats for neighbors, find someone who is lonely or in need to help, participate in things like Operation Christmas Child or WorldVision, etc. We spend more time helping our kids make gift-GIVING lists than lists of what they want to receive. These are the things we hope they remember most fondly!
Less is More with Traditions
Speaking of traditions, simplifying there is also a win. Don't fret too much over what traditions you'll establish – which were the best, coolest, most "Christian", most memorable, etc. Scouring Pinterest and blogs for the perfect combination of what your family holiday culture will definitely stress you out. Keep it simple and build on things gradually!
Try doing a Jesse Tree, a hymn study, or maybe something light like the Christmas Brick Challenge for your Lego lovers. If those might overwhelm you this time then leave them for next year and try this thoughtful Christ-Centered Christmas Traditions System, or just focus on a simple Bible reading plan and good family discussions.
Whatever you do, please, don't worry about what the neighbor or the gals in the homeschool co-op are doing. Comparison kills Christmas joy.
Try the Holiday Brick Challenges for a fun and easy activity this year!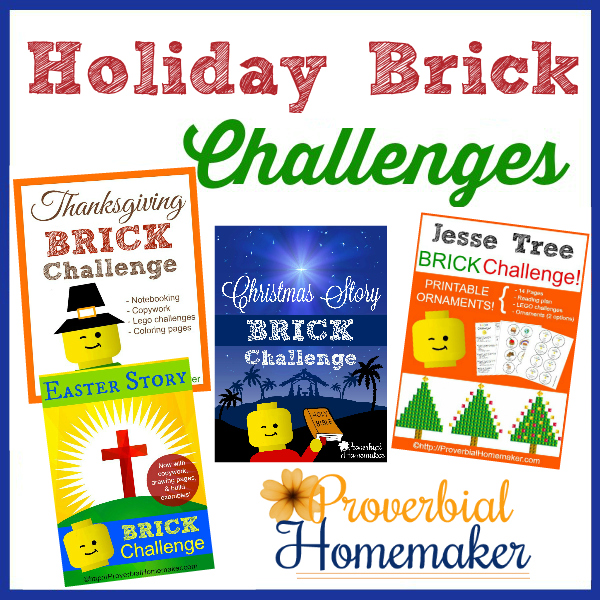 Do Not be a Slave to the Bucket List
We all love the Christmas bucket list. All the fun and memorable things to do with the kids that *obviously* everyone else is doing (no, they're not). The bucket list isn't a litmus test for whether you're a cool mom or whether your Christmas will be amazing.Look at it as a fun buffet, then go ahead and pick and choose a few things.
Do not post the bucket list or let your kids even see it (trust me). Just pick a few things and do them! Sometimes you'll hit on a great new tradition. Other times you'll laugh at that one year when you made a beautiful cranberry and popcorn tree garland and the toddler knocked the tree over twice trying to eat them all. True story.
Want to know how we handle gift-giving? That's one of my favorite tips for simplifying Christmas!
CLICK NEXT PAGE >>