Most of us want a simple holiday season. Simple means less stress and more meaning. Less stuff and more memories. Less crazy and more peace. A simplified Christmas. Sounds so good, right? Yet it can be so elusive, too.
Over the years I've learned some things in the forced simplicity of winter newborns and large family living that I really value. I know that we all have different family situations, different constraints, and different goals in our holiday season. However, if you seek simplicity this holiday season, and a focus on Christ, you may just find some freedom and inspiration here!
Disclosure: *This post may include affiliate links. As an affiliate, I earn from qualifying purchases. Read the disclosures and terms for more information.
How We Simplified Christmas
Focus on Christ
If we make the first things first, everything else falls into place. Focus on scripture reading, Christ-focused traditions, prayer, hymns, and all things that center you on the gospel. He will make room for everything else He wants you to tackle in the holiday season. Turns out, the rest isn't that important after all.
Serve Others
Serve others as a part of your focus on Christ. Try random acts of kindness or come up with some projects or events to take part in. We make simple breads or treats for neighbors, find someone who is lonely or in need to help, participate in things like Operation Christmas Child or WorldVision, etc. We spend more time helping our kids make gift-GIVING lists than lists of what they want to receive. These are the things we hope they remember most fondly!
Less is More with Traditions
Speaking of traditions, simplifying there is also a win. Don't fret too much over what traditions you'll establish – which were the best, coolest, most "Christian", most memorable, etc. Scouring Pinterest and blogs for the perfect combination of what your family holiday culture will definitely stress you out. Keep it simple and build on things gradually!
Try doing a Jesse Tree, a hymn study, a Christmas book countdown, or maybe something light like the Christmas Brick Challenge for your Lego lovers. If those might overwhelm you this time then leave them for next year and just focus on a simple Bible reading plan and good family discussions
Whatever you do, please, don't worry about what the neighbor or the gals in the homeschool co-op are doing. Comparison kills Christmas joy.
Try the Holiday Brick Challenges for a fun and easy activity this year!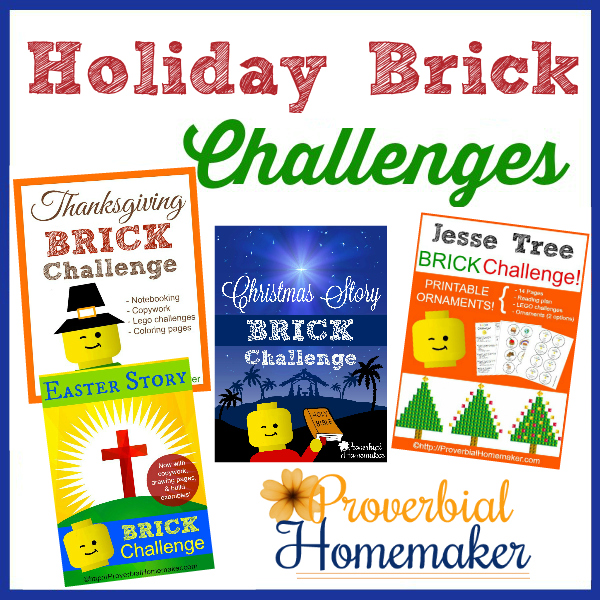 Do Not be a Slave to the Bucket List
We all love the Christmas bucket list. All the fun and memorable things to do with the kids that *obviously* everyone else is doing (no, they're not). The bucket list isn't a litmus test for whether you're a cool mom or whether your Christmas will be amazing. Look at it as a fun buffet, then go ahead and pick and choose a few things. I try to pick 4 – one for each week.
Do not post the bucket list or let your kids even see it (trust me). Just pick a few things and do them! Sometimes you'll hit on a great new tradition. Other times you'll laugh at that one year when you made a beautiful cranberry and popcorn tree garland and the toddler knocked the tree over twice trying to eat them all. True story.
Limit the Gift-Giving
"The Rule" – I'm pretty sure every parent struggles with how to cut back on the gifts at some point. We loosely follow this rule for gifts for our kids:
Pajamas for Christmas Eve
One thing they want
One thing they need
One thing to share
One thing to read
There are variations of that rule floating around but it works for us. The main trick: don't tell your kids about it. We don't because I don't like to be locked into it if I find a great deal on one extra "to share" item or I go a little crazy with books. But it's a great rule for US to keep as a guideline. Not only does it reign in the spending, but it reigns in the clutter.
Open-Ended or Imagination-Inspiring Gifts – To further cut down clutter, we do our best to choose open-ended toys (have more than one way to use them) or will have a pass-me-down value for the next kid in the family.
Experiences and Subscriptions – Another thing we do is focus on experiences such as family trips, enrolling in classes, or buying memberships to science museums, children's museums, or zoos. No clutter and a great family bonding activity! This year, we've been looking into subscription or discovery boxes for an educational bonus that makes this homeschooling mama's heart sing.
These are our favorite open-ended toys. We spend our money on these over the fluff!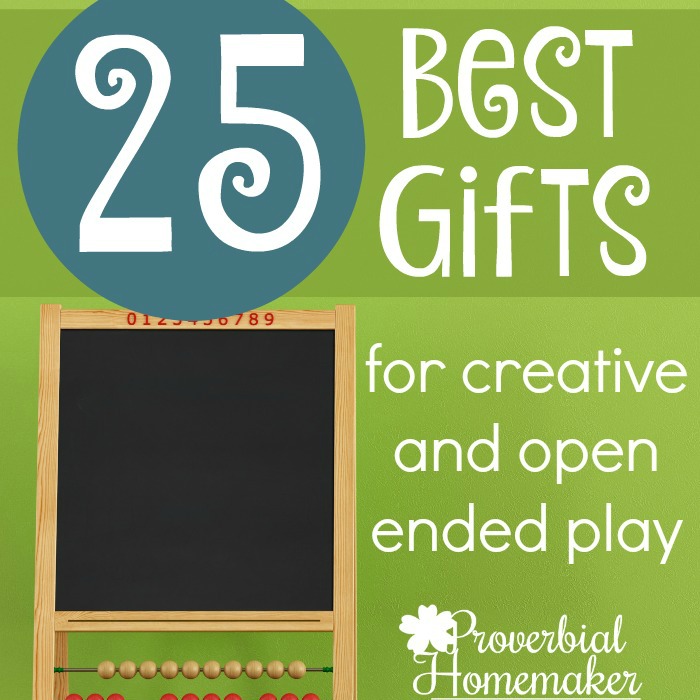 Let Go of Martha Stewart
Embrace who you are and let go of Martha Stewart and the Pinterest-perfect. Homemade and handmade do not always mean a simplified Christmas. If you're like me, they almost always mean more complicated, more stressful, and more time-consuming.
Each year I pick a few things to do hand-made and help my kids do the same. Bottom line: I'm not making everyone's gifts from scratch. God gave us Amazon Prime for a reason. 😉
Keep Meals Fun and Low-Key
I love the scene of a beautiful spread of Christmas dinner as much as the next gal! However, a simple meal can be just as meaningful. Find a way to make your holiday meals simple but memorable.
This year we've decided to ditch the traditional meal and go international. Every year we'll have a new menu – Chinese, burger bar, Mexican, make-your-own pizzas, German, etc. I put my Instant Pots to good use and simplify with paper goods for easy cleanup.
And again… not everything needs to be from scratch. (it's ok… I won't tell.)
Master the Art of "No, Thank You."
This one can be hard for some families, but we stick to ONE Christmas "obligation" a year. (It really doesn't feel like an obligation.) There is no hopping around from place to place over Christmas Eve and Christmas Day. We may host Christmas dinner or we may go somewhere to celebrate it. That's pretty much it.
For us it's rather easy because people understand how that can be for a large family. If your family isn't as understanding, or even if you have a few or no kids, it's worth deciding up front what your limits will be and communicating them politely. Protect your time together as a family!
Be Flexible
Relax, mama! Things won't go as planned. That's the only thing I can guarantee. 🙂 One year we forgot to turn on the oven and so turkey didn't happen. Some years child meltdowns will put a damper on some plan you had in place. Roll with the punches and choose joy. You will be happier and a better mom for it!
---
You Might Also Like These Posts…
How to Have a Simply Joyful Holiday Season & be prepared this year! From Clarissa R. West.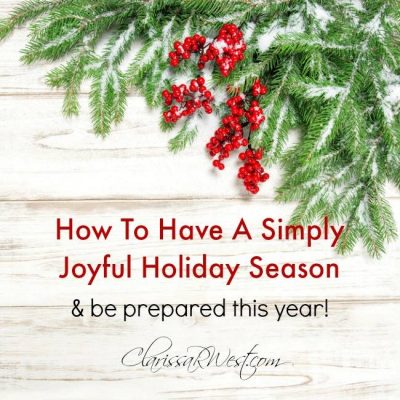 Spend Less, Get More This Christmas from New Life Overnight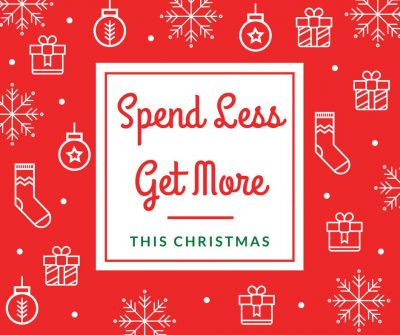 4 Ways to Un-Spoil Your Kids at Christmas from Purposeful Mom