Disclosure: *This post may include affiliate links. As an affiliate, I earn from qualifying purchases. Read the
disclosures
and
terms
for more information.
You'd think that staying home all day and homeschooling would mean I have all the time in the world to get everything done. *snort*
Of course, the reality is that homeschool moms are crazy busy. Getting the *most important* things done is a challenge in itself. No matter how much of a homeschool ninja you have become, things will sometimes still fall through the cracks.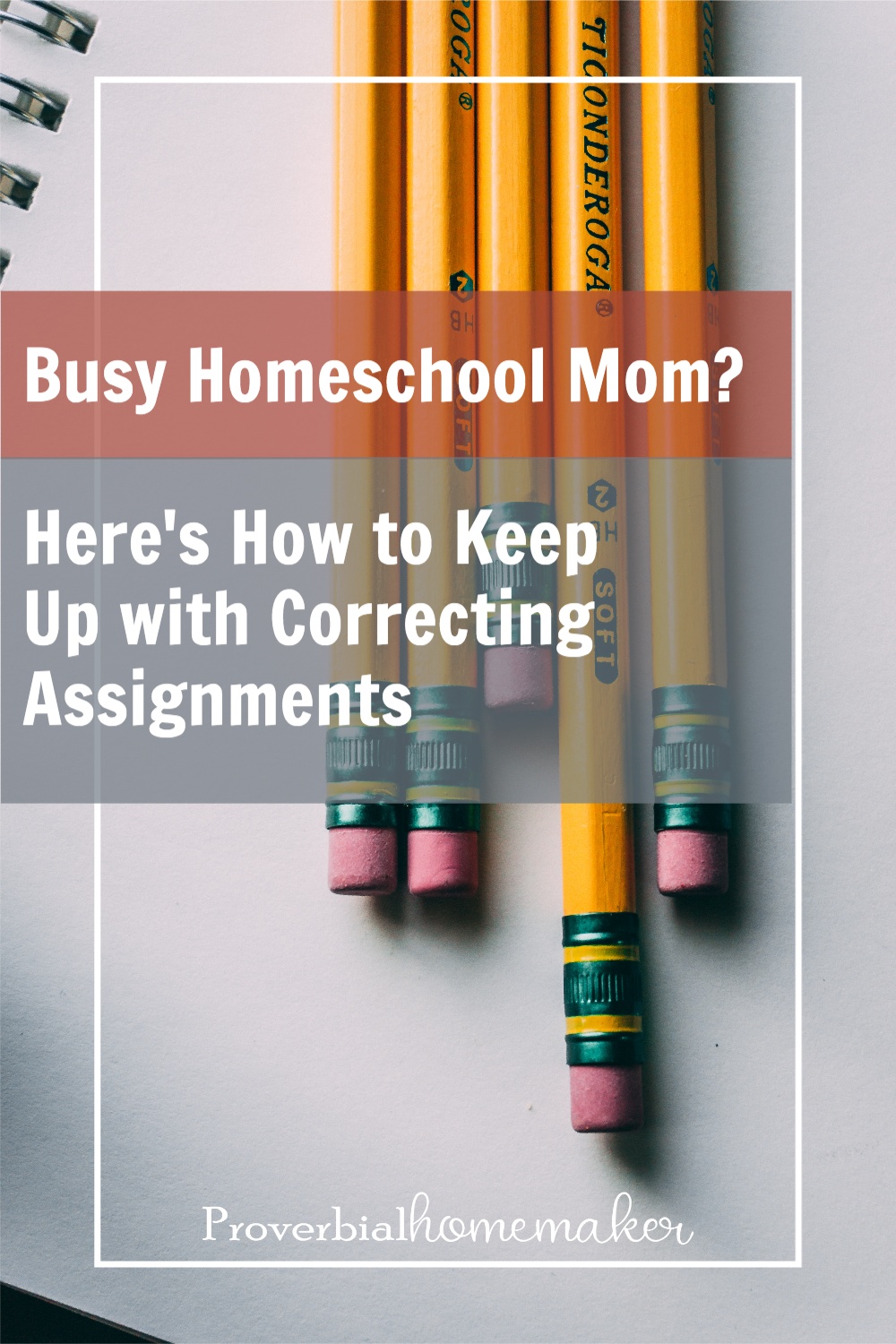 One of those tasks that eluded me for so long was correcting homeschool assignments. Of course, I don't grade them or anything, but reviewing a child's work (their math lesson, written narration, etc.) is essential for knowing where instruction is needed. It will definitely became apparent if I had been neglecting it.
From talking with other homeschool moms, this is a common problem. We've since nixed it and I'm here to share my top tips on keeping up with correcting homeschool assignments!
1) Correcting Homeschool Assignments As You Go
This is my main strategy. It took a little bit of habits work (not easy for me, but worth it) but it has paid off over time in consistently corrected work and a better grasp on where each child is in their development and academics.
For younger kids (2nd grade and younger), I sit with them and assess their work as they go, jumping in with instruction as needed. (In a conversational and encouraging way, not a "ZAP! that's wrong" kind of way.) They only do an hour of seat work a day so it's not hard to do, and I will have them all sit at the table and do them at once.
For older kids (3rd – 8th grade), they bring me their materials on a subject (like math) and I correct / review yesterday's work before they start today's work. I often attend to that as I'm doing that hour of seat work with the youngers and then touch base with my older kids with any feedback or instructions before they start that particular subject.
That's it! It's easy, efficient, and I don't have to work on it outside of our regular homeschool tasks.
2) Establish a Checkpoint After Each Assignment is Completed
Another similar approach is having your kids bring you their assignment and correct it with you right away. It will take some time to develop this habit but eventually it can become a helpful routine. (Doling out an M&M each time helps… just sayin'.)
The downside is that with a busy household they might have to wait there until you're free or you might have to stop whatever else you're dealing with at the time. The risk is that you forget and they wander off, or you are just unable to help them right then and they have to move on without you.
---
Sponsor Highlight: Basic Christian Education Homeschool / BCE Academy​
Tired of online "school" that puts your child in front of a screen all day? Now's the perfect time to switch to a paper-based approach that walks you through every aspect of your child's education.
No more trying to figure out complicated software & schedules.
No more distractions from other computer programs.
Enjoy a simple, easy-to-understand curriculum that's custom-fit for every child, and very parent-friendly.
Get support from a friendly team of helpers.
​Request a free digital and/or physical catalog from BCE here!
---
3) Choose a Certain Time Each Day for Correcting Homeschool Assignments
For a while, I had the routine of sitting down with a cup of tea after the kids went to bed and reviewing any work for the day as well as preparing for the next day. It was glorious.
This worked pretty well for a while until a) I just really wanted to reclaim that particular time of day to do other things, and b) our curriculum choices changed and I no longer require prep work time, so it's not as motivating/necessary to do this after the kids go to bed.
Other times you could choose are first thing in the morning (correcting the previous day's work), at the end of whatever group learning time you do, after lunch, etc. Pick an event that happens every day without fail and anchor that correcting task to it!
4) Pick One Day a Week for Correcting and Planning
Many moms have a weekly planning time where they like to catch up on correcting homeschool assignments, see what needs to be covered for the next week, and prepare their materials. Saturday or Sunday evening are common times for that kind of activity.
In our case, I don't do lesson plans or weekly planning (my planning system includes quarterly planning instead). So again, I am less likely to be consistent with weekly correcting. But if you want to try that, I suggest setting an alarm or calendar event each week to help you make it happen!
5) Teach Your Children to Correct Their Own Work
Many times, you can provide your older child with a checklist or a teacher's manual / answer sheet and they can learn to correct their work themselves after they've finished an assignment. You may want to instruct them that they are responsible for mastering the material and that you'll be correcting quizzes and tests.
Should you choose to go there, it can actually be a great way to help kids grow their diligence and responsibility wings. It also provides potential low-risk learning opportunities where they can experience the biblical principles behind honesty and diligence, as well as the consequences for cutting corners or trying to cheat the system.
6) Enlist Others to Correct Their Work
In a similar way, you can delegate the correcting task to others. Have your spouse or a grandparent take on a weekly task of correcting and reviewing work for you.
If you have several older kids, they can use the teacher's manual to correct objective things like each other's math or spelling. (I would steer clear of things like writing assignments because of the emotions/competition that may come into play.)
7) Use Self-Correcting Curriculum Options
Many families find it helpful to use online curriculum that corrects the work for you. This is especially a worthwhile option if the program is a particularly good fit for your child's learning style.
For many reasons, we're careful not to do too much online, but we usually seem to have one or two kids in an online class. They can be very helpful, especially ones where instructor feedback or automated correcting is included!
——-
I hope these tips have helped you! I'd love to hear in the comments what has / hasn't worked for YOU when it comes to consistently reviewing and correcting your children's work.
~ Tauna
---
Sponsor Highlight: Basic Christian Education Homeschool / BCE Academy​
List of Highlights/Features:
Purchase materials ala carte or sign up with

BCE

Academy.
Mastery based paper curriculum for your child to work through and have success.
Diagnostic testing to see if your child has any academic learning gaps as well as placement insight.
Christ-centered curriculum that not only teaches your child the educational basics, but also instills in them godly-character traits.
Student-led! They will be able to work independently through their own lessons, setting their own goals and working at their pace.
---