Disclosure: *This post may include affiliate links. As an affiliate, I earn from qualifying purchases. Read the
disclosures
and
terms
for more information.
Read and begin memorizing Philippians 2:3-11 with me today! This passage from Philippians is always so encouraging and convicting to me! Humility and obedience are such a blessed calling of the disciple of Christ, and also so very difficult. We need the Holy Spirit to guide and transform our hearts in these areas!
Do nothing from selfish ambition or conceit, but in humility count others more significant than yourselves. Let each of you look not only to his own interests, but also to the interests of others. Have this mind among yourselves, which is yours in Christ Jesus, who, though he was in the form of God, did not count equality with God a thing to be grasped, but emptied himself, by taking the form of a servant, being born in the likeness of men. And being found in human form, he humbled himself by becoming obedient to the point of death, even death on a cross. Therefore God has highly exalted him and bestowed on him the name that is above every name, so that at the name of Jesus every knee should bow, in heaven and on earth and under the earth, and every tongue confess that Jesus Christ is Lord, to the glory of God the Father. Philippians 2:3-11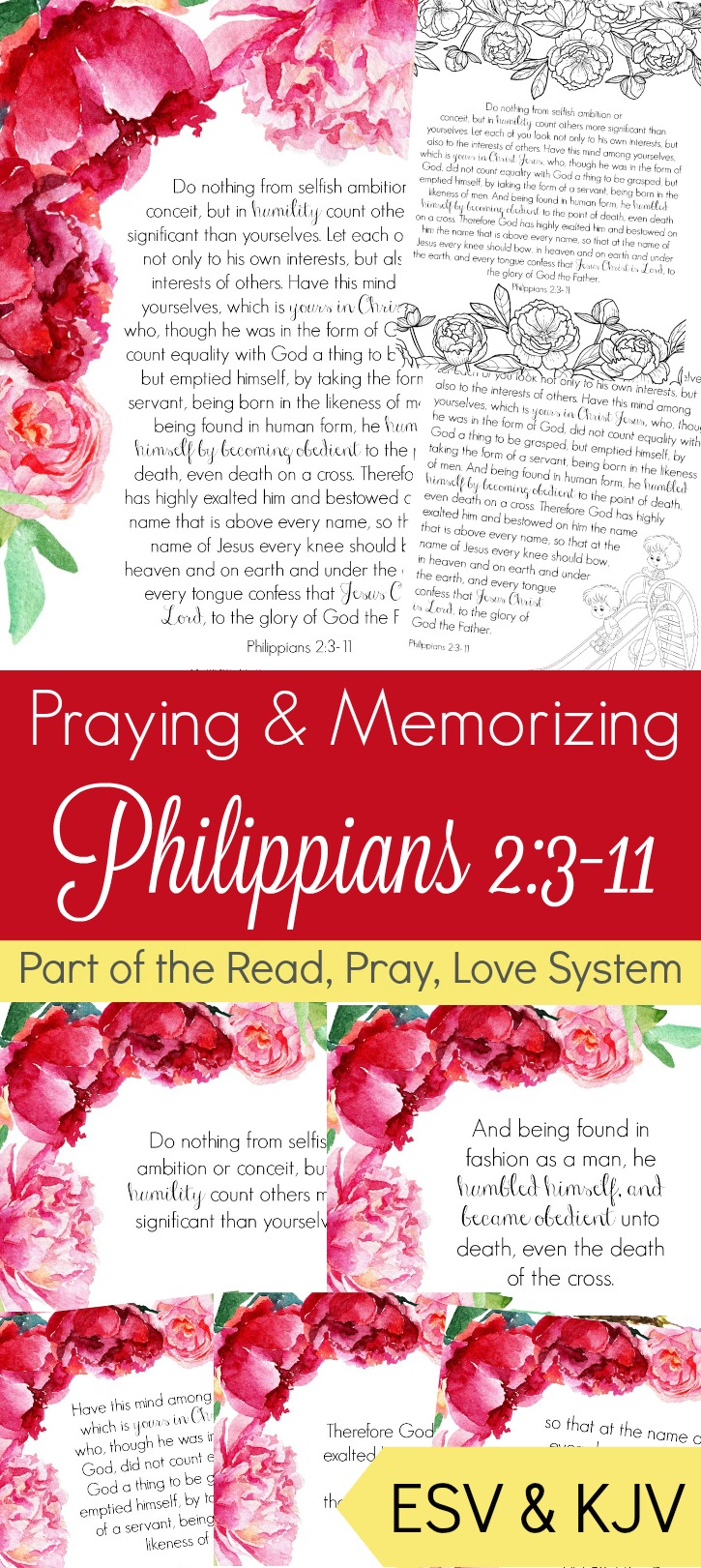 This scripture memory printable and prayer focus is a part of the 2018 Read, Pray, Love system (with comes with monthly printables and prayer binder setup files), but you can use it alone or jump in on our year-long efforts anytime!
As always, the scripture printables are available in ESV and KJV with coloring pages for adults and kids. Download the printable below and get started memorizing it with your family and praying through it! Below are some prayer prompts to get you started.
Don't forget to check out this post for more information on how to memorize scripture with your kids and how we are using these monthly printables to pray diligently for our families!
Praying Through & Memorizing Philippians 2:3-11
(These notes and prayers are also available in the download file.)
I love the focus on the example of Christ, reminding us that He left his high and powerful position in heaven and humbled himself to the point of death on the cross. Why? For OUR sakes! He is the ultimate example of putting the needs of others before our own. Let us turn to God for help in following it! Just imagine how our homes would be transformed!
Let's pray together through these scriptures as we memorize the verses with our families. You will be blessed by it!
Praying the Verses
Lord, release us from selfish ambition and conceit, which damage our relationships and keep us stuck in prideful attitudes that separate us from you.
Please give us a spirit of humility and a heart of service. Remind us in the moment to keep the interests of others in mind as we go about our day and as we react to hard situations.
Give us the mind of Christ in these things, with a humble attitude and not lording over our family and friends, or being selfish when there's something we want.
Help us to be obedient to God no matter what it takes. Jesus is our ultimate example of obedience and humility. Empower us by your Holy Spirit to walk in His ways, following His example.
We praise You and bow down and worship You, confessing with our mouth, our hearts, and our actions that Jesus Christ is Lord, to Your ultimate praise and glory.
Thank You for Your Word and unending love.
In the name of Jesus we pray,
Amen.
Download The Philippians 2:3-11 RPL Printables
SaveSave