Disclosure: *This post may include affiliate links. As an affiliate, I earn from qualifying purchases. Read the
disclosures
and
terms
for more information.
Titus 3:3-7 is a helpful passage to talk and pray through with our children. In it, the Lord reminds us of where we once were (and that sin is still something we battle with). It gives us as believers in Christ and recipients of His grace and mercy a humility, compassion, and gratitude that is necessary for our own walk and as we interact with others.
It also reminds us of all the things God has done in our lives, increasing our faith when those we care about seem to have a hopelessly hardened heart toward Him. God can and does change lives!
We cannot rescue ourselves and neither can anyone else. We are only rescued by the love and mercy of God! Our own good works cannot save us. Instead, salvation is given when we repent of our sins, put our faith and trust in Jesus as our Savior, and confess with our mouths that He is the Christ. And our spiritual regeneration and restoration can only come through the work of the Holy Spirit in our lives.
In response to this overwhelming gift, this unmerited favor, and the salvation from sin and death… we live in gratitude, maintaining good works to glorify God and worship Him with our lives.
Amen?
Let's pray through and begin memorizing Titus 3:3-7 with our children!
(Remember that you can see all of the Read Pray Love printables in this series here.)
This scripture memory printable and prayer focus is a part of the 2018 Read, Pray, Love system (with comes with monthly printables and prayer binder setup files), but you can use it alone or jump in on our year-long efforts anytime!
As always, the scripture printables are available in ESV and KJV with coloring pages for adults and kids. Download the printable below and get started memorizing it with your family and praying through it! Below are some prayer prompts to get you started.
Don't forget to check out this post for more information on how to memorize scripture with your kids and how we are using these monthly printables to pray diligently for our families!
Justified by Grace — Praying Through & Memorizing Titus 3:3-7
(These introduction note above and the prayers below are also available in the download file.)
Praying the Verses
Lord, give us and our children a deeper understanding of the incredible mercy and grace we have received. Let us never forget what we have been saved from, and that our salvation is not our own doing, but through the work of Jesus Christ and His righteousness.
May we never look down on those who are not yet a part of the family of God. Give us a heart of compassion and of sharing the gospel, and may they, too, be saved by your goodness and lovingkindness. We pray that we will be people who do many good works for the sake of Your glory,, as a reflection of our gratitude for what You have done for us and the work of the Holy Spirit in our hearts.
We pray these things in the name of Jesus and praise Your holy name.
Amen.
Download & Start Memorizing Titus 3:3-7 (ESV & KJV)
You Might Also Like…
The Prayerful Homeschooler: Tools for praying diligently over 8 areas in your family and homeschool life. Includes prayer calendars and more!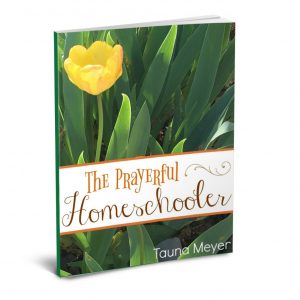 SaveSave
SaveSave
SaveSave
SaveSave
SaveSave