1 John 4 is packed with so much goodness about God's love and our love in response. It's a wonderful passage to learn with your family to pray through and memorize together. Of course, it's perfect for a Valentine's Day activity but hiding these God is Love Scriptures in our hearts will bear fruit all year long!
To help us pray and memorize this together, I've put together a custom illustrated pack of Scripture art prints, coloring pages, and cards in both ESV and KJV. I hope you enjoy it as you memorize this passage with your family!
Disclosure: *This post may include affiliate links. As an affiliate, I earn from qualifying purchases. Read the disclosures and terms for more information.
God is Love Scriptures
God is love. All true love originates in God. As His image-bearers, all mankind is capable of love, even though it's more like a shadow or hint of God's love. Those who belong to Christ can love with a supernatural love that comes from the Lord, because we have the Spirit of God living in us. We love others joyfully, generously, and sacrificially as an outpouring of and response to the love we have received from God.
The more time we spend with God and His Word, the more time we spend in prayer and meditation, the more we naturally love others. The life of a Christian is marked by love to a startling degree, pointing others to God. In that way, our actions demonstrate to the world the love of Jesus, while our words declare it along with the gospel news of salvation in Christ.
Pray 1 John 4:7-21
Pray through the God is Love Scriptures together as a family or pray 1 John 4:7-21 over your children as a bedtime blessing for a while. Ask the Lord for the words! You can use these ideas to get started.
Lord, may we be people who know and love You and Your Word.
Let us love others generously as an outpouring of Your love for us.
Thank You for sending Jesus to die on the cross for our sins so that we might live free in Him. Help us to never take that for granted.
Abide in us by the Spirit, Lord, and perfect Your love in us for Your glory.
We pray that friends and loved ones who do not yet know You would hear the gospel and that their hearts would be turned toward You so that they can experience the powerful love of Christ.
Give us courage to share the good news of Jesus and to love others with the love of God.
Give us a spirit of love and of a sound mind, because Your love has cast out all fear except that of God alone.
Help us to be people who are confidently grounded in Your love, with no hate or bitterness toward others.
Love Through 1 John 4:7-21
Use 1 John 4 as a launching pad to love God and others with your thoughts, words, and actions.
Study what the Bible says about the love of God.
Brainstorm a list of ways to show love toward others and pick three to work on this month.
Think of 5 people to pray for as a family that they would hear the gospel and come to Christ.
Talk with your family about all the ways God loves you and how that impacts the way you think of yourselves and others.
Memorize 1 John 4:7-21
Download the printable pack below and memorize 1 John 4:7-21! You'll find two custom illustrated Scripture art prints to frame or tack to your wall, memory verse cards, and coloring pages you can use to help you meditate on and memorize this passage together.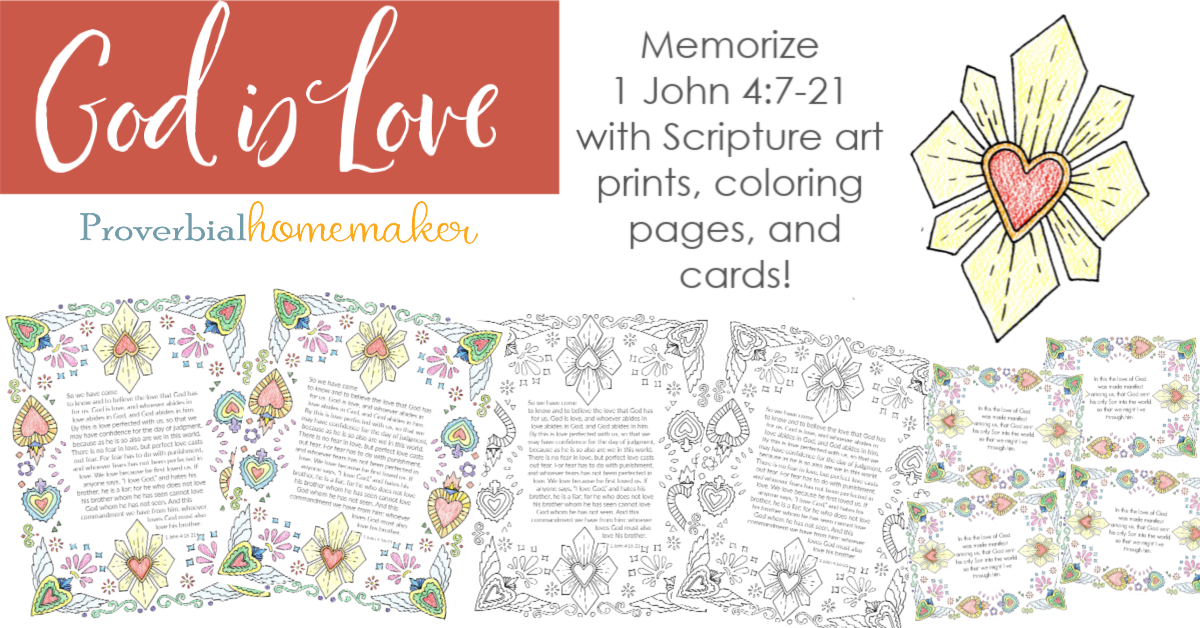 You Might Also Like…
This post is a part of our annual Read, Pray, Love efforts in the Proverbial Homemaker community. Check out past editions here.