Disclosure: *This post may include affiliate links. As an affiliate, I earn from qualifying purchases. Read the
disclosures
and
terms
for more information.
Homeschooling moms are busy, right? We start out the year with high hopes and shiny new plans. We have our unboxing day and enjoy the pleasure of new books and curriculum. Perhaps we determine to run a tighter ship in our household so that things can all run more smoothly.
Then October rolls around. We're already off track, wondering how to reign it all in, and frustrated at the laundry and empty to-do boxes that are piling up in front of us. The idea of "finding balance" is a bit laughable. Is it even a thing for the busy homeschool mom?
I say, yes.
Yes, there IS balance to be found in our homeschooling and homemaking! We CAN enjoy an intentional yet relaxed homeschool year and a more efficiently run home.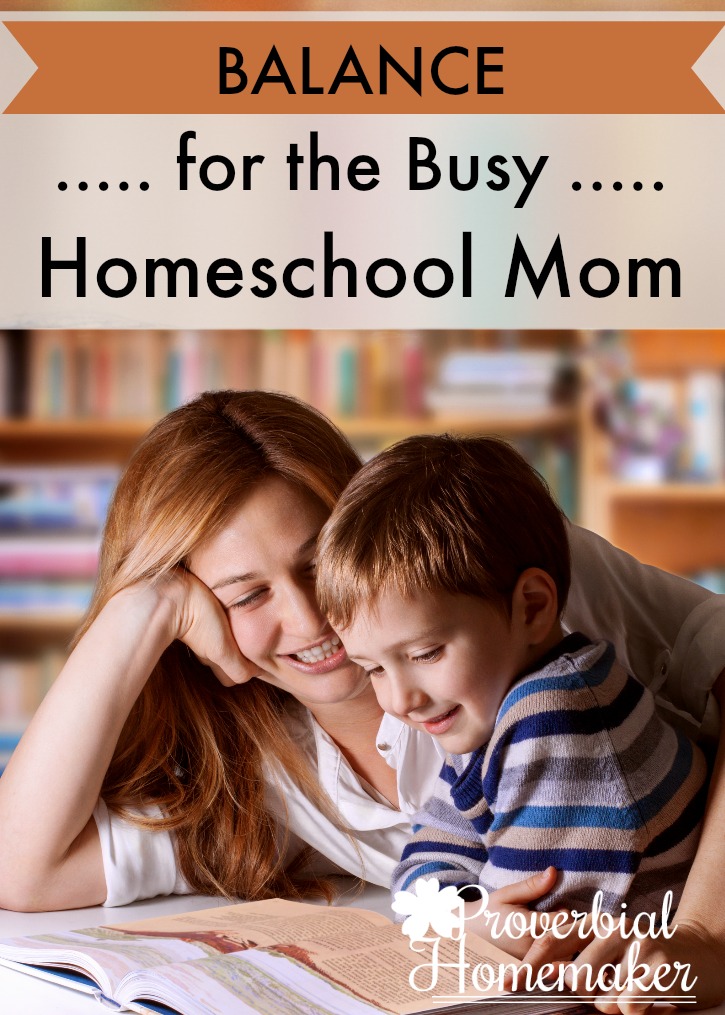 Finding Balance in Your Homeschooling
Seek Ye First…
When God is the full center and focus of our days, our efforts will naturally be guided by that. We can be sure that He would not put more on our plates than He intended to equip us to accomplish. Submit your homeschooling and homemaking to Him. Submit your time and energies to Him. Prayer and time with the Lord MUST be a priority in our lives. Otherwise we might as well not bother with the rest.
Prioritize Well
We all know that prioritizing is important for the busy homeschool mom. Still, it is all-too-easy to get lost in the weeds as we sift through curriculum choices and learning, or face the constant work of keeping house. Determine what really matters to you in your homeschool and family life and work that into your routines!
Focus on Rhythms & Routines
If you go on Pinterest you'll find all sorts of gorgeous planners and color coded schedules that will walk you step-by-step through each 15 minutes of your day! I know… I kind of love them too. They just don't work for me, and the same may very well be true for you as well!
One of the best shifts you can make for a more relaxed and peaceful homeschool year is to move away from strict schedules. Stop trying to do it all! Instead, craft rhythms and routines that get the important things done, keep you moving forward, and give you the margin you need. That's when you'll find those natural grooves for things like morning devotions and memory work, slices of time for read-alouds, and perfect pockets in the day for a quick house cleaning.
Need some help getting a system set up for your homemaking and homeschooling? Check out the Proverbial Homemaker System (planner & eCourse) and The Relaxed Mom Homeschool System (planner & eCourse). This bundle is regularly includes full printable and editable planners, web courses, and bonus printables to help make it all come together!