Looking for a way to teach character to your child in a fun way but from a biblical perspective? The Heroes of the Bible Brick Challenge & Character Study is a fantastic tool for family discipleship or homeschooling!
There are so many powerful stories in the Bible that are full of amazing men and women. If we take the time to study these people and their stories a little closer, we will ultimately be learning about the character of God, and how He brings about His good and perfect will.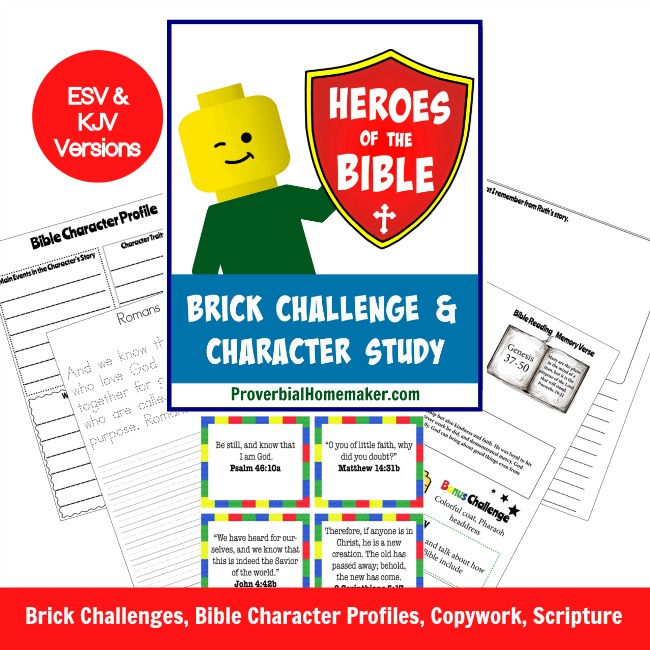 Disclosure: *This post may include affiliate links. As an affiliate, I earn from qualifying purchases. Read the disclosures and terms for more information.
The Heroes of the Bible Brick Challenge and Character Study is perfect for homeschooling, family discipleship, and Sunday school settings. You can make it a part of your regular lessons or have a fun weekly interactive family time centering on God's Word. It is great for hands-on learners and can be used for ages pre-K through 3d grade.
What is included in Heroes of the Bible?
Character summary (name meaning, description, etc.)
Suggested Bible reading for devotions
Memory verses (scripture cards and copywork)
Brick build challenges with bonus builds
Drawing pages for each character/story with writing space
Additional activities or crafts to explore the stories
How can you use Heroes of the Bible?
Homeschooling, family devotions, Sunday school, or co-op
Younger children can dictate while you fill in the character sheet
Reinforce the lessons with hands-on learning through building challenges and drawing/writing activities
Create a Heroes of the Bible notebook to keep their work, take pictures of their creations, and have fun with it!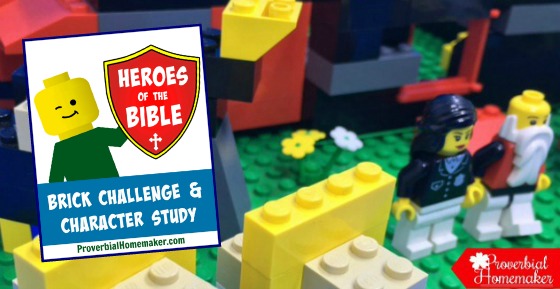 What About Jesus?
Actually, this entire study is about Jesus. He is THE hero. While we may see these "heroes" and "heroines" as great people, the reality is that, like us, they are all sinners in need of the Savior. In their stories we can see God pointing to His plan of salvation through Jesus Christ. We can see examples of what it looks like to follow God's ways vs. our own way, and the consequences of each path.
The value in the Heroes of the Bible Brick Challenge and Character Study is not in studying great people. Rather, it's in studying our great God, who shapes history and works all things for His good purposes.
The Lord of hosts has sworn: "As I have planned, so shall it be, and as I have purposed, so shall it stand." Isaiah 14:24
Get the Heroes of the Bible Brick Challenge & Character Study
You can buy the Heroes of the Bible study NOW! Don't forget to check out all the Bible Brick Challenges here at Proverbial Homemaker.

Check Out a Heroes of the Bible Sample