There is a silly meme floating around the web with the statement: brace yourselves, pumpkin flavored everything
Disclosure: *This post may include affiliate links. As an affiliate, I earn from qualifying purchases. Read the disclosures and terms for more information.
is coming! It is true for autumn, isn't it? Pumpkin flavored
lattes, muffins, smoothies, and shakes. Yum! You have to admit, it is something to look forward to!
However, crisp fall weather calls for some hearty meals and not just fancy coffee and muffins! This round-up of all things pumpkin will address the need for warm soups, thick chilies, and all foods and snacks perfect for autumn! Go ahead and pin this for later when the pumpkin cravings strike. You know they will!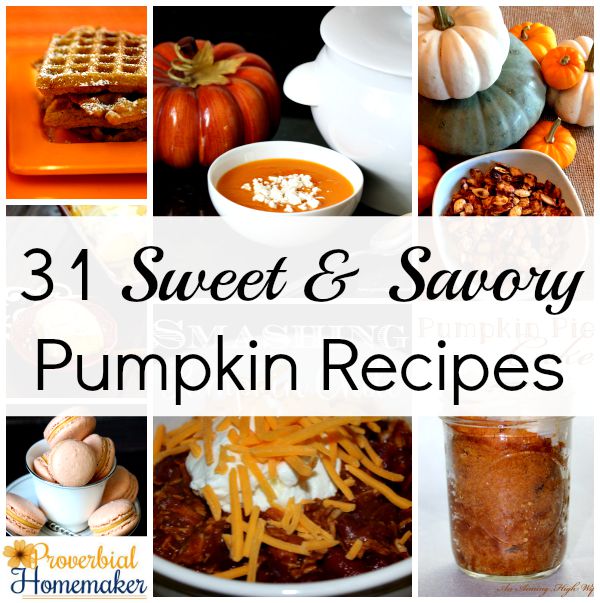 31 Sweet & Savory Pumpkin Recipes
Roasted Butternut Squash Pumpkin Saffron Soup
Pumpkin-Ancho Enchiladas With Pulled Pork
Ricotta, Kale, and Roast Pumpkin and Zucchini (GF) Lasagne
Pasta With Pumpkin And Sausage
Macaroni and Cheese with Pumpkin and Bacon
Crispy Baked Spicy Pumpkin Wontons
Pumpkin Waffles with Candied Bacon
Healthy & Delicious: Pumpkin Turkey Chili
Overnight Pumpkin Cinnamon Rolls
Kolokythopita- Savory Pumpkin Pie
Pumpkin Ravioli With Browned Butter Sage Sauce
Pumpkin Coconut Yeast Bread with Pumpkin Butter
Two-Ingredient Pumpkin Cake with Apple Cider Glaze
Slow Cooker Pumpkin Taco Soup (GF, Paleo, Whole30)
I am excited to try some of the savory ones as soon as the weather turns cooler. Cooler weather is my favorite thing about autumn, that and the fact that my birthday is in September! 😉 Between a new school year, my birthday, the weather turning crisp, AND our wedding anniversary, September has always been my favorite month. There are so many reasons to love fall and pumpkin everything is one of them. I hope you enjoy these recipes!