Have you ever felt the way I felt not too long ago?
Are you feeling discouraged?
Do you feel like your spouse/child does nothing right?
Are you a stay-at-home-mom wondering if you are missing out on the corporate world?
Is being a wife, homemaker, or mom worth it?
Do you wonder where the blessings are?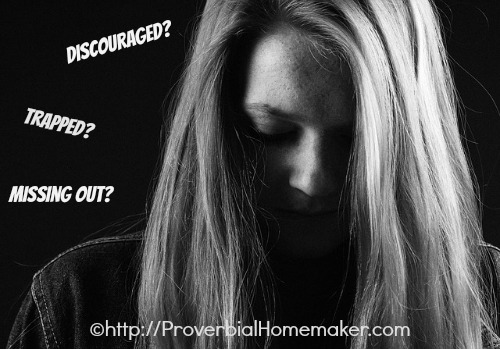 Disclosure: *This post may include affiliate links. As an affiliate, I earn from qualifying purchases. Read the disclosures and terms for more information.
Dear Homemaker, Unlock The Secret To Joy
I'm here to tell you that I've been there and I know you can change how you are feeling. I can tell you how to unlock the secret to joy!
It doesn't take changing your environment, going to work, changing your spouse's or child's attitude, or gaining a multitude of earthly possessions to bring joy back to your life.
I know that even a Christian believer can fall into the trap of discontentment and ungratefulness, because I have! I spent years wondering why my husband didn't love me like I thought he should, why my kids were so naughty, and why I had to be "stuck at home all day" while Joey was out there living!
God Whispered
Then God did something… He whispered to me through the Holy Spirit and His Holy Word and started working on my heart.
How can I be loved, if I'm not lovable?
How can I be content, when I'm not thankful?
How can my kids be kind, when I'm always grumpy?
How can I enjoy being a homemaker, if I'm not putting in an effort and making our house a home?
How can I feel blessed, when I'm not counting my blessings?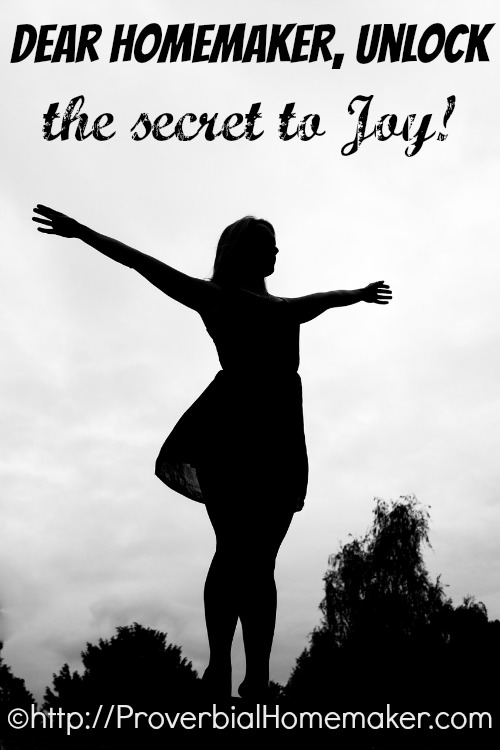 I was encouraged to take action!
I started devoting my time to doing productive things each day at home, instead of stewing in my misery. I started looking for the good things my kids did. I learned to be more content.
I started praying that I would walk by the Spirit and not by my flesh, regardless of what anyone else did. I started thinking before speaking or reacting. I started praying my way through every second. I started offering grace and forgiveness to my loved ones.
I started smiling more. I started singing more. I started laughing more. I started praising more! And I started having a desire to study God's Word and seek what it was He had for me. I started to choosing to be thankful.
And guess what? I started to enjoy the comfort of my home, I started feeling great worth in being a godly wife & mother, I started feeling loved by my husband and children, I started seeing the abundance of blessings God had bestowed upon me, and I was filled with overwhelming make-me-tear-up kind of joy!
The Secret
So, what caused my change of heart? There was one simple action that God laid on my heart that started it all and I want to share my secret with you!
Are you ready to see changes in your life?
Are you ready to smile, laugh, and sing more?
Here is the one step you can take to unlock the secret to joy for yourself and your home…
Count just one tiny blessing every day!
You can buy a small notepad for just a couple of bucks and keep it with you wherever you go to jot down your blessings. It may take some time and you'll need to be intentional about it for it to work. Doing this along with putting God, your husband, and children first will bring about tremendous results!