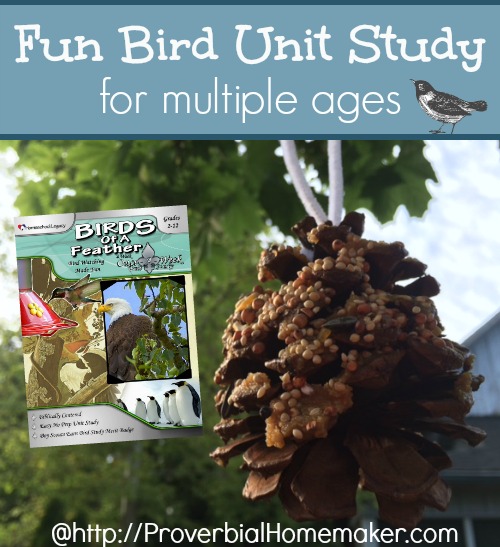 Disclosure: *This post may include affiliate links. As an affiliate, I earn from qualifying purchases. Read the disclosures and terms for more information.
My kids love to do unit studies, but truth be told, sometimes I have a hard time pulling them together or finishing them out. I have 5 kids and a short attention span! I need it to be interesting and easy. I was excited for the opportunity to review the Birds of a Feather nature unit study from Homeschool Legacy. I'd heard great things about their products, and knew my kids would LOVE to learn about birds!
About Homeschool Legacy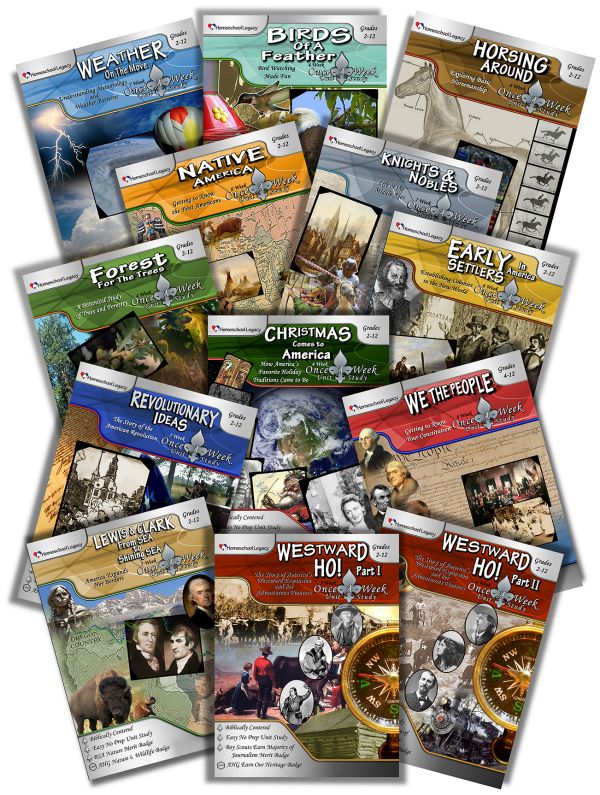 Homeschool Legacy is a Christian company that specializes in their Once-a-Week Unit Studies.
These studies require little to no preparation, which makes me happy, and provide a fun experience for the homeschool family.
I especially appreciate that I don't have to worry that unbiblical ideas will crop up as we're working through the unit study. As an added bonus, the units include activities that fulfill merit badge requirements for American Heritage Girls and Boy Scouts. We don't have any kids in those organizations yet, but I think it's such a fantastic feature!
Birds of a Feather Unit Study
The Birds of a Feather Unit Study is a 4-week study that you can purchase as a paperback or as a digital download. Although the study is labeled as appropriate for grades 2 through 12, we used it with our kids ages 7 and under and it worked perfectly.
Here's what's included in the Birds of a Feather unit study:
Merit badge information
Scheduling suggestions
Being a good steward of God's creation (caring for birds and the feeders you set out)
A list of read-alouds to choose from
4 weeks of lessons

Basic bird info and backyard habitat
Bird identification
Ornithology
Birds of prey

Extra tips and resources to enrich the unit study experience
Each week of the Birds of a Feather study include:
Book and video lists you can choose from
List of supplies needed
Daily activities (such as independent reading and read-alouds)
Once-a-Week activities: these are various subjects or activities that you can choose from and spread out during the week. Here are a few examples:

Family devotion
Language/history
Art and Science
Field trip
Movie night
How We Used Birds of a Feather
Our children are pre-K through 1st grade, and so we adapted the unit just a bit to work well for these younger ages (it's written for 2nd grade and up). All we really needed to do was spread our activities out over a longer period of time. We also didn't do as many of the activities and suggestions as I might have if my kids were older.
Very little preparation was needed for the unit, although I did go check out some of the suggested books and videos from the library or find some related videos online. We loved all the resources they suggested but zeroed in on a few favorites.
Some of the books were stories like Make Way for Ducklings, some were chapter books, and others were science books like Baby Owl or practical guides like Bird Watcher by David Burnie. We used Bird Watcher as a read-aloud and the kids loved looking through the pictures and bird identification charts. It was by far our favorite book. We also enjoyed the movie Fly Away Home together, about geese led south by a young girl and her father.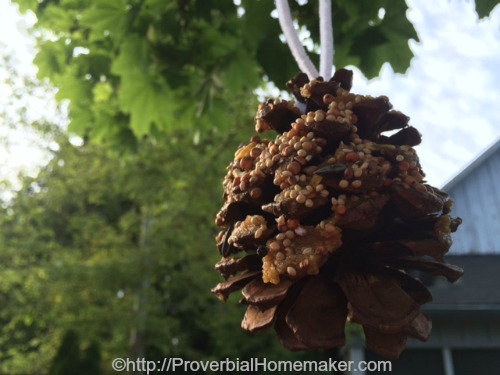 For the first week's activities we focused mainly on setting up bird feeders. We put a purchased hummingbird feeder out on the front porch and made nectar from a recipe in the curriculum. We had visitors almost immediately! We also planted some seeds for flowers that would attract hummingbirds and butterflies.
The kids made their own bird feeders for the backyard using ideas and instructions from the curriculum. They spread peanut butter onto pinecones and rolled them in seeds, then hung them up by pipe cleaner. Here's a nerve-wracking picture of my son putting one high up in our tree. It got the most action out of all the feeders, probably because it was the farthest away from the screaming toddler. 🙂
They also put together a simple milk carton feeder and placed it next to the ceramic parrot their grandparents brought us from Mexico, because of course we don't want the birds to get lonely! Then they ran around gleefully tossing seeds on the ground and squealing at the birds that came to eat from the feeding stations.
Although this is all we really did for week, there is SO much more we could have included from the unit! For example:
More read alouds and movies
Making a bird bath
More advanced nature journals
State bird research
Building a scarecrow
Bird-watching field trip
More!
As the birds began to visit us, we used pictures from online identification resources (listed in the unit study) and some of the books we checked out to help us ID them. We found that we had some robins, wrens, one little canary, and a woodpecker going crazy on the neighbor's siding. Thankfully the latter wasn't enticed there by our seeds.
My oldest started a simple notebooking journal to draw and write about the birds he saw. The kids naturally wanted to start finding other birds! We spent hours listening to example bird calls and practicing them outside, identifying bird calls, and examining birds with our binoculars. It has been so fun! We have decided to start taking nature walks as a family to continue the learning.
We occasionally have birds of prey such as falcons and even eagles flying around our home. I knew that part of the study would be fascinating to the kids. We spent quite a lot of time pouring over the science books and stories about birds of prey. We also ordered an owl pellet through the suggested site and enjoyed a great learning experience identifying the breakfast, lunch, and dinner of some lucky barn owl.
Things to Note:
The unit is thorough but flexible to fit various needs.
I love all the extra resource links and book suggestions. We could easily go back through the unit and make it an entirely different experiences by choosing different links and books to use!
Even for the younger ages, these units would be perfect to focus on and take a break from your normal homeschooling agenda or during the summer.
You could re-use the units once or twice as the kids get older and make it a new experience by choosing different suggestions to use.

Connect with Homeschool Legacy