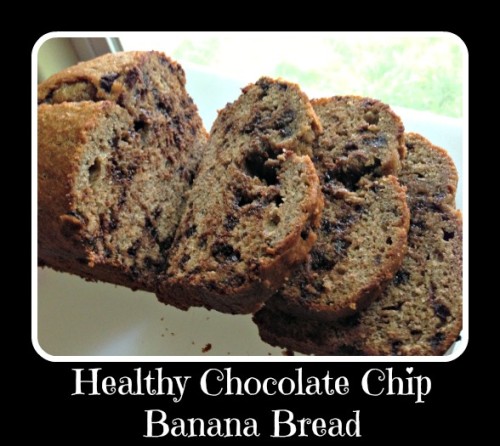 Our kids go banannas about banannas, so we always have a lot of them in our house. Enough for smoothies, snacks, and the occasional banana bread. 

I recently found a good whole wheat banana bread recipe and modified it to cut out the refined sugar. I do realize that the addition of chocolate makes the "healthy" claim dubious. But what about antioxidants? And emotional well being? I vote that it's healthy. 😉 

All the kids and adults in the house love this bread for breakfasts and snacks!

Whole Wheat Chocolate Chip Banana Bread
2 cups whole wheat flour

1/4 tsp baking powder

3/4 tsp baking soda

1/4 tsp salt

3/4 cup honey

1/4 cup butter, softened

2 eggs

2 ripe bananas

1/3 cup plain yogurt (I use greek)

1 tsp vanilla extract

1/2 cup mini chocolate chips (or dark chocolate chips or walnuts)
Combine the flour, baking powder, baking soda, and salt in a bowl and set aside. 

Combine the honey, butter, eggs, bananas, yogurt, and extract in a mixer and mix on medium until the bananas are fairly well combined with the other ingredients. Do not over mix. Bumps and lumps are good. 

Add the dry ingredients to the wet and mix until just combined. 

Add the chocolate chips and mix until they are well distributed in the batter. 

Pour the batter into an oiled bread pan and bake at 350 for 60-70 minutes, or until a toothpick inserted in the middle comes out clean. 

Allow to cool for 10 minutes before slicing. 
This recipe doubles well, and the bread can be frozen for later use by wrapping in plastic wrap and a plastic bag. 
More Banana Bread Recipes to Consider
I hope you try this recipe and let me know how it turns out!