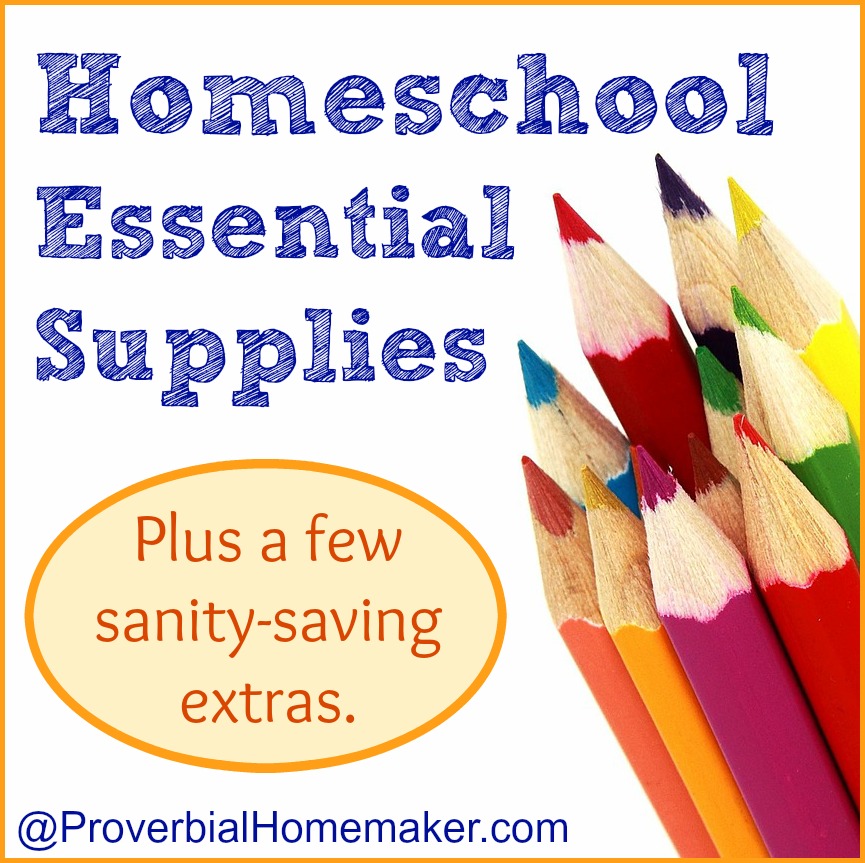 Disclosure: *This post may include affiliate links. As an affiliate, I earn from qualifying purchases. Read the disclosures and terms for more information.
Homeschool Essential Supplies
Honestly, there's very little on the true "essentials" list. You can do a lot with a little, especially if you are creative! However, these are the things that I would recommend to even those on tight budgets.
Bibles (Personal Bible, YouVersion for my iPhone, and a Child Training Bible). Trust me. Don't homeschool without liberal Bible use.
Computer, printer, and paper. I know homeschoolers who go without, but I don't know how.
Page protectors and wet-erase pens (for re-using workbooks, although be sure to email and ask permission from the publisher first)
Maps. Maps on placemats, taped to the walls, laminated, and as puzzles. We have them everywhere. At a minimum, have a printed U.S. map and a world map you can easily pull out and refer to when needed.
Basic office supplies: file folders, pocket folders, 3-ring binders of various sizes, sorting baskets (dollar store), pens, pencils, erasers, tape, stapler, 3-hole puncher, single hole punch, spiral notebooks, composition books, paper clips, etc.
Art supplies: glue, construction paper, markers, colored pencils, washable paints, paint brushes, card stock, etc. We also love having chalk pastels, watercolor crayons, stamps, and a basic easel like this one at our disposal, although I wouldn't call them necessities.
Mavalus Tape. Repeat after me: "I will buy Mavalus Tape." It tapes anything to the wall and can be easily removed from the wall and from the thing being taped. I ruined too many things before discovering it.
Nice-To-Haves
Now that the basics are listed, here are the bonus buys that really do enhance our own homeschool experience.
Laminator. I don't print a ton of things that need laminated, but when I do, I'm glad to have mine at home. They're always on sale this time of year, and can also buy the laminating pouches pretty cheap on Amazon.
Book binder. This is on my wish list. It's great for binding simple notebooks for various unit studies or subjects. Plus then the grandparents think you're some kind of pro. 😉
iPad. We use the iPad for phonics review, math games, fun science apps, and when Mommy needs a moment to collect herself before she bursts into flames.
Globe. Having a globe in addition to flat maps is wonderful. The kids and I are always using it to point out locations during history lessons, missionary stories, fiction read-alouds, or conversations about where friends and family live.
Netflix or a similar service. We have found some great educational movies on Netflix, both for the kids and ourselves. And of course there's Dr. Who.
Amazon Prime. Also on my wish list. You can get free 2-day shipping, streaming movies, a Kindle owners lending library, and more.
Zoo or museum memberships. We have a membership to our local zoo as well as the science museum and love them!
How about you? What's on your homeschool essentials list?
---
Back to Homeschool Blog Hop
Here's what you'll find at Proverbial Homemaker during the Back to Homeschool Blog Hop:
Check out more great Crew posts too!